Tyra Banks Launches Smize Ice Cream Company
Monday, July 19, 2021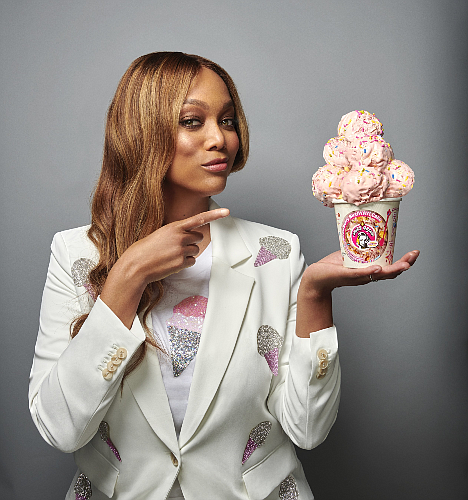 Entrepreneur and supermodel Tyra Banks has launched a second venture at Santa Monica Place — an ice cream brand.

Westwood-based Smize Cream SMP began scooping seven flavors of custard-style ice cream on July 2, including "Chocolate Barbeque," "Salted Caramel King" and "Strawberry BirthYAY! Cake."
 
"Ever since I was a little girl, my mama and I have been obsessed with the creamy, crunchy, ooey-gooey comfort and delight of ice cream," Banks said in a statement. "Everybody has their own unique stories and moments with ice cream at the center of them — hot summer days, celebrations, even broken hearts — but ice cream always made it better."

Smize, a nod to the term coined by Banks to describe a model smiling with her eyes only, occupies a kiosk space at the shopping center, just steps away from her 21,000-square-foot multilevel ModelLand. The ticketed attraction, announced in 2019, was set to open in May 2020 but remained shuttered throughout the pandemic.
 
The Smize team includes Ice Cream Scientist Maya Warren, who served as senior director of international research and development at Cold Stone Creamery for nearly four years; Vice President of Marketing and Partnerships Dominique Flynn, who was most recently executive director of franchise management at Walt Disney Co.; and David Valentino, a vice president of production and development, who serves in a similar role at ModelLand Holdings.

"It's been absolutely thrilling building model after model, defining our sales channels, constructing a nationwide distribution system, finding production and packaging partners, and building our ecommerce systems," Valentino said in a LinkedIn post. "Now, onto the next chapter! More products, more markets, and the golden promise of grocery on the horizon!"

Smize's early supporters include New York-based Enhanced Capital Group that along with TriLinc Global in Manhattan Beach invested in the supermodel's startup.
For reprint and licensing requests for this article, CLICK HERE.