Largest Public Companies: Acquisitions Fuel Strong Growth for Public Storage
Monday, July 19, 2021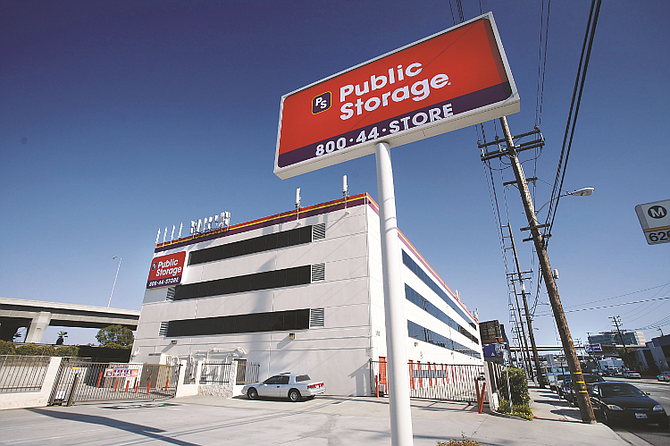 How They Got Here: Public Storage, which was founded in 1972 by B. Wayne Hughes and Kenneth Volk Jr., is the largest self-storage company in the United States. As of the end of March, the Glendale-based company had an interest in more than 2,500 self-storage facilities across 38 states with a combined 176 million net rentable square feet. Public Storage also has a 35% interest in Shurgard Self-Storage, which owns nearly 250 self-storage facilities in Western Europe with 13 million net rentable square feet.
In addition, Public Storage has a 42% interest in PS Business Parks Inc., which owns and operates roughly 28 million square feet of commercial space. In the first quarter, Public Storage reported $434 million of net income compared with $367 million the same quarter a year prior.
The company also reported a 76.5% increase in same store direct net operating income margin. During the quarter, it purchased 15 self-storage facilities with 1.1 million net rentable square feet for $203 million. Since the quarter ended, the company has either acquired or is under contract to acquire 87 self-storage facilities with 7.6 net rentable square feet for a total of $2.3 billion.

Where They Go Next: Public Storage has been on a growth tear. Since 2019, the company has added 22 million net rentable square feet to its portfolio, growing it 13%. That came from $4.3 billion worth of acquisitions, development and redevelopment. In April the company closed its acquisition of EZ Storage for $1.8 billion, which added 48 properties and 4.2 million net rentable square feet.
The assets are located on the East Coast. In December, the company closed the first phase of its acquisition of the Beyond Self Storage portfolio from NorthPoint Development for $528 million.
The first phase was for 24 existing properties, the second is for 12 properties under development that Public Storage will take over as they are completed. In January, the company added Michelle Millstone-Shroff and Rebecca Owen to its board, part of an information sharing agreement between Public Storage and activist hedge fund Elliott Investment Management.
 
Quotable: "Public Storage's focus on the customer experience, operating model innovation, and portfolio expansion funded with a growth-oriented balance sheet produced strong results during the quarter," Joe Russell, president and chief executive of Public Storage said in a statement about the company's most recent earnings report.
 "Our momentum has accelerated into the second quarter as indicated by our inaugural Core FFO guidance and the acquisition of EZ Storage, one of the highest quality self-storage portfolios in the United States."

— Hannah Madans
For reprint and licensing requests for this article, CLICK HERE.