Largest Public Companies: Media Businesses Post Huge Gains
Monday, July 19, 2021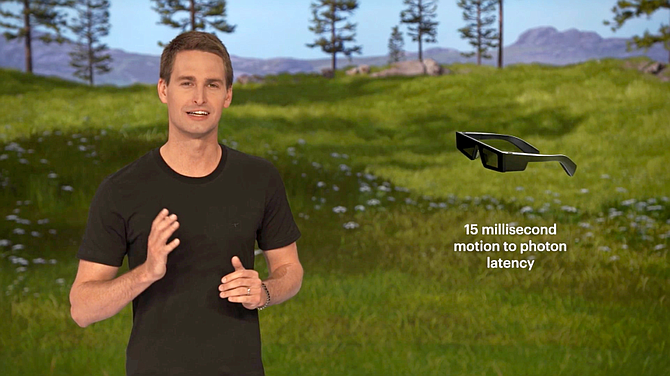 When Santa Monica-based Snap Inc. made its trading debut on the New York Stock Exchange in March 2017, the company's shares closed up 44% to $24.48.

It was the best of times for the company and Snap's billionaire boss Evan Spiegel. But by November 2018, Snap had sunk to just over $6 a share as it struggled to find its footing in the competitive social media sector.
 
"Back in 2018, the metrics just weren't positive. There were a couple of things that just weren't going right," said Ygal Arounian, an internet analyst with downtown-based Wedbush Securities Inc. "I think when it first went public, the expectations were really high in terms of growth, but they weren't meeting those expectations. A lot of investors lost faith in the company."

Today, Snap is riding high again. Its stock is trading at around $62.50 a share, and its Snapchat app had 280 million daily active users worldwide during the first quarter, up from 229 million global users in the same period in 2020.

At least part of the credit goes to the pandemic, which forced consumers to stay at home and increased their reliance on social media.

"It's not just Snapchat benefiting, but everyone else," Arounian said.
Multiple local media, entertainment and leisure ventures have seen substantial gains during the Covid-19 pandemic, according to the Business Journal's annual look at the largest publicly traded companies headquartered in L.A. County.

A review of a dozen companies in the sector shows that their collective market capitalization shot up a sizzling 73% to $534 million for the year ended June 30, compared to $308.4 million a year earlier.
 
Not a single company in the space saw a decline in its market cap during the period.

Year-over-year gains
These companies include Santa Monica-based video game firm Activision Blizzard Inc.; downtown-based legal publishing and technology company Daily Journal Corp.; Santa Monica-based television and radio firm Entravision Communications Corp.; Beverly Hills-based entertainment firm Genius Brands International Corp.; and Santa
Monica-based toy-maker Jakks Pacific Inc.

Other companies in the group are Santa Monica-based studio Lions Gate Entertainment Corp.; Beverly Hills-based events business Live Nation Entertainment Inc., Playa Vista-based media firm Magnite Inc.; El Segundo-based toy-maker Mattel Inc.; Snap; Santa Monica-based esports broadcaster Super League Gaming Inc.; and Burbank-based media and entertainment giant Walt Disney Co.

To put this group's nearly 75% year-over-year gain into perspective, consider that over the same period, the S&P 500 Index rose 38.5%, the Dow Jones Industrial Average climbed 33.7% and the Nasdaq increased 44.2%.
 
"It appears that we have a fairly secure recovery," said Larry Harris, professor of finance and business economics with USC's Marshall School of Business. "What has happened is that Covid accelerated the adoption of these technologies like Zoom. That was good for these L.A. companies," Harris observed.

L.A. video game companies seem unstoppable.
Activision saw a 26.7% uptick in its market capitalization to $74.2 billion on June 30, up from $58.5 billion a year ago. The company, known for "World of Warcraft," "Call of Duty" and "Candy Crush," benefited from stay-at-home orders. Its monthly active users grew to 435 million in the first quarter versus 407 million a year ago.
 
Michael Pachter, a video game and entertainment analyst at Wedbush, doesn't think interest in Activision will wane even with the economic recovery underway and more employers having their workers return to their offices.

"I think employers are much more tolerant of people working from home. That portion of engagement we got when everybody was stuck at home is going to remain," he said.

Gaming boost
Ann Hand, chairman and chief executive of Super League Gaming, is elated by her company's growth.
 
Super League saw its market capitalization grow 667.3% to $192.6 million on June 30 from $25.1 million a year ago. Last month, the company completed its acquisition of video game streaming company Mobcrush Streaming Inc., which added 85 million monthly viewers.

Super League, which launched in 2014, also owns a licensed "Minecraft" server called Mineville, which hosts more than 20 million players monthly. Super League announced in May that its 2021 first-quarter revenue had more than tripled from the same period a year earlier.

"We are in a hot space of gaming," Hand said. "Super League has a lot of passionate followers from those retail shareholders who you hear a lot about, like Gamestop, the Reddit crowds and Robinhood. They're out there evangelizing the stock and again just bringing more and more attention to it. It certainly feels like we're getting rewarded for a lot of the good performance we were seeing over the past year."
Gaming wasn't the only L.A. highlight.
 
Entravision, whose market cap grew 376% to $568.8 million from $119.4 million the previous year, is focused on radio and television in the Latino market.
"After a challenging 2020, we are seeing strong industry tailwinds across all of our businesses, including television, radio and digital," said Walter Ulloa, Entravision's chairman and chief executive.
 
Another key to Entravision's success has been the completion of several strategic investments, including the acquisition of Cisneros Interactive in October 2020 and MediaDonuts in July.
 
Michael Barrett, president and chief executive of Magnite, said his company's digital advertising platform saw significant growth in the past year as its market cap grew 519.7% to $4.4 billion from $710 million.

Magnite has completed a merger and two acquisitions since April 2020, which he said quickly scaled its connected television and online video business as linear TV continues to weaken due to cord-cutting and as TV ad dollars shift to digital.
 
At Lions Gate, the studio's market cap grew 187% to $4.3 billion from $1.5 billion over the past year.
 
"During the past year, we've deepened our film and television pipelines in response to unprecedented demand for content, leaned into the growth of our library, and continued to build Starz into one of the leading premium subscription platforms in the world," Vice Chairman Michael Burns said.
For reprint and licensing requests for this article, CLICK HERE.