Hollywood Tower Apartment Building Sells for $20 Million
Thursday, July 15, 2021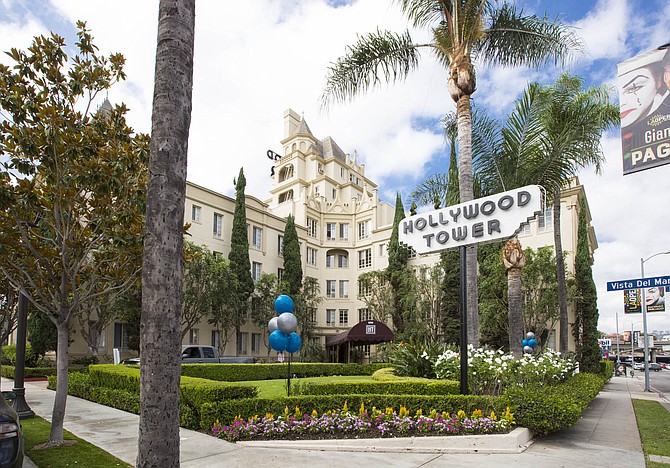 The 52-unit Hollywood Tower, which is listed on the National Register of Historic Places, has sold for $20.1 million. 
The eight-story apartment property in Hollywood was built in 1929 and partially remodeled in 2010, including the lobby and corridors. The buyer will continue to renovate the site.
The Hollywood Tower has studio, one- and two-bedroom apartments. It also has underground parking and three rooftop decks.
Institutional Property Advisors, a division of Marcus & Millichap, brokers Joseph Grabiec, Kevin Green and Gregory Harris represented the seller, MWest Holdings in the transaction. They also found the buyer, a family partnership.
"The seller's renovations on many of the units generated considerable rent premiums, thereby giving the new owner a clear path for growing revenue on the remaining unrenovated units while still maintaining the property's historic charm and appeal," Grabiec said in a statement.
The property was designed by Cramer & Wise.
There have been some other noteworthy recent multifamily sales in L.A. County as of late.
Most recently, affiliates of Harbor Group International purchased a 220-unit multifamily community in Pomona known as Olive Ridge for nearly $47 million.
The property, which is located at 2261 Valley Blvd., was sold by a private seller.
One of the big buyers of L.A. multifamily real estate has been Waterford Property Co. and the California Statewide Communities Development Authority. Recently, the two purchased a pair of multifamily properties in Pasadena for a combined $335.1 million.
The properties are the 340-unit Residences at Westgate at 31 S. DeLacey Ave. and the 173-unit Hudson at 678 E. Walnut St. Both have retail space.
Earlier this year the organizations also purchased the Altana, a 507-unit property at 633 N. Central Ave. in Glendale for $300 million.
They also purchased the 216-unit Oceanaire at 150 W. Ocean Blvd. in Long Beach for $120 million.
Waterford and CSCDA have acquired six multifamily properties in Southern California with more than 2,000 units combined this year.
The partners convert properties they acquire into middle-income housing.
For reprint and licensing requests for this article, CLICK HERE.