AECOM to Design Saudi Mega-Mall With Ski Park
Saudi shopping center features indoor ski park
Monday, July 5, 2021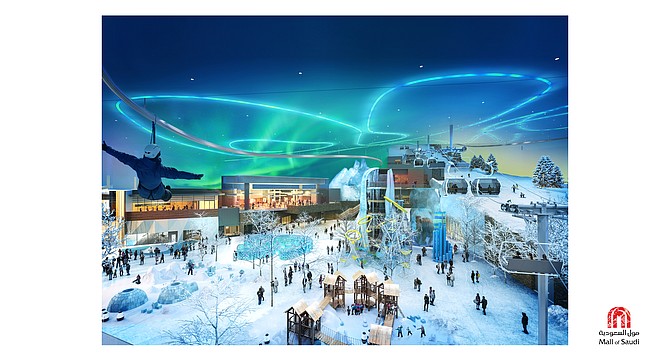 AECOM engineers and designers have an unusual task ahead: figuring out how to build a huge indoor snow park in the middle of the broiling Saudi Arabian desert.
It's part of a four-year contract that the downtown-based engineering and infrastructure giant announced on May 31 to provide consulting services to Majid Al Futtaim Group.
 
The developer, which is based in Dubai, United Arab Emirates, is planning a $4.3 billion mega-mall with 3.2 million square feet of leasable space on the north side of Riyadh, the capital of Saudi Arabia.

Financial terms of AECOM's contract were not disclosed.

Slated to break ground in the fourth quarter and be completed in early 2024, the Mall of Saudi would be at least 30% larger in square footage than Del Amo Fashion Center in Torrance, the largest mall in Los Angeles County.
 
Plans call for roughly 600 stores, 350,000 square feet of dining space, a luxury hotel with at least 275 rooms, a 97,000-square-foot Carrefour hypermarket and a 31-screen cinema complex that will include an IMAX screen and 4D theater with seats that move.

But it's the 430,000-square-foot indoor ski slope and ski park — which Majid Al Futtaim claims will be the largest in the Middle East — that will be the central feature of this mega-mall. The ski area will operate year-round.
 
Majid, which specializes in developing and operating shopping malls and other "lifestyle centers," has experience with snow parks. It recently completed the 240,000-square-foot Ski Dubai park in its Mall of the Emirates in Dubai.

And AECOM has worked with Majid Al Futtaim before, including on the 1.56-million-square-foot Mall of Oman in Muscat in the Sultanate of Oman.
For reprint and licensing requests for this article, CLICK HERE.