SpaceX Launches New Batch of Starlink Satellites
Originally published January 20, 2021 at 4:51 p.m., updated January 22, 2021 at 9:39 a.m.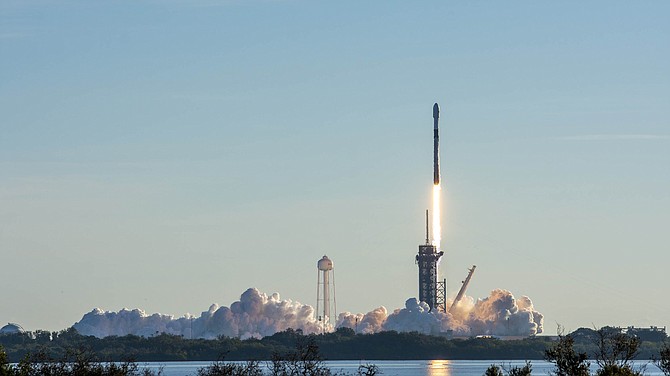 Space Exploration Technologies Corp. deployed another 60 satellites into space on Jan. 20 in support of the company's ambitious Starlink global broadband project.
The Hawthorne-based company's latest mission took off from the Kennedy Space Center in Cape Canaveral, Fla., just after 8 a.m. local time. The SpaceX-designed satellites traveled aboard one of the company's Falcon 9 launch vehicles.
Just under three minutes after liftoff, the rocket's fuel booster separated from the vehicle's upper stage. It then landed on a drone ship stationed in the Atlantic Ocean.
SpaceX's ability to reliably capture and reuse first-stage rocket boosters has allowed the company to cut down on launch costs and add to its busy mission schedule in recent years. The booster used in the Jan. 20 launch had previously been used on seven prior missions, including four other Starlink launches.
Thus far, the company has deployed around 1,000 satellites into orbit as part of its Starlink project, a plan to create a company-owned broadband network available to subscribers around the world. SpaceX began limited tests of the service in North America last year, and the company recently expanded testing to parts of the United Kingdom.
SpaceX has approval from the Federal Communications Commission to deploy up to 12,000 Starlink satellites into orbit, and the company last year won nearly $900 million in subsidies from the commission to provide broadband service to rural communities within the United States.
The Jan. 20 launch was the company's second successful mission of the year. On Jan. 7, SpaceX deployed a Turkish communications satellite into orbit, completing a mission originally scheduled for 2020.
Last year, the company averaged a launch every two weeks and shattered its record for completed missions in a single year. SpaceX also made history by developing the first privately built spacecraft certified by NASA for human spaceflight.
The company's Crew Dragon capsule completed two crewed missions to the International Space Station in 2020, and the company is scheduled to complete at least five more crew rotation missions on behalf of NASA.
SpaceX recently used a customized cargo version of its Dragon capsule for a supply mission to the space station. It successfully navigated the vessel back to Earth earlier this month, landing it off the coast of Florida on Jan. 13 and recovering more than 4,400 pounds of research equipment stowed onboard the spacecraft.
Meanwhile, SpaceX is preparing for another test of its Starship rocket, designed for interplanetary space travel. In a December test, the company shot the massive rocket miles into the sky before attempting to land it back on Earth.
The result was fiery explosion, but Chief Executive Elon Musk said the company had gained valuable data that will be used to ensure the success of future prototypes.
For reprint and licensing requests for this article, CLICK HERE.