Good City Mentors Gets Backing From Big Businesses
Monday, January 18, 2021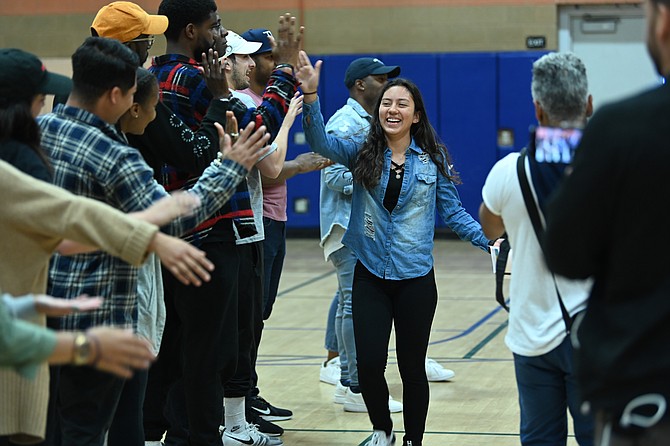 Among the striking photos that documented last year's protests against police brutality was an Associated Press image of an LAPD patrol car set aflame in Fairfax.

In the background was the imposing gray-and-white facade of historic Television City, with its CBS sign and eyeball logo. 

"It was hard to ignore the way our studio was thrust into the spotlight of the demonstrations," said Zach Sokoloff, an asset manager with Hackman Capital Partners, a Culver City-based real estate company that owns and operates the production hub. (Hackman had allowed the L.A. Police Department to use the studio complex as a staging site during the protests, a decision that was heavily criticized). 

After seeing the photo, Sokoloff quickly gathered with Hackman executives. "We held up a mirror and asked ourselves: 'How can we as a studio be a responsible community stakeholder and do our part to help folks in the most need?'"
Their solution was two-fold: Give money and time. 
H
ackman pledged $1 million to local organizations like the Midtown Los Angeles Homeless Coalition and another $1 million to help diversify the film industry.
For the volunteer component, Hackman partnered with Good City Mentors, a nonprofit that enlists executives from high-profile companies that are either based in L.A. or have a large presence here (think Sony Pictures Entertainment Inc., Google and Capital Group) to mentor students at underserved Los Angeles Unified School District high schools.
"It was important for us not to only speak about change but be part of the change and to do it at a level that could far exceed what one individual could do on their own," Sokoloff said.
Founded in 2015 by Brian Larrabee, a former commercial actor (he played the dad in a "choosy moms and dads choose Jiff" spot, among others), Good City Mentors puts students and mentors together weekly in small group settings to talk for an hour about themes centered on personal leadership skills like trust, gratitude and love.
Since launching its Mentor L.A. initiative to focus on giving students in Black communities access to entertainment companies, Good City Mentors has grown its volunteer base to 334 members and more than doubled the number of campuses where it works to a total of 15.  
Access can happen naturally, Larrabee said, when students have the opportunity to make personal connections.
"The fabric of our city is the entertainment industry. A lot of our students don't have access to it unless they can meet someone from those companies," Larrabee said.
Invested in success
When mentors show up week after week or offer to talk about their careers, it shows students who might have a hard time trusting adults or have a negative neighborhood environment that someone is invested in their success, according to SpringHill Entertainment executive Ty Cameron.
"I grew up in West Philadelphia. I was also considered an at-risk kid and saw early on how having a role model or someone to look up to can help guide your decisions," said Cameron, who serves as head of distribution at SpringHill, a video production company created by LeBron James and Maverick Carter, and a Good City Mentors volunteer.
"A lot of the executives and mentors are not people of color, but they're able to go into these schools and communities and see the other side, what these kids who are at-risk are dealing with," Cameron said. "And that moves the needle."
According to Larrabee, some of these highest-need high schools are surrounded by "the most inspiring companies in Los Angeles."
That's the case with Netflix Inc., which signed up with Good City Mentors in 2019. The two towers that the streaming giant occupies at Sunset Bronson Studios are next door to Helen Bernstein High School where 90% of students are eligible for free and reduced meals, and 34% are English learners.
Netflix has sent 150 employees to serve as mentors at local high schools, including Bernstein High.
"They were really our first corporate partner. They opened up the pathway for their employees to become mentors," Larrabee said.  
Now Hackman Capital is doing for Fairfax what Netflix did for Hollywood.
Dubbed "Hollywood's newest power broker" by CoStar Group Inc., the real estate company has added production studio after production studio to its portfolio, including Culver Studios, MBS Media Campus and Television City, which it acquired two years ago for $750 million.
The impact of the AP protest photo that pushed Television City into the spotlight in May is not lost on Sokoloff.  
The media industry is largely white, and companies are only slowly chipping away at the disparity. UCLA's latest diversity report said 92% of chief executive positions at major TV studios and networks — "where pivotal decisions are made regarding what gets produced, by whom, and at what scale," — are occupied by white executives.
A good match
When Sokoloff synced up with Larrabee, the two decided to expand Good City Mentors' Mentor L.A. initiative into Fairfax High School.
It was a good match.
The high school is in Television City's "backyard," and Larrabee said the school was already on a list that LAUSD had supplied to Good City Mentors identifying its most underserved and highest-need campuses.
Hackman lets it employees use work time to volunteer, which became a lot easier during the pandemic because the mentoring sessions went virtual.
"I don't know if we would have had this same level of commitment if other things like traffic and schedules were getting in the way," Sokoloff said of the company's 40 volunteers, about half of whom work at Television City.
"The future of our city will be brighter if all the inspiring creative local professionals in the biggest brands in the world give their employees an hour or two to invest in the next generation," Larrabee said.
This week, when Good City Mentors is back in session for the spring semester, mentors will help students create resumes.
And they'll be able to list mentors as references.
"Think about having the president of Television City on your resume at 17 years old," Larrabee said.
For reprint and licensing requests for this article, CLICK HERE.