Demand for Medical Office Remains Strong
Monday, January 18, 2021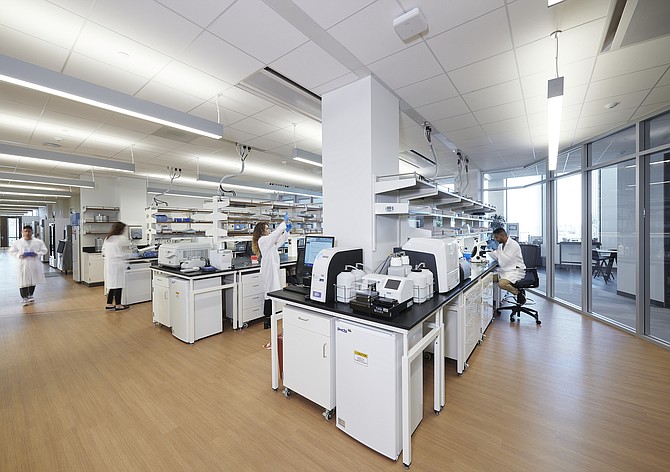 The future of office space is a big question as companies grapple with whether to make working from home a permanent reality, but experts agree that medical office space will remain in demand. 

"The sectors right now that have continued to outperform have been housing, industrial and anything medical related. These sectors for the most part have been shielded from the impact of the pandemic," said Shlomi Ronen, principal at Century City-based Dekel Capital Inc.

"People are still living, getting sick and needing medical attention. The users of the space have continued to utilize the space and in certain areas grow," added Ronen, who has arranged financing for medical sites.

CBRE Group Inc.'s Dana Nialis, who specializes in health care real estate, added that the sector fared "very well, relatively speaking, in 2020, which can't be said about the rest of the market."

While activity in the medical category slowed for a few months when Covid-19 arrived, she added, for the most part that market sector has performed well.
"As a whole, we continue to see deals moving forward, deals getting done. People are moving and expanding. We had a slowdown, but we are seeing activity in the market," Nialis said.

Jones Lang LaSalle Inc.'s Chris Isola agreed that there was some uncertainty in the spring, especially when elective procedures were put on hold, but he said things have bounced back.

"The necessity to get in and see your doctor has remained, and the need for physical medical space is still there," he said.

Last year, a few prominent medical office and hospital assets were sold.

In April, Patrick Soon-Shiong purchased St. Vincent Medical Center in Westlake for $135 million from Verity Health System. The purchase included a 381-bed hospital, medical office buildings, an adjacent school and a retail building. 

Isola was not involved in the sale but is working on leasing the roughly 7.5-acre property. 

Part of the campus will be used as traditional medical office space. The hospital and another building could become a rehab hospital, behavioral health site, or something entirely different, such as a media campus, he said.

Isola said the hope was to find a single tenant for the property.

To the east, Irvine-based IRA Capital purchased a 64,000-square-foot medical office building in Covina for $40 million from DaVita Inc. It is fully leased to Magan Medical Clinic Inc.

And Crescent Heights purchased the Wilshire Medical Center at 6200 Wilshire Blvd. from Wilshire Center Building for $54.3 million in January 2020. The buyer plans to renovate the site.

"The (sales) volume is pretty similar to a typical year," Isola said.

'Long-term believer'
Developers are interested in creating new health care and medical office buildings.

Downtown-based Inception Property Group has filed plans for a 151,000-square-foot outpatient medical office and senior living facility at 1334-1356 S. Flower St.

Farther west, Westwood-based Stockdale Capital Partners is working on a 145,000-square-foot medical office building at 656 S. San Vicente Blvd. near Beverly Hills.

"We've been targeting the asset class for the better part of the last six-plus years. We've always been a long-term believer in the space," said Stockdale Capital Vice President of Asset Management Andrew Saba, citing an aging population and an increasing need for people to be closer to medical offices.

Saba added that the cost of creating inpatient space "is requiring health care systems to push more and more systems that were inside a hospital to the outpatient space," leading to more medical office demand.

In addition, technology and improvements in recovery time have allowed for more to be done in a nonacute setting, he added.

Saba said this has remained true during the pandemic as people don't want to be in ICUs and emergency room areas for basic check-ups and nonemergencies.

Saba said the project on San Vicente was still in the entitlement phase, and Stockdale has spoken with some providers about leasing the space.

Last year, the company secured $550 million for a fund that originally was targeting $300 million and is now looking at new opportunities in assets including office, health care and life sciences.

Continental Development Corp. is another big believer in medical office space.
Skypark, a 500,000-square-foot medical and office center in Torrance, was its first foray into the sector. 

When Continental first took over the property, it was only 15-20% medical office. It is now comprised of 80-85% medical office tenants.

Other projects Continental is working on now, including Nash Street Exchange, will include a medical office component.

Continental is also advising the Lundquist Institute, which recently received approval for a 15-acre biotech park near Torrance. 

"It will be the only location in the region that will be able to take diseases from the bedside, transfer it to the Lundquist Institute for discovery of a cure or instruments required, and then move that to the bioscience park for development, which then returns to the bedside to cure the patient. There's nothing like that anywhere else," said Richard Lundquist, who is president Continental and sits on the Lundquist Institute's board.

Rents remain steady
Despite the pandemic, medical office leasing has gone fairly smoothly.
"The sector has fared very positively," CBRE's Angie Weber said. 

She added that she has not seen a high amount of rent deferral in the sector, and rents have remained steady.

Weber's colleague, Nialis, added that in the last few months she has seen both lease renewals and new deals being signed. But some older physicians, she said, prefer short-term renewals.

Isola said smaller tenants usually stay in one place rather than moving around because of the high cost of medical office construction. Their office spaces, he said, can cost $150 a foot to build out, whereas traditional office space can be closer to $100-$110 a square foot.

Lundquist agreed that medical office tenants usually stay for the long haul because they spend a lot of money to customize the space, which often requires plumbing and specialized machinery.

"They're reluctant to relocate and start that process over again. You tend to have a very stable tenancy," he said.

Isola added that medical office owners can generate new leasing activity if they're willing to give tenant improvement allowances or build out space on a speculative basis.

Suburban push
Looking forward, experts expect to see larger tenants sign leases and more of a push to suburban areas.

"We've been seeing over the last several years … health care providers want to be out in the community closer to where their patients live and work. It was already headed in that direction. 2020 and Covid has heightened that and provided proof of why that trend that we were already seeing was necessary," Nialis said. "Coming out of Covid we will continue to see that to an even bigger degree. That's the direction where health care is headed."

Experts say that while there was a decent amount of leasing activity in 2020, some larger health care providers held off on making decisions or were too busy to do so.

"As soon as they have the bandwidth to focus on it, that deal velocity is going to pick up," Nialis said. 

Some of the larger operators, according to Weber, that "put everything on pause while they deal with Covid," would have to start making leasing decisions. 

"The hospitals were very much affected by this in a pretty big way, Covid, and it financially affected them so they had to put a halt to their expansion, but they will be back, and back doing more even than initially anticipated. Hospitals will do business differently," she said.

Weber anticipates more operators offering some services offsite and more flexibility in where medical sites are located to be closer to patients.

From the sales side, Ronen expects in- creased interest.

"I expect to see more capital come in and focus on it. A lot of the groups that historically have put (money) in a medical real estate/health care real estate bucket and not a primary investment sector are going to start focusing on it. We'll see a lot more capital come into the space," he said.

For reprint and licensing requests for this article, CLICK HERE.