WeeCare Helps Home Day Care Businesses Stay Afloat
Monday, January 11, 2021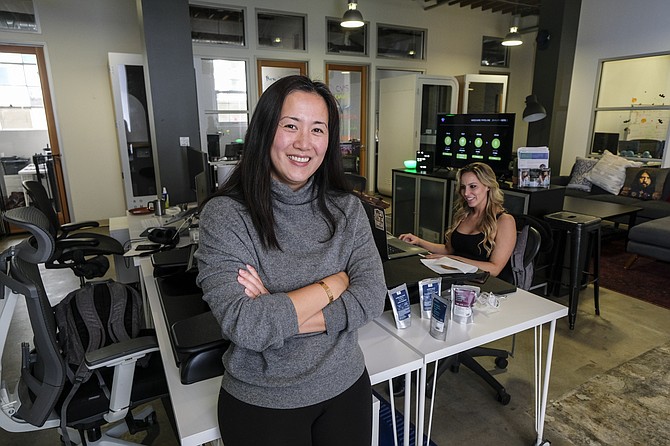 Three years ago, local entrepreneur and expectant mother Jessica Chang received some surprising advice.

"(My friends) all said, 'You'll figure out how to be a mom, but the first thing you need to figure out is how to get child care,'" she said.

After spending weeks researching and contacting different day care providers, Chang came up empty-handed. 

"That was when I got a little bit panicked," she said.

Chang's journey to address her own child care needs would lead her to found WeeCare Inc., a local company working to reshape an industry in crisis.

Even before the onset of Covid-19, half of the country's population lived in areas with inadequate child care, according to the Center for American Progress. Researchers at UC Berkeley found in a July report that the situation has only worsened during the pandemic, sparking "an unprecedented crisis in California child care."

WeeCare aims to address many of these issues through a combination of technology and assistance with back-office processes.

The Marina del Rey-based company facilitates day care services for children up to age 12 through its platform. It supports a network of roughly 2,500 home day care providers in 27 states, helping them manage everything from licensing and payroll to parent communication and marketing.

Chang followed a winding path to her current venture. Despite having spent most of her career in finance and entrepreneurship, Chang's academic background was in child psychology.

"I had a brother who was 17 years younger than me. He had autism," she said. "My parents didn't really understand it."

Chang said the situation sparked an interest in topics related to her brother's condition, eventually driving her to study early childhood development at UC Berkeley. It also gave her an early understanding of the value of quality child care.

"He attended a day care that was a big thing in helping him learn how to navigate and socialize," she said. "It was also great for my family to help see how they could have a normal childhood for my brother."

Despite the early interest, Chang spent the next decade after her graduation in roles far removed from child care.

"It didn't come full circle until I got pregnant," she said.

After struggling to find viable child care options, Chang said she began considering if she would need to take significant time off of work to care for her new baby.

"As a pretty successful entrepreneur," she said, "that was a scary thought."
The shortage of day care services baffled Chang, who began researching the root causes of the problem. As part of her investigation, Chang said she visited a Pasadena day care that was in the process of closing. The day care's broker, according to Chang, told her that the business' margins were too thin to keep it running. The center was only at half-capacity, Chang said, despite being surrounded by day cares that were fully booked.

Filling a technology gap
Chang was so intrigued by the situation that she decided to see if she could fare any better.  She purchased that business and, she said, had it fully booked within three months. The experience helped her understand what was going wrong in the child care supply chain.

"One of the big disconnects was how demand finds supply," she said. "Demand is filled by millennials, who mainly do things online. The day cares are often run by (baby) boomers, who would just put a sign out in front of their school or hand out fliers."

According to Chang, this technology gap went beyond helping parents locate a day care. Creating and maintaining websites, managing electronic payments and communicating with parents through photos and videos all required technology skills that many older day care owners lacked.

"Many are closing because there is just so much more operational knowhow necessary than when (the day care owners) started the business," she said.
Chang said this, coupled with persistently low wages for child care workers, were contributing to an ongoing shrinkage of child care options. 

After purchasing and similarly upgrading two other local day care centers, Chang said she and two friends hatched an idea for a tech platform that could address the issue at scale. 

The platform, which would soon become WeeCare, would support people in starting and running home day cares. The approach, Chang said, allows people to establish new child care businesses much more easily and at a lower cost than traditional commercial day care centers. 

"It's considered residential usage, so you can have a home day care in almost any kind of home," she said. "The majority of a child's tuition goes to the provider. They can also write it off on their taxes because it is a home office."

Chang said the simplified model allows WeeCare providers to make nearly three times an average preschool teacher's annual salary of about $20,000. It also, she said, kept tuition costs low for parents. "Most of the time we are 40% cheaper (than comparable day care providers)," she said.

To help smooth out logistical barriers to entry in the day care industry, WeeCare provides licensing support for new day care owners and handles many back office functions like payroll and insurance sourcing.

Back office functions
Casey Garrett, owner of Casey's Daycare Inc. in Riverside, said this operational support was key to getting her business off the ground — and to keeping it running.

"When I first started my school, I didn't have WeeCare, so I was looking up licensing and insurance on my own," Garrett said. "I met someone who had used WeeCare who told me they would help handle that for you.

"I was like, 'No! I wish I'd known that sooner because I'd been working so hard at this," she added.

Garrett, who already had experience teaching, said WeeCare took on most of the logistical and back office functions that she saw as the most daunting challenges in starting her business. These included managing payments from parents, assistance with tax processes as well as maintaining insurance and regulatory compliance. The WeeCare platform, Garett said, also helps maintain open communication with parents through photo and video sharing tools.

Garrett said the service became even more helpful after the onset of Covid-19 this year. 

WeeCare launched a health screening feature on its platform in early March. Since then, children, parents and providers have been required to answer a series of questions and submit a recorded temperature check video each day through the app. Results are reflected in a health status indicator on each day care's page.

Unlike some other child care centers, which spent months closed under the pandemic due to Covid-related fears, Garrett said she shut down for only one day in March to buy more supplies. 

"Nothing has had to change for the kids," she said.

Garrett added that her business has actually increased under the pandemic after WeeCare began channeling her new leads in late summer.

Covid has been a boon for WeeCare as well. In April, the company partnered with the city of Los Angeles to provide child care services for essential workers — a key step, Chang said, in solidifying WeeCare's status as "not just a regular tech company."

Corporate benefits program
The company has also rapidly built on its once-fledgling corporate benefits program, which provides child care services to employees of participating companies as part of their employee benefits packages.

"Because we were open, a lot of companies with essential workers were looking to partner with us," Chang said. 

That program now provides child care services to more than 100,000 employees, according to Chang, and is growing rapidly.

With a Covid-19 vaccine on the horizon, Chang predicted that the events of 2020 will have long-lasting effects on employers' attitudes toward child care. 

"Employers are starting to realize that child care is a real important benefit," she said. "They lost productivity and valuable employees without it (during the pandemic)."

Chang hopes WeeCare can ride this wave and establish a nationwide brand presence in the year ahead. 

"We want to be the brand people associate with quality day care," she said. "That's the core push for 2021."
For reprint and licensing requests for this article, CLICK HERE.