LA's Big Game Developers Ride the Mobile Wave
Monday, January 11, 2021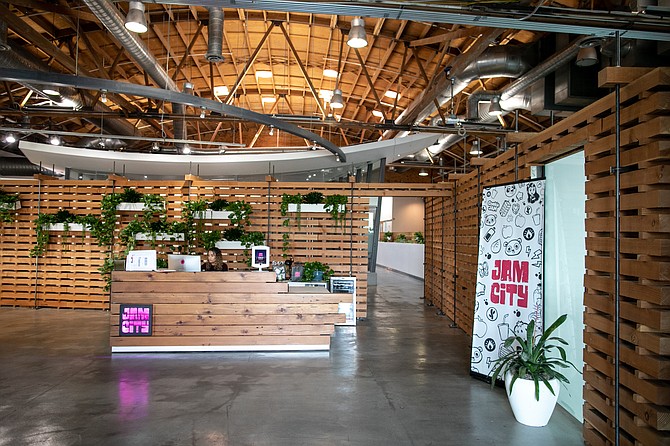 Culver City-based Scopely Inc.'s "Scrabble GO" might seem like a typical multiplayer mobile word game. But over the course of the pandemic, it has also become a powerful tool for building social connections.

Since the game's launch in March, players have sent 230 million chat messages through the app, according to Mike DeLaet, the company's senior vice president of strategic partnerships.

"We will continue to see games operate more like social platforms in the years to come," DeLaet said in an email.

The desire among users to connect, particularly during a time of Covid-driven limitations in the real world, is driving a boom in mobile gaming. But that's not the only factor for the category's surge in popularity.

There's also a renewed focus on personalized experiences by game developers as well as fresh partnerships with high-profile entertainment brands that are helping to draw in millions of new players.

App-based gaming is proving so popular, in fact, that even companies that traditionally focus on PC and console offerings are adapting more fan favorites for the mobile experience.

Mobile game downloads increased 45% from 2019 to 2020, according to a November study from mobile marketing analytics company AppsFlyer.

"Mobile games are creating gamers who were never gamers before, and the market is growing exponentially as a result," said Josh Yguado, president co-founder and chief operating officer of Culver City-based Jam City Inc.

Some of the fastest growing game types include puzzles, trivia and word games. Downloads for these "casual" games jumped 54% last year, the study found.
And "hyper casual" games, or games with at least 90% of revenue coming from advertisements, saw a 90% increase in downloads year over year, according to AppsFlyer.

A big 'Crush'

"Candy Crush," the casual mobile matching game from Santa Monica-based Activision Blizzard Inc., was the top grossing franchise in U.S. app stores in the third quarter last year, according to company President and Chief Operating Officer Daniel Alegre.

"Panda Pop," a puzzle "bubble shooter" game from Jam City, has raked in more than 140 million downloads since its launch in 2014. The company's "Cookie Jam" puzzle game franchise has brought in more than $500 million in revenue.

In 2020 alone, Jam City's portfolio, which mostly includes casual games, amassed 100 million downloads, Yguado said. 

Many mobile gamers, Yguado added, are also attracted to games that feature popular entertainment brands.

Jam City's "Harry Potter: Hogwarts Mystery" was the top game in more than 40 countries when it was released in April 2018, and Yguado said downloads of the game "boomed" during the pandemic.

Scopely, in an expanded partnership with ViacomCBS, plans to bring the "entire Star Trek film and TV universe" to its "Star Trek Fleet Command" game, DeLaet said.

And it's not just big gaming companies that are leaning heavily into the mobile space.

Venice-based startup Robin Games Inc., founded by former Jam City executive Jill Wilson, has raised $7 million in seed funding for the development of free-to-play, casual mobile games aimed at women. Robin's first game is expected to debut this year.

Another trend in mobile gaming is personalized experiences.

Yguado said "Harry Potter: Hogwarts Mystery" is highly popular in part because of technology that allows players to customize avatars and landscapes.

"I think, going into '21, as mobile games become one of the most popular forms of entertainment period …  people's expectations are really rising. So that storytelling matters; that deep narrative matters," Yguado said.

To be competitive in the mobile gaming market, he said Jam City has been thinking of its games as services rather than products. This includes releasing new levels and content and updates to games weekly, he said.

"If you can't serve that content in a fresh way every day or every week, with super-high production quality and narrative quality, then you're not going to be able to compete," he said.

Console companies catch on

Traditional PC and console gaming companies are also putting more of their fan favorites on mobile platforms.

Sawtelle-based Riot Games Inc. is beta testing its popular multiplayer PC battle game "League of Legends" for mobile with "League of Legends: Wild Rift."

The company has released other mobile titles, such as "Legends of Runeterra" and "Teamfight Tactics," for PC counterparts before, but "League of Legends: Wild Rift" is the first title that was built primarily for mobile play, according to Eric Krause, publishing lead for the game.

"League of Legends: Wild Rift" is expected to be available in North America at the end of March, he said. The company plans to later expand the game to consoles, he added.

"Ultimately, players will tell you what they want — and the beauty of Riot's culture is to find ways to deliver against those needs," Krause said. "In this case, we needed to reset our own beliefs around PC gaming and sought to create deep and immersive gaming experiences that can create everlasting memories on platforms like mobile."

As for Activision, its "Call of Duty: Mobile" has been downloaded 300 million times since launching in the West in October 2019.

And the company plans to launch a mobile version of the popular "Crash Bandicoot" franchise in the spring.

"Mobile will play a larger role in gaming in the future," Alegre said. "Bringing our iconic franchises to the billions of mobile devices around the world is important to us and exciting as game creators."
For reprint and licensing requests for this article, CLICK HERE.