Manhattan Village Renovations Due for Completion in 2021
Monday, January 4, 2021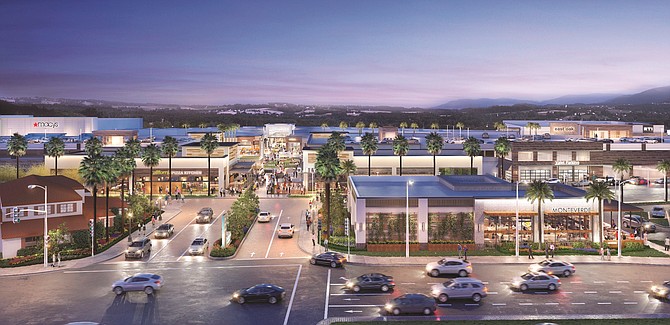 The much-awaited completion of major renovations at the Manhattan Village shopping center is now slated for this spring.

The one-story mall in Manhattan Beach opened in 1980 and underwent several rounds of upgrades in 1995 and 2001, which added 8,370 and 16,000 square feet, respectively.

The latest modernization kicked off in 2017 and came with a $180 million price tag. The cost has since grown to about $250 million to account for various plan modifications.

The additional changes include transforming the mall's former Wells Fargo building into restaurant space, according to Chicago-based developer Jones Lang LaSalle Inc., which manages the shopping center for owner DWS Group, an investment firm in Germany.

"The Wells Fargo building will be completely demolished, and a new building will be placed adjacent to 33rd Street," said Don Ziss, senior general manager at JLL, adding that 33rd Street will serve as the primary vehicular entrance to Manhattan Village, and its enhancements will coincide with completion of three parking structures in the spring.

"That's an importa
nt achievement as the most disruptive work to the guest experience will be finished," Ziss said.

Upgrades completed to date include installation of new floors, lighting, seating areas and a concierge desk in the enclosed portion of the shopping center, which is home to more than 40 tenants.

Macy's Inc. department store chain, which owns the two buildings that bookended the indoor space, consolidated its operations into the bigger, 168,000-square-foot store in 2018.

The other building, which once housed Macy's men's and home departments, is being converted into 67,000-square-foot mixed-use space for offices and retail.

In addition, the shopping center has added a 60,000-square-foot expansion dubbed North Village Shops that will feature a dozen stand-alone stores and restaurants, including California Pizza Kitchen and Silverlake Ramen. 
For reprint and licensing requests for this article, CLICK HERE.