Entertainment Groups Urge Pause on Productions
Originally published January 4, 2021 at 2:30 a.m., updated January 8, 2021 at 1 a.m.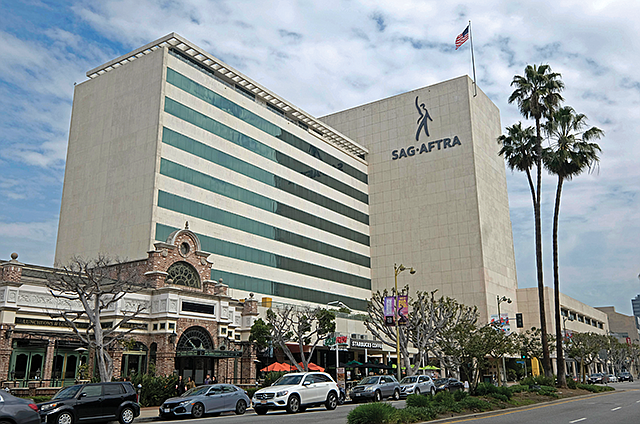 Entertainment industry groups including SAG-AFTRA and the Producers Guild of America have recommended a temporary pause on in-person production due to rising Covid-19 cases in Southern California.
On Dec. 29, Screen Actors Guild-American Federation of Television and Radio Artists President Gabrielle Carteris and National Executive Director David White said in a message on the guild's website that productions by most major studios and streaming companies will be on hold "until the second or third week of January if not later."
In a separate move, the Producers Guild of America encouraged members to delay production until L.A. County health officials determine conditions are safe for work.
"While we realize these are tough times and this is a tough decision, producers must and do serve as leaders both on our productions and in the community at large," PGA Co-Presidents Gail Berman and Lucy Fisher said in a statement. "Hopefully, we will be back to work soon."
In addition, the Joint Policy Committee, a multiemployer bargaining group that represents commercial advertisers and advertising agencies, recommended a halt to in-person commercial production until more hospital beds become available.
"It is simply too great a risk to performers, crew and industry personnel to continue production knowing that hospitals are in crisis mode and the number of cases continues to rise," Stacy Marcus, chief negotiator for the committee, said in a statement on Jan. 3.
Many studios are looking to start production again on Jan. 11 or Jan 18, including Warner Bros. Television Studios, Universal Television and Walt Disney Co.-owned 20th Television and ABC Signature, USA Today reported. But the Directors Guild of America said the "situation remains fluid" in a statement to members on Jan. 5.
The guild anticipated a spike in Covid-19 cases post-holiday, it said in the statement, and will work with productions looking to further extend their hiatus.
For reprint and licensing requests for this article, CLICK HERE.