Continental Development's Low-Rise Projects Attract High-Profile Tenants
Monday, January 4, 2021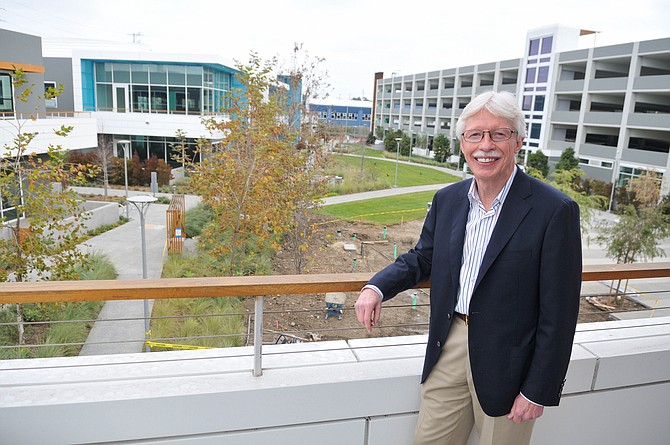 Straddling Manhattan Beach and El Segundo on the Rosecrans Corridor, Continental Park today bills itself as the largest mixed-use office park in Los Angeles County.

The origins of the site, home to the new headquarters of electric vehicle-maker Fisker Inc., stretch back more than 50 years.

In 1969, entrepreneur and general contractor Charles Lundquist launched Continental Development Corp. The basis of his new company was 20 acres of land in the South Bay that he had acquired for UNIMERC, an investment group Lundquist had formed 14 years earlier. 

He merged UNIMERC into Continental Development Corp. and started building out the plot of land that would become Continental Park. 

Over the next five decades, Continental Development would steadily grow its presence in L.A. The company now holds roughly 4 million square feet of commercial and office space in California, and its expansion continues today under the leadership of the founder's son, Richard Lundquist, who came aboard in 1972.  

"Growing up, I always knew I wanted to be involved in real estate development," he said. 

But Lundquist's first big role was not in his father's company. Instead, he and a friend started a home building business creating spec homes. 

His dad then asked him to join Continental, but Lundquist continued building homes on the side. By 1988, he was working on Continental's commercial properties full time. 

Lundquist became president of Continental after holding other roles at the company, including construction project manager and working with the property management department. After his dad retired in the mid-1990s, he acquired the company.

Lundquist said he "enjoyed the relationships with our (commercial real estate) tenants. Tenants are a little different than residents, and I really loved the aspects of that type of development that we do. The office, the medical office, retail, restaurants, and we've done a movie theater complex and fitness facilities. I enjoyed the variety and the aspect of holding onto the assets instead of just selling a home to a buyer."

Continental also has several projects in the construction or planning phases.

Most recently, the company developed an office campus called Del Rey in partnership with Mar Ventures Inc. It's also working on the Nash Street Exchange, a 7.3-acre site near the El Segundo Boulevard Green Line station that will have 75,000 square feet of retail, dining and medical office space. 

And in July, Boston Properties Inc. acquired a 50% interest in Continental Development's planned Beach Cities Media Campus, a 6.4-acre site on the western border of Continental Park. 

El Segundo and beyond
Continental Development has long been interested in El Segundo.

"That's where my father's manufacturing business was that he would end up with the land. The buildings were in Manhattan Beach on Rosecrans ... and they had acquired approximately 20 acres for expansion in El Segundo," Lundquist said. 

At the time, the market had higher vacancy rates. That, plus its proximity to the airports and ocean, and the fact that the city is very business-friendly, made it a desirable area to develop, Lundquist said.

"It seemed like an excellent place to continue our development activity," he said.
El Segundo, known as an aerospace hub and for its Chevron refinery, has been attracting a greater variety of tenants lately. 

During the third quarter of 2020, the asking rate for Class A space in the area was $4.44 a square foot, up 5 cents in a year, according to data from Jones Lang LaSalle Inc. That number might seem high, but it's still a discount compared to parts of the Westside like Santa Monica, where the average asking rent was $6.64 a square foot during the third quarter.

Continental has also worked on projects in other L.A. County cities, and it has substantial holdings in Torrance in the medical office field.

Lundquist said Del Rey, the company's most recently completed project, was "a very nice development that is suited for the post-Covid world."

Del Rey is comprised of three, two-story buildings on roughly 5.7 acres.

In November, Electronic Arts Inc. announced it had signed a 10-year lease for a new studio headquarters at the campus. The video game company is leaving its longtime offices in Playa Vista for Del Rey, which features lots of outdoor areas and balconies.
"The fact that it was a campus with individual buildings was of interest to (EA), so they could have their own building," Lundquist said.

Some experts say that during and after the Covid pandemic, many tenants are likely to seek out their own buildings rather than shared properties.

Lundquist said the company is also incorporating features such as touchless doors and entrances, as well as stairways in buildings that allow tenants to avoid elevators.
"We do everything we can to make the buildings work under this new world we are living in," he said.

Adding hotels and more
Continental Park started as an industrial park. Over the years, it has added a variety of other uses, including a large movie theater complex, a fitness facility, restaurants and creative office buildings. 

Beyond traditional office and retail, the company also has substantial medical holdings. 

Its Skypark medical office complex in Torrance spans 13 buildings and more than 500,000 square feet. It is served by two hospitals. 

"Our medical offices are in Torrance, and we acquired that property because it was a good value-add opportunity that was presented to us," Lundquist said. 

Initially he planned on the project being traditional office space but quickly changed gears.

"After a few months, we didn't have any new tenants signed up after building out a few of these spec suites, but we're receiving a tremendous number of calls for medical space and, being in close proximity to Torrance Memorial Hospital, decided to concentrate on medical there," Lundquist said.

When Continental acquired the property, it was 15-20% medical office space. It is now 80-85% medical office space.

The company has also ventured into hospitality. In 2008, it opened the 32-story InterContinental San Francisco. According to Continental, it was the largest new hotel development in the city in more than 20 years. 

Lundquist said the company owned the land, and the Moscone Center — the city's biggest convention center — was expanding "all the way up to (our) doorstep."

"We decided it made the most sense to develop a hotel," Lundquist said. "It's our first hotel, and it could quite possibly be our only hotel."

Still, he said the company could be interested in a high-end boutique hotel being added to the Continental Park area.

'A real opportunity'
Although the company is focused on new development opportunities, it is not ruling out value-add projects.

Continental Development is looking to expand its medical holdings in Torrance as well as add medical uses to the Nash Street Exchange project.

Lundquist said the company will continue to focus on suburban areas.

"We've always focused on suburban, low- to mid-rise developments, and that seems to be in vogue during and predicted to be post-Covid," he said. "People don't want to ride in elevators. We're fortunate that the product type that we have been developing is the product type that (people will want) in the future."

Continental Development also has acquired more than 30 acres from Raytheon Technologies Corp. Lundquist said the company was still in the early stages of deciding what to build at the site but is looking to extend Nash Street through the property and connect it to the Plaza El Segundo, which Continental developed in a partnership more than a decade ago. It will all eventually tie into Continental Park. 

"We received tremendous interest in the property because in the Westside of Los Angeles, there really isn't much available land. To have as many acres of land as we do gives us a real opportunity," Lundquist said.

And he expects the next few years for Continental to be similar to the last few years "other than this year, which has been a strange and difficult one."

"We have a lot of properties lined up for development. We will continue to work on those projects," he said.
For reprint and licensing requests for this article, CLICK HERE.