Thirteen Lune Offers Minority-Owned Beauty Brands a Digital Marketplace
Monday, February 15, 2021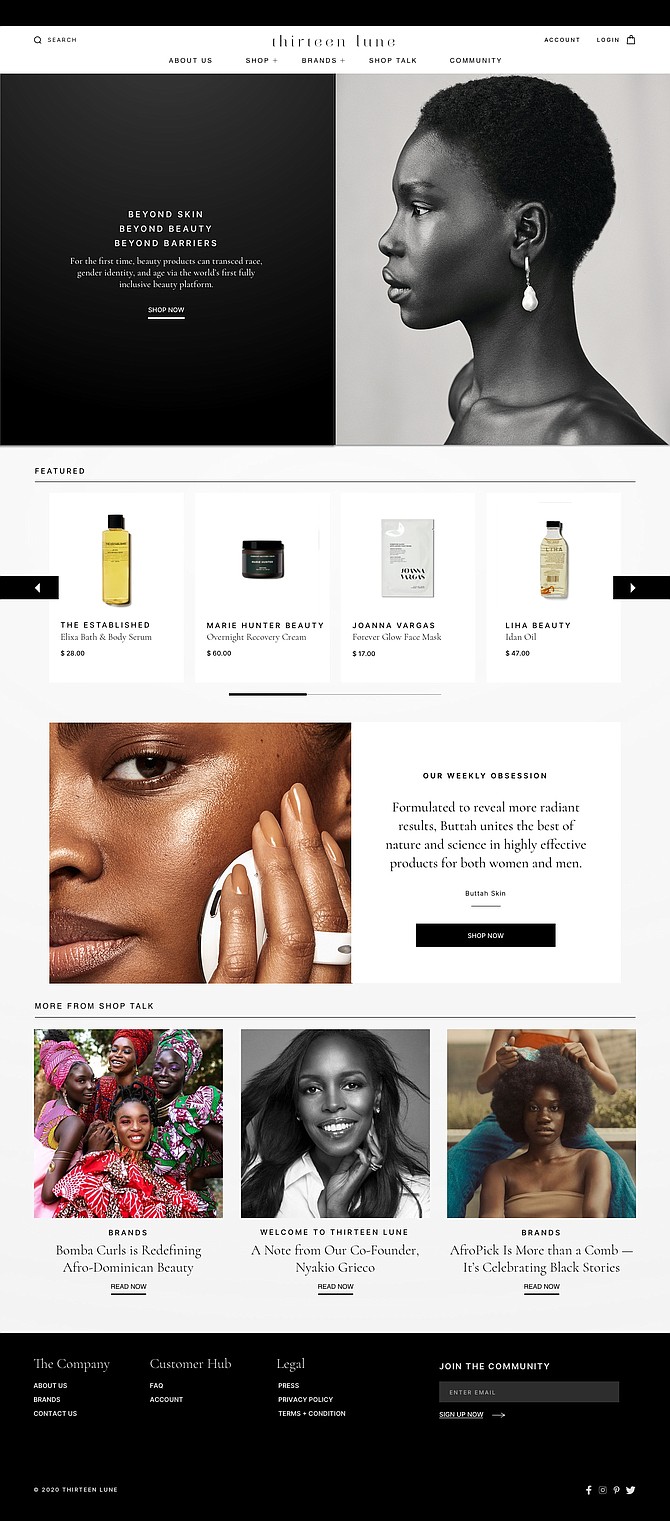 Thirteen Lune is a new kid on the retail block, but its arrival is long overdue, according to Nyakio Grieco, who co-founded the West Hollywood-based ecommerce company in December.
 
Grieco and her business partner, Patrick Herning, imagined Thirteen Lune as a marketplace to "amplify and celebrate and support brands by people of color, who create products for people of all colors."
 
The inspiration for the business venture materialized last summer after Grieco struggled to shop for products by Black-owned or Black-founded brands, often having to visit multiple websites before making a purchase.
 
Herning, who also runs 11 Honoré, an online retailer that sells designer clothing in sizes 12 and above, shared Grieco's passion for inclusivity and growing generational wealth.
 
Thirteen Lune has signed wholesale agreements with about 30 brands to date, with more expected in the coming months. The company also raised about $1 million in seed funding from friends and family and a roster of celebrity supporters.
"We're just so thrilled to have people like Diddy, Gwyneth (Paltrow) and Gregg Renfrew, who created Beautycounter, around our cap table, because these are people I have long looked up to for what they have built and the market they have made and their entrepreneurial journeys," Grieco said, adding that the money will be used to "grow our team and to grow our reach, (and) hopefully in the long run, to develop our own private-label products under the Thirteen Lune umbrella."

The ecommerce retail platform is Grieco's second venture — in 2002 she founded Nyakio Beauty, a line of bath and body products inspired by recipes from her Kenyan grandmother.

"I used a business plan that I had from college," Grieco said. "I ran the business out of my apartment — (serving) as customer service, shipping and receiving, the founder, sales, all of the things — while teaching myself how to be an entrepreneur in my 20s."
New York-based Sundial Brands, a Black-owned maker of SheaMoisture and Nubian Heritage, acquired Nyakio Beauty in 2015. The company traded hands again in 2017 when London-based Unilever picked up the parent company, which at the time generated about $270 million in annual revenue.
 
The acquisition enabled Nyakio Beauty to expand its line of skincare products, which Target.com picked up right before the pandemic and started selling at its stores last month.

"As a Black female beauty founder, I hope to inspire the next generation of beauty founders and let them know that after 18 years, and starting a brand out of my apartment based off of recipes that I learned from my grandmother at the age of 8 years old, that I now get to live on the shelves of Target, which has ultimately been my dream retailer since I started this journey," she said. "My hope is that with Thirteen Lune, I can help other brand founders get to that success even quicker."
For reprint and licensing requests for this article, CLICK HERE.