AirVet Pet Telehealth Platform Soars During Pandemic
Monday, February 15, 2021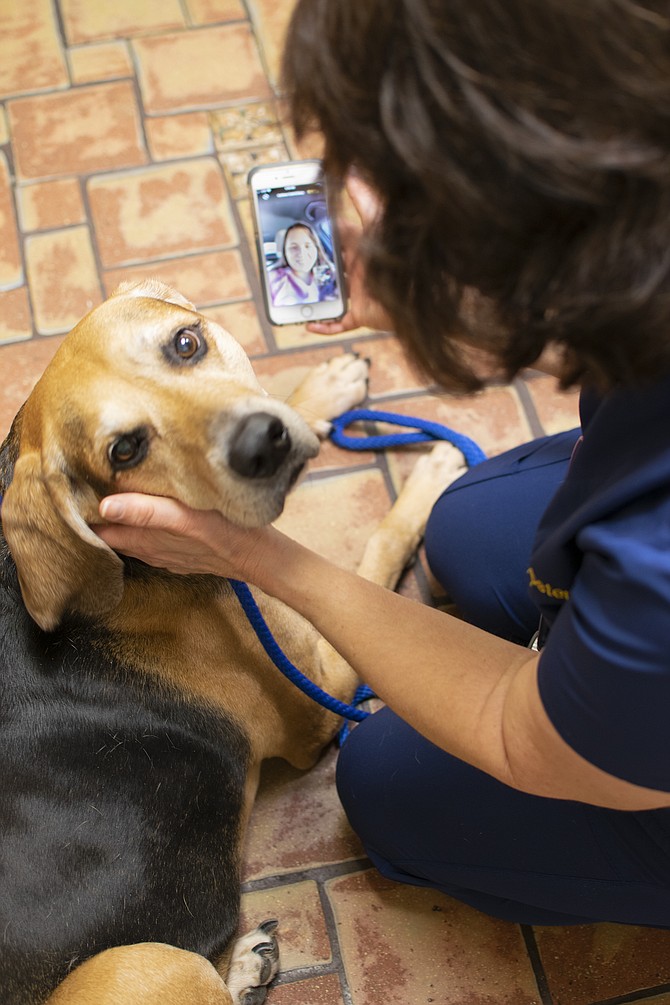 Growing up the son of a prominent local veterinarian, entrepreneur Brandon Werber never thought he would have to search for a vet for his two French bulldogs.
 
But when one of his dogs ate a potentially poisonous household asparagus fern, Werber's father was traveling overseas and couldn't be reached.
"All of a sudden, I was just like every other pet owner — scrambling to find a vet when every hour counts," Werber said. "It was a terrifying feeling."

Werber found a vet, but he realized there was no quick and efficient way for pet owners to connect with a vet to get urgent advice.
 
Pet owners had to rush their pets to 24-hour emergency pet hospitals and then wait hours to be seen, even if all that was really needed was expert advice on how to handle a pet crisis at home.

So, the entrepreneur with one startup under his belt decided to launch another — this one focused on developing a platform to match pet owners needing care advice for their pets with veterinarians willing to provide that advice on demand. And in November 2018 Beverly Hills-based AirVet Inc. was born.

Just over two years later, AirVet has become one of the largest pet telemedicine companies in the nation — thanks in large part to a pandemic that forced both pet owners and veterinary hospitals to turn to online services.
 
The company started signing up veterinarians and opened its app to customers at the very end of 2019. In the 13 months since then, about 100,000 pet owners have used AirVet, and the company has signed up more than 4,000 veterinarians and veterinary hospitals.

"AirVet appears to be the largest veterinary telemedicine platform in the nation," said Ted Root, a former chief executive of a pet pharmacy delivery service who now consults to the industry. Root estimated AirVet has access agreements with up to 15% of the estimated 30,000 veterinary practices nationwide.

Once Werber came up with the concept of a veterinary telemedicine network, he turned to investors who had helped fund his first startup — a loyalty award platform company that ultimately folded — and they put up $4 million in seed money to help him launch AirVet.

Werber and a team of software designers spent the next year developing the platform at a time when there were very few pet telemedicine operations.

"We were trying to develop a first-of-its-kind, Uber-like platform where vets could sign on when they had a break from their own practices and handle calls from pet owners facing a care crisis," he said.

Another part of the platform was aimed at veterinary hospitals to help them streamline their services and allow for video visits with pet owners and their pets.
AirVet launched its pet telemedicine service at the end of 2019 — and the timing proved fortuitous.
Three months later, the Covid pandemic hit, forcing vets and pet hospitals to sharply limit services or reconfigure operations, so pet owners could remain outside by the curb.
 
At the same time, pet owners were fearful that they could risk Covid exposure by taking their pets to a veterinary clinic or hospital.

Vet hospital focus
Werber said AirVet's first push was into the veterinary hospital market.
 
"With the pandemic, we quickly saw how veterinary hospitals were overwhelmed," he said. "Each curbside visit to deliver a pet to the hospital for examination and treatment involved three to four separate phone calls," as well as using the hospital's own makeshift remote payment platform.

"We decided to fold all this into one software platform, with curbside check-in, a live video and chat platform with veterinarians, one-touch payment, and post-visit appointment scheduling," he said. "No one else is doing this."

One veterinarian who has used AirVet's platform said it was desperately needed — and that was before Covid.

Melissa Webster, who has practices at two veterinary hospitals around Tampa, Fla., said she had seen what telemedicine was able to do for human health care and saw that this was the future for veterinary practices.

"The big pharmacies and pet store chains were taking a larger share of our business away with each passing year, and I could see that the only way we could preserve our business was to offer telemedicine," Webster said.

About four years ago, Webster started using a pet telemedicine service but found its offerings clunky. As soon as she heard about AirVet, she signed up for the company's software package.

"We use it for day of surgery, giving updates on conditions of pets and answering pet parent questions," Webster said. "We also use it to gain insight into the conditions at the pet parent's home, such as the caging they use for exotic animals, the food they use and the like."

She said one area of difficulty is pet owners with poor internet connections, which limits their ability to use AirVet's video platform. She said most of the time, AirVet technicians have resolved the issues.

Saving time, money
For pet owners, a major advantage of AirVet is the ability to resolve their pet problems without having to make an emergency trip to a pet hospital.

First-time pet owner Jess Wachtel, a lawyer who lives in Studio City, said her husband noticed in early January that their 4-month-old Bernedoodle (a cross between a Bernese Mountain dog and a poodle) was lethargic and not eating.

"This was a puppy who normally is bouncing off the walls," Wachtel said. "When we called our nearby pet hospital, they said there was a four-hour wait because of Covid capacity restrictions and that the initial consult was $200. So, I turned to the AirVet app that I saw featured on a morning television show and uploaded some videos of our puppy."

Within an hour, Jeff Werber, Brandon Werber's veterinarian father, called back. "He said we didn't need to take the puppy to the hospital but could wait to schedule a visit to our vet."

(Wachtel's veterinarian ultimately diagnosed the Bernedoodle with an autoimmune disease involving the bones and joints.)

Wachtel said AirVet not only saved time and money "but also put our minds at ease, which was just as important."

Stumbling block eases?
AirVet's appeal during the Covid-19 pandemic was evident when the company closed an investment round in June of last year that brought total outside investment to $15 million.
 
Major investments in the Series A round came from Portola Valley-based Canvas Ventures and San Francisco-based E.ventures.

"That allowed us to build the hospital platform and expand our direct-to-consumer marketplace," Werber said.

There is also hope that the Covid crisis may ease a key barrier to AirVet's future growth: the need for veterinarians to be certified in each state where they treat animals, which has prevented pet telemedicine services such as AirVet from setting up nationwide veterinary networks.

"Covid has permanently changed this landscape, and the regulatory framework will adjust to make it easier to establish veterinary telenetworks in the future," Root said.
For reprint and licensing requests for this article, CLICK HERE.