SpaceX Continues to Aim High Despite Setbacks
Monday, February 8, 2021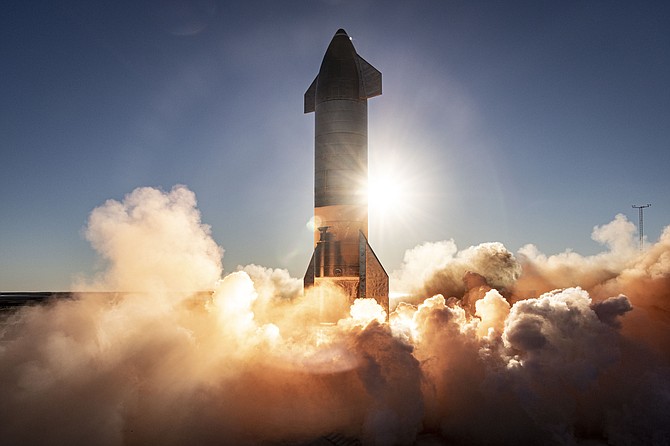 Space Exploration Technologies Corp. continues to make bold plans for the future of human space travel, even as it faces setbacks here on Earth.

The Hawthorne-based rocket manufacturer announced Feb. 1 that it aimed to launch a mission in the fourth quarter of 2021 in which four non-astronaut crew members will be sent into Earth's orbit for a multiday excursion.

The following day, SpaceX attempted a second high-altitude flight test of its Starship rocket — a spacecraft the company said will eventually transport humans to Mars.

The test, however, ended with an explosive crash landing that federal regulators have vowed to investigate.

The all-civilian mission announced Feb. 1 will be undertaken with one of the company's more proven Falcon 9 launch vehicles, which SpaceX used to complete its first two crewed missions last year.
 
The mission will be led by Jared Isaacman, co-founder and chief executive of payment processing company Shift4 Payments.
 
Isaacman purchased all four seats aboard the launch vehicle but will donate three of them — including two that will be awarded in a sweepstakes-style event to entrants who either make a donation to St. Jude Children's Research Hospital or start an online store with Shift4 Shop, an ecommerce site operated by Shift4 Payments.

SpaceX has long been public about plans to eventually launch paying customers into Earth's orbit and beyond. Last year, the company transported astronauts from NASA and the Japan Aerospace Exploration Agency to the International Space Station in a pair of missions completed as part of NASA's Commercial Crew program.

SpaceX has also reached agreements with space tourism companies Space Adventures Inc. and Axiom Space Inc. to launch paying customers out of Earth's atmosphere.

According to SpaceX Chief Executive Elon Musk, those aboard the company's launch vehicles will eventually be able to travel as far as the red planet. Musk said last year that SpaceX aimed to begin launching crewed missions to Mars as soon as 2024.

To get to that point, the company will need to further refine its enormous Starship spacecraft, a nearly 15-story vessel designed for interplanetary space travel.

A test of the Starship conducted in December ended in a fiery explosion, but the company said it had gathered valuable data that would be used to refine future iterations of the rocket.
 
SpaceX again failed to stick the landing on the second test. The rocket came down slightly lopsided and exploded on impact as the company attempted to bring it back to the launch pad at its testing site in Boca Chica, Texas.

"We've got a lot of good data on flap control, and again, we've just got to work on that landing a little bit," Principal Integration Engineer John Insprucker said during a webcast of the test flight.

SpaceX has already assembled a new Starship prototype on another launch pad it operates at the Boca Chica facility and appears eager to continue testing.

The company had for more than a week been seeking approval from the Federal Aviation Administration for the test flight conducted Feb. 2.

A spokesperson from the FAA said the delay stemmed from safety concerns over the December test launch, which SpaceX conducted "without demonstrating that the public risk from far field blast overpressure was within the regulatory criteria" outlined in federal regulations.

Musk complained via Twitter about the regulatory process for test launches, calling FAA regulations "fundamentally broken."

"Under those rules, humanity will never get to Mars," he said.

The company may face further challenges completing tests after a second fiery crash.
A spokesperson from the FAA said the administration did not plan to take further action against SpaceX for flaunting regulations during its December test flight but would "oversee the investigation" of the "landing mishap" on Feb. 2.

SpaceX may also face increased scrutiny from the Federal Communications Commission, which last year announced it would award the company nearly $1 billion worth of subsidies to fund development of a global broadband network that could bring high-speed internet to rural areas. The broadband project, called Starlink, is in beta testing and relies on clusters of small satellites the company deployed over the past two years.

Other broadband providers have complained, formally and informally, that SpaceX's technology is too unproven to qualify the company for such generous subsidies.
For reprint and licensing requests for this article, CLICK HERE.