Buildings That Opened During Pandemic Are Slow to Lease
Monday, February 8, 2021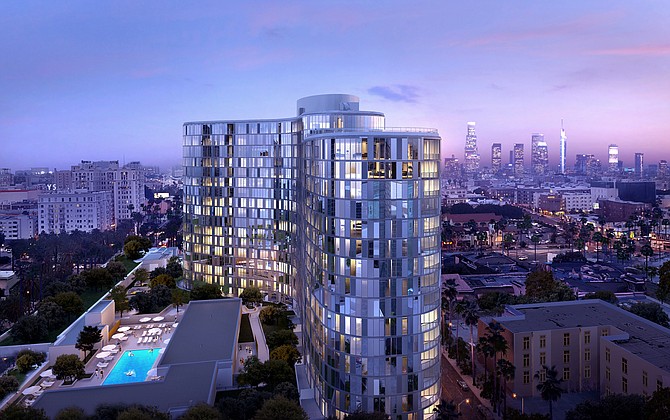 Jamison, a Koreatown-based developer with a strong presence in the neighborhood, managed to open a handful of large multifamily buildings over the past few months, including its first in Hollywood.

It was a feat in the middle of a pandemic. Now, the developer is facing a new challenge: securing tenants.
 
Whereas Jamison used to have its new buildings almost fully leased in three to five months, according to Jaime Lee, chief executive of Jamison's leasing arm, it is now taking nine months to a year.
 
That time frame, she added, is in line with pre-pandemic market averages.

Construction was classified as an essential service during lockdowns, which allowed several key projects to open. But even L.A.'s roaring development scene couldn't dodge the blows from a global pandemic.

Planned openings of some buildings were postponed because, for example, local government officials were slow to sign off on certificates of occupancy or other permits, according to CBRE Group Inc.'s Laurie Lustig-Bower.
 
"There may have been some forced delays," she said.

Projects that hadn't broken ground yet also became vulnerable during the downturn.

"The ones that were under construction have been pushing forward, (but) some of the more anticipated projects or projects that were in discussion pre-Covid that hadn't secured construction financing, some of those developers went back to the drawing board," said Jones Lang LaSalle Inc. Vice President Peter Hajimihalis.

Experts say that in some instances, it has been harder for developers to line up financing. In other cases, they took extra time to tweak designs or propose new uses.
 
Still, several key projects in every commercial real estate sector, from hospitality to residential to office, made their debuts in the face of the economic crisis. Many of those buildings had been in the works for years and were already nearing the finish line.

"The development timeline starts upwards of three, four, five years before a project actually opens. Anything that did open in 2020 was set in motion well before the pandemic," Lee said.

Since the fall, Jamison has launched Archer at 1718 Las Palmas Ave., Nova at 3980 Wilshire Blvd., Sawyer at 411 S. Normandie Ave. and Crosby at 3350 Wilshire Blvd. Crosby opened in September and is now 46% leased.
 
But Lee and others are optimistic.

"We're starting to see a little bit more steam picking up. We're excited by that," Lee said.

That's good news for Jamison, which has buildings planned to open in February, April and June for a total of 1,200 units this year.

Lustig-Bower said, however, that leasing "is much slower than before the pandemic."
She added that suburban buildings where an elevator isn't necessary are now hot commodities.

"Those buildings saw more demand from tenants because we did see a bit of an exodus from the urban cores like from downtown L.A. or Hollywood," she said.
Kitty Wallace, an executive vice president with Colliers International Group Inc., called lease-ups "difficult and rough."

She said some places are giving six or eight weeks of free rent to entice tenants to move in.

"Koreatown is the only place that has actually had positive absorption in 2021, which is crazy because they have had a lot of properties deliver," Wallace said.

Other areas, like Santa Monica and Marina del Rey, have had to offer more concessions, Wallace said. She added that smaller projects were also doing better than large ones.

Jamison's Lee said one month of free rent is a common concession now.
The pandemic has also prompted some developers to change or remarket certain design features.
 
Lee said Jamison has started sometimes showing two-bedroom apartments as one-
bedrooms with an office. 

Delayed openings
At Llewellyn, a 318-unit residential project under construction next to Los Angeles State Historic Park in Chinatown, developers upgraded air filtration systems and installed touchless plumbing.

Llewellyn is among those buildings that have encountered delays. It was originally slated to open in January, but spring is looking more realistic, and preleasing is underway.

Trammell Crow Co. subsidiary High Street Residential and Principal Real Estate Investors are behind the project.
 
Alex Valente, a senior vice president with High Street Residential, said the development was "a little bit against the grain for what a lot of developers have been doing in downtown Los Angeles" due to its large floorplans.

But he thinks more people will now be drawn to the project, which features 1,700 square feet of coworking space and lots of outdoor amenities.

Valente said the project has attracted interest from potential tenants from other parts of downtown and nearby areas who are attracted to the building's location next to the park.
 
Overall, Lustig-Bower said rents are down. She estimates that they will bottom out at 11% below pre-Covid rents, with some markets faring better than others.

"We do expect that once everything bottoms out, which we think is going to happen the first or second quarter of this year, we think there will be a robust recovery," she said.

Lee also predicts that multifamily will see a strong recovery.

"We'll see a good chunk of those people who left Los Angeles coming back and will see that tremendous surge in demand for multifamily housing as we were seeing consistently in the four years pre-pandemic," she said.

The company is also interested in signing master leases with coliving groups as it did for its project at 966 Kenmore Ave., which opened in October. A coliving group managed to lease that building in 19 days, Lee said.
 
"It's good to diversify to the extent that there are projects that lend themselves to certain uses," she said.

'Some hesitation'
One of the biggest new office projects to finish in the past few months was Mark 302. The $50 million remodel converted a former Sears building in downtown Santa Monica into creative offices with some retail and restaurant space.
 
It's owned by Seritage Growth Properties and Invesco Real Estate. Seritage aims to start a residential stage of Mark 302 soon.

Ken Lombard, the chief operating officer at Seritage, said there have been great reactions to the project so far — but no leases have been signed yet.

"It's just a matter of getting back to some sense of normalcy and tenants looking at their office space needs," Lombard said.

Seritage wants to find one user for the entire office component, but Lombard said that "at some point in time, if we've found there was a tenant that fits the space, we may look at subdividing it."

JLL's Hajimihalis said leasing hasn't exactly been easy.

"There has been some hesitation, people saying we want to get back to the office before we commit to long-term deals," he said.

Still, Hajimihalis said there have been some success stories and "a flight to quality as some of the older buildings across L.A. just can't keep up with the newer designs and things that tenants in today's world are looking for."

He added that operable windows, tech and outdoor space are all desirable to tenants now.

Lombard said Mark 302 already has desirable features like touchless elevators and lots of outdoor space.

Hajimihalis said the design of most new office projects is not changing, but developers are working on technology and supporting systems like touchless entries and destination elevators.

There is a bright spot in office leasing looking forward: Hajimihalis said a lot of preleases signed over the last few years are for properties that will deliver this year and won't have to search for tenants.

Hotels hit hard
One of the areas hit hardest by the Covid-19 pandemic is hospitality. Stay-at-home orders, travel bans and safety concerns have stopped people from occupying L.A.'s hotels like in years past.

Still, there are some hotels planning to debut.

Hilton Santa Monica, for example, is scheduled to open in March with 286 guest rooms, including 211 suites. It was previously a Double Tree with 253 rooms.

Shahid Kayani, general manager of the Hilton, said the new property would "bring some value just a couple of blocks from the beach."

The property was initially scheduled to open in mid-December, but that was pushed back after public health orders, which are no longer in effect, made it so that hotels could not check in leisure guests.

Kayani said the hotel being largely suites would make it desirable to people looking for more space. They did, however, have to remove things like communal tables from the lobby temporarily.

In order to create more suites at the property, Hilton broke down some 1,200-square-foot presidential suites and moved the lounge from the second floor to the lobby.
Kayani said he expects the property to continue to be popular with international travelers wanting rooms near the water.
 
And the size of those rooms, he added, will make it easy for corporate travelers or other guests needing to work during their stays.

"I think it will be the nicest renovated hotel in Santa Monica," he said.
For reprint and licensing requests for this article, CLICK HERE.