Who's Who in Tech: Growing Companies Make Their Mark
Monday, February 1, 2021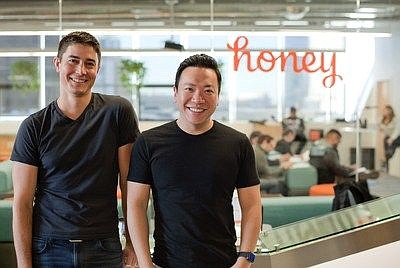 Honey Science 
HEADQUARTERS: 
Downtown
TOP EXECUTIVES: 
George Ruan and Ryan Hudson
BUSINESS:
Digital coupons and deals
EMPLOYEES:
Approximately 475
NEED TO KNOW:
Honey Science, which was founded in 2012 to help customers find online shopping deals, made a huge leap from startup to established player in November 2019 when it was acquired for $4 billion in cash from PayPal.
It was the largest acquisition to date by San Jose-based PayPal Holdings Inc.
The deal gave PayPal's network of 24 million merchant partners the ability to target personalized promotions to customers. Honey, meanwhile, gained access to a much bigger user base for its browser extension, which scans offers and tracks prices for bargain-hunting consumers.
Honey earns a commission whenever customers activate savings using the service. The company also has a wish list feature that alerts users to price reductions. In addition, Honey offers a rewards program called Honey Gold, where users can redeem "gold" for gift cards. According to Honey, it has saved customers more than $1 billion and has more than 17 million active users.
In a November call with investors, one year after the deal was announced, PayPal Chief Executive Dan Schulman said the company would begin to integrate Honey onto its platforms, including Venmo, which PayPal acquired in 2013.
QUOTABLE:
"The rapid rise of ecommerce has accelerated the adoption of these tools and fueled Honey's growth as consumers look for personalized and rewarding ways to shop online, and merchants seek new ways to convert and engage with their customers," Honey co-founder George Ruan said in an email. "Now, as part of PayPal family of brands, that growth continues as we build powerful new products that help consumers and merchants adapt and thrive in the new digital economy."
ServiceTitan Inc.
FOUNDED
: 2012
HEADQUARTERS:
Glendale
CEO: 
Ara Mahdessian
BUSINESS:
Software
EMPLOYEES: 
1,049
ANNUAL REVENUE:
More than $200 million (2020)
NEED TO KNOW:
ServiceTitan Inc., the leading software provider for home and commercial services contractors, received a number of accolades in the last year.
The Glendale-based company reached No. 11 on the Forbes Cloud 100 list, No. 154 on the Deloitte Technology Fast 500 list of North America and No. 59 on the Inc. Magazine 5000 Regionals list for private businesses in California.
The recognition follows ServiceTitan's steady growth, including a series of acquisitions over the past three years.
The company picked up Wichita, Kan.-based JaRay Software Inc. in November 2018; added Billings, Mont.-based Cuc Software Inc. in July 2019; and purchased Ann Arbor, Mich.-based Servant Systems Inc. in October.
ServiceTitan provides tools for revenue growth, operations, financial insight and customer service for the trades industry. Its software is used by more than 5,000 small businesses in approximately 18 industries.
QUOTABLE
: "The unprecedented challenges we've all faced in the last year revealed something that we've always understood at ServiceTitan: The home and commercial services contractors we work for are an essential part of the American economy, and we need them to keep this country running. Our mission is to make a positive impact on their lives, and our team pursues that with determination and passion," said Ara Mahdessian, ServiceTitan chief executive and co-founder. "As long as we're committed to truly making contractors as successful as possible, we're confident that their dedication will sustain our own continued efforts."
Scopely Inc.
FOUNDED:
2011
HEADQUARTERS:
Culver City
CEOs: 
Walter Driver and Javier Ferreira
BUSINESS:
Mobile gaming
EMPLOYEES:
More than 900
ANNUAL REVENUE: 
$900 million (2020)
NEED TO KNOW:
In October, Culver City-based Scopely Inc. raised $340 million in Series E funding, giving the gaming company a valuation of around $3.3 billion.
That's nearly double the company's valuation from a year earlier, according to reports, and a clear indication of the surge underway in the gaming space during the pandemic.
Scopely has a portfolio of nine mobile games for casual and core gamers, and it has found success with games based on popular entertainment brands, such as "Star Trek Fleet Command" and "Marvel Strike Force."
But the company has seen an increasing number of players attracted by the community aspect of its games, such as chat functions and in-game live events, according to Mike DeLaet, Scopely's senior vice president of strategic partnerships.
In the past two years, Scopely has acquired four gaming studios: Dublin-based Digit Game Studios in May 2019, Playa Vista-based FoxNext in January 2020, Culver City-based PierPlay in April and Spain-based Genjoy in October.

QUOTABLE:
"Gaming continues to become an even larger part of the entertainment ecosystem, with core gamers becoming even more deeply engaged and casual players finding new experiences that fit their personal interests and enjoyment," DeLaet said.
Ring
FOUNDED: 
2012
HEADQUARTERS:
Santa Monica
TOP EXECUTIVE:
Jamie Siminoff
BUSINESS: 
Home security
EMPLOYEES: 
2,000
NEED TO KNOW: 
Santa Monica-based Ring is living proof of the old adage, "If at first you don't succeed…"
The company was famously rejected on ABC's "Shark Tank" in 2013 before going on to become a pioneering brand in the smart home security industry.
Ring's success with smartphone-operated cameras and doorbells, indoor and outdoor security cameras, and smart lighting attracted the attention of Amazon.com Inc.
The Seattle-based ecommerce giant invested in Ring in 2016 through the Alexa Fund, which provides funding for voice technology companies. And in February 2018, Amazon paid $1 billion to acquire Ring outright.
Ring recently launched a free app called Neighbors that gives users real-time crime and safety alerts from neighbors and public agencies.
And in response to reports of security breaches of Ring devices, the company announced Jan. 13 that it would roll out end-to-end video encryption for some of its products. This feature secures an additional lock to customer videos, which can only be unlocked by a key stored in the customer's mobile device.
QUOTABLE:
"Since our founding, Ring has been a mission-driven company focused on inventing products and services that help make a positive impact in our homes and our neighborhoods," said Jamie Siminoff, Ring's founder and chief inventor. "The focus on our mission has allowed us to build products that provide real value to our customers, and we remain committed to delivering more choice, affordability and convenience to them every day."
Keep reading the 
2021 Who's Who in Tech Special Report
.
For reprint and licensing requests for this article, CLICK HERE.