Slumping Retail Real Estate Market Shows Some Signs of Life
Monday, February 1, 2021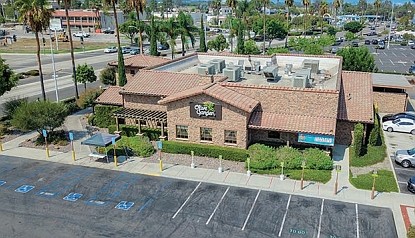 The retail real estate market has been hit especially hard by Covid-19, but the industry still managed to log some big sales in Los Angeles County during the second half of 2020.

"The retail market had a rough year with the pandemic and the subsequent shutdowns and a change in consumer habits," Jones Lang LaSalle Inc.'s Bryan Ley said in an email.
 
"Q1, 2020 was looking to be a bright year for retail and a robust year for food and beverage, the movie industry and the gym industry, but those sectors to end the year are the hardest hit, and many tenants within that sector (are) now struggling for survival."

Ley said sales through November were down 48% nationwide.

Most of the highlights in sales activity for the retail category came from daily need tenant properties, such as grocery-anchored shopping centers.

"You saw a very active grocery sector. If there were multitenant retail centers that were of interest, it was the grocery-anchored centers," Newmark Group's Matt Berres rugstores were also in demand during the second half of 2020.

One of the biggest retail sales last year was the grocery-anchored California Marketplace. The 80,000-square-foot property at 450 S. Western Ave., home to Korean grocery store Gaju Market, sold for $57.5 million.

And Exposition Marketplace, a retail center near USC anchored by Expo Super Market, sold for $29.4 million.
 
CBRE Group Inc.'s Derrick Moore, who represented the seller of California Marketplace, said the center was such a hot property for investors that it received more than 60 bids at auction.

Daily needs centers, he said, "have done well from a consumer trafficking standpoint and sales."
 
Some grocery stores, Moore added, have seen double-digit sales growth.

Berres said that 1031 exchange buyers and institutional capital were both interested in grocery-anchored centers, increasing demand.

Drive-thru appeal
In addition to grocery stores and grocery-anchored centers, Berres said restaurants like Starbucks or Chick-Fil-A that offer drive-thru service are of interest now.

There were also some high-street retail sales late last year including 457-459 N. Rodeo Drive in Beverly Hills, which sold for $122 million. And a Staples at 6450 W. Sunset Blvd. sold for a land value of $25 million.

Other big sales included a 12-property portfolio in Van Nuys, Sherman Oaks and Valencia purchased by Lithia Real Estate Inc. for $199.8 million. And a collection of four parcels on Sunset Boulevard sold for $62 million.

Ley added that some investors were also looking for value-add opportunities.
"For value-add investment opportunities, investors are focused on the in-place rents and story of the center and location (and) if there is really the upside that is being advertised," Ley said in an email.

According to Moore, some investors were showing more interest in suburban assets.
"As we've all been working from home, there's been a lot more interest in some of the submarkets where, in the last decade, we were trending toward the core markets," he said.

Stream Realty Partners' Michelle Schierberl said retail investors are still interested but haven't had as many opportunities to invest. She called the lack of transactions for $5 million and up "shocking."

"The money, the capital is there but the properties are not transacting," she said.
Schierberl added that centers with multiple tenants may be having issues with at least one tenant right now. But owners having issues don't always want to sell and accept a discounted price versus the value they would have received pre-pandemic.
 
Some properties that sell will be for redevelopment opportunities and transitioned to other uses, Schierberl said.
 
Indeed, a handful of the top 10 retail sales since June were redevelopment opportunities, according to CoStar Group Inc. records.

Uncertain future
Looking ahead, industry experts don't necessarily see a bright future for the retail category in the near term.
 
"After a year like we had in 2020, our expectations are low (for 2021)," JLL's Geoff Tranchina said in an email. For the long-term, though, he said he was more optimistic.
Others are more hopeful.

"Most of us are (thinking that) by third quarter 2021, that we will start seeing things turn around," Newmark's Berres said. "We will see capital continue to chase and look at these grocery-anchored centers. They have still fared well in terms of cap rates, and the cost of capital is very low."

He added that restaurants could take a while to bounce back, but single-tenant net investments of drive-through properties and sale leasebacks are likely to be favored investments.

Single-tenant net leased assets are seen as a relatively safe asset class. In these properties, the tenant has a net lease in place where they are responsible for everything at the property, which could even include taxes. It's a reliable monthly check for the landlord. Berres called these properties "bond like."

In a sale leaseback agreement, an owner-operator sells a property while leasing it back for an agreed-upon amount of time, usually with extension options. This benefits the buyer who has a tenant immediately in place and the seller who gets a cash infusion in its business.
 
"Being able to take the real estate off the balance sheet, being able to receive capital to either pay down debt, buy competing companies, be able to buy infrastructure and invest into their own business," makes sale leasebacks desirable, Berres said.
Schierberl said she believes more clarity is likely in the coming months.

"I think as the vaccine gets implemented and the lockdown restrictions go away, you will be able to decipher the tenants that will be able to survive this and those that cannot," she said.
 
Once that happens, she added, more information will be available about underwriting properties and investor interest. But some investors may not return to retail at pre-Covid levels.

"A lot of the institutional funds may have reallocated (funds). They aren't going to buy retail in such a large bucket," Schierberl said. "They may have downgraded their appetite for retail, but there is still going to be demand for high quality shopping centers." 
Top Retail Property Sales In L.A. County (June 1 - Dec. 31, 2020) 
1. 
12-Property SaleThe Deal:
A portfolio of retail assets sold for nearly $199.8 million.
Buyer:
Lithia Real Estate Inc.
Seller:
Howard A. Keyes Trust
Address:
5905 Van Nuys Blvd., 5849 Van Nuys Blvd., 14525 Hatteras St., 5855 Van Nuys Blvd., 5654 Van Nuys Blvd., 5746 Van Nuys Blvd., 5400 Van Nuys Blvd. and 5239 Van Nuys Blvd. in Van Nuys; 5239 Van Nuys Blvd. in Sherman Oaks and 23923-23955 Creekside Road in Valencia
2. 
457-459 Rodeo DriveThe Deal:
A group of properties on Rodeo Drive sold for $122 million.
Buyer:
Reuben Brothers
Sellers: 
Crown Equity and Ascendant Capital Partners
Address: 457-459 Rodeo Drive, Beverly Hills
3.
Sunset BoulevardThe Deal:
A four-parcel property on Sunset Boulevard sold for $62 million.
Buyer:
Greystar
Sellers: 
Jerry Illoulian, Hekmat Hekmatravan
Address:
7558-7580 W. Sunset Blvd., 7550-7556 W. Sunset Blvd., 7500-7516 W. Sunset Blvd. and 1447 N. Sierra Bonita Ave., Hollywood
4. 
California MarketplaceThe Deal:
An 80,000-square-foot shopping center sold for $57.5 million.
Buyer: 
Jake Sharp Capital
Seller:
California Market
Address:
450 S. Western Ave., Koreatown
5. 
Honda DealershipThe Deal:
A newly completed Honda dealership in South L.A. sold for $33.6 million.
Buyer:
Brandon Steven Motors
Seller:
Velocity Motors
Address:
800 and 780 W. Martin Luther King Jr. Blvd., South L.A.
6. 
Shops at South Bay PavilionThe Deal:
The Shops at South Bay Pavilion sold for $30 million.
Buyer: 
NewMark Merrill Cos.
Seller:
Seritage Growth Properties
Address: 
20420 Avalon Blvd., 20700 Avalon Blvd., 20532 Avalon Blvd. and 736 E. Del Amo Blvd., Carson
For reprint and licensing requests for this article, CLICK HERE.