Community Engagement Shows How the Rams Impact Greater LA Year-Round
The Lists 2022
Monday, December 27, 2021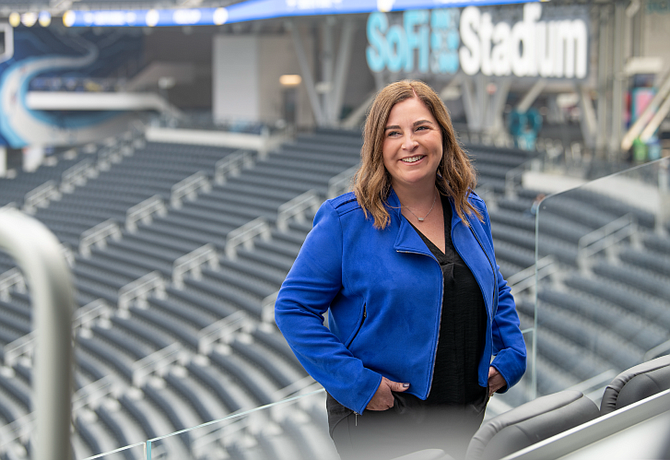 Under normal circumstances — if such a thing exists for a National Football League franchise — this year would be a hectic one for Molly Higgins. As the Los Angeles Rams' vice president of community affairs and engagement, she guides the organization's community outreach efforts, a task that got larger in scope when she made the move with the team from St. Louis to Los Angeles.

"Probably the first difference (between the two cities) that hits you is that L.A. is so vast," she said.

Higgins matched her efforts to the region. In 2020, she helped lead a push to raise more than $3 million for the Rams' nonprofit partners and that saw players and coaches raise and donate another $1.5 million, and front office staff committed to nearly 1,200 hours of community service. She also helped organize three meal distribution events providing food to 7,300 families.

Yet 2020 pales in comparison to what lies ahead for her and the Rams this year as the team prepares to host Super Bowl LVI on Feb. 13.

And though she admitted this has been a "super hectic" time, she said it with an unmistakable note of excitement in her voice — a bit giddy because attracting the world's spotlight will allow the team to "leverage this special time in Los Angeles."
Highlight Reel
Part of that effort will be providing grants to 56 local nonprofits to help further their work, including marketing so "other Angelenos will be inspired to support them." The number 56 is intentional as this will be the 56th Super Bowl, and it also will allow the organization to "shine a light on so many people in Los Angeles doing great work."

Those local organizations the Rams have impacted include downtown-based Homeboy Industries, Watts-based Sisters of Watts and Eastside Riders Bike Club, along with  Bellflower-based Habitat for Humanity for Greater Los Angeles and the Los Angeles Regional Foodbank based in Vernon.

"We really view ourselves as a civic entity, one that wants to win both on and off the field," she said. "When we're out in the community, that engagement is so critical to our fan development"

Higgins described the organization's approach to fan development as building relationships. Kids exposed to the brand eventually buy merchandise and tickets, and as they get older then buy season tickets and suites, she said.
 
"Being in the community not only allows us to make a difference, it allows us to be sustainable," she added.

Playing by ear
Arriving at that intersection of community and commerce isn't easy; in fact, Higgins said, it takes "a thoughtful approach." That's why in 2016 when the team relocated from St. Louis, rather than jump right in, she made a request to Kevin Demoff, the Rams' chief operating officer, that she be allowed to conduct her own listening tour of the region.

That may have surprised some who figured Higgins was so good at her job — under her leadership, the Rams were named St. Louis Philanthropic Organization of the Year by the St. Louis Reginal Chapter of the Association of Fundraising Professionals — that she could simply plug into Los Angeles what she did in St. Louis.
 
"These are two totally different markets," she said. "I wanted to truly understand the (L.A.) community needs. I told Kevin it's the only way to go if we really want to build a foundation."

The listening tour ended up being important for Higgins personally as she admits to having some preconceptions about Southern California, including the oft-heard assumption that everyone in the area is involved in entertainment.

"I was one of those people who think that L.A. is just Hollywood and Beverly Hills," she said. "I learned it is ... so much more well-rounded with amazing people. In an odd way, I discovered that though this is a vast region, it really is a small community. I'd be at an event, and someone would say, 'Can I introduce you to X,Y and Z?' And ... very quickly you felt part of things."

Efforts figure to heat up the closer Feb. 13 gets when L.A. will host its first Super Bowl since 1993. And considering that the team itself could possibly appear in the game, things could get flat-out nuts.

"I'm looking forward to that insanity," Higgins said. "I'm an optimist, and if the team made it, it would be an amazing problem to have. We're proud of what we've accomplished so far, but we're always pushing for more. Greater success, greater opportunities. We're just excited for the future. We really want to be more than a football team." 
Read more in The Lists 2022.
For reprint and licensing requests for this article, CLICK HERE.