Flavor-Maker T. Hasegawa Moves Manufacturing to Rancho Cucamonga
Monday, December 20, 2021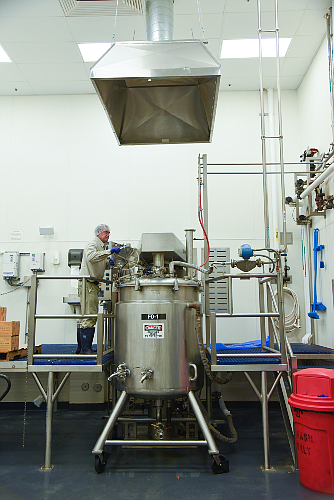 T. Hasegawa USA Inc., the maker of sweet and savory flavors for food and drinks, has outgrown its manufacturing facility in Corona and is moving operations some 20 miles north.
 
The Cerritos-based company said it acquired a 60,000-square-foot building in Rancho Cucamonga and is working on transforming it into a state-of-the-art factory that will be completed in March and focus solely on producing sweet flavors. Its plant in Cerritos, meanwhile, will be dedicated to salty spices.

"There's all kinds of garlic and onion and other stuff that are part of a savory flavors going into a soup, or a sauce or a dressing," said Chief Executive Tom Damiano. "I wanted to keep that separate from our vanillas and chocolates to completely eliminate any kind of risk of a cross contamination, of our vanilla tasting a little bit like a garlic."
The Corona facility came into the fold in 2017 when T. Hasegawa acquired Affinity Flavors on undisclosed terms. The deal "expanded tremendously our sweet portfolio," Damiano said, adding that last year the company acquired Mission Flavors in Foothill Ranch, which also focuses on sweet flavors.

"That (facility) has plenty of capacity," he added. "It's the plant in Corona where we were growing too fast."
 
The flavor-maker started out in 1978 in Lawndale as a U.S.-based subsidiary of Japan-based T. Hasegawa Co. Ltd.
 
T. Hasegawa USA moved to Cerritos in 1989. Its customer base includes Fortune 50 companies — such as Coca-Cola Co., PepsiCo Inc., Kraft Heinz Co. and Unilever — along with health and nutrition startups.

"We get involved with companies of all sizes, especially here in Southern California where there's a lot of (enterprises) that are starting up and moving up the ranks," Damiano said.
 
Clients look to T. Hasegawa to help them identify flavors that would pair well with their product or mask "off notes" that often accompany drinks loaded with vitamins and minerals. The company also helps identify what flavors are flying off the grocery shelves.

T. Hasegawa has 200 employees and generates between $100 million and $150 million in annual revenue, according to Business Journal estimates.
"We've almost tripled our business through growth and acquisition over the last five years," Damiano said. 
For reprint and licensing requests for this article, CLICK HERE.