Luxury Shoemaker Keeps Manufacturing Operations Local to Stay a Step Ahead
Monday, December 13, 2021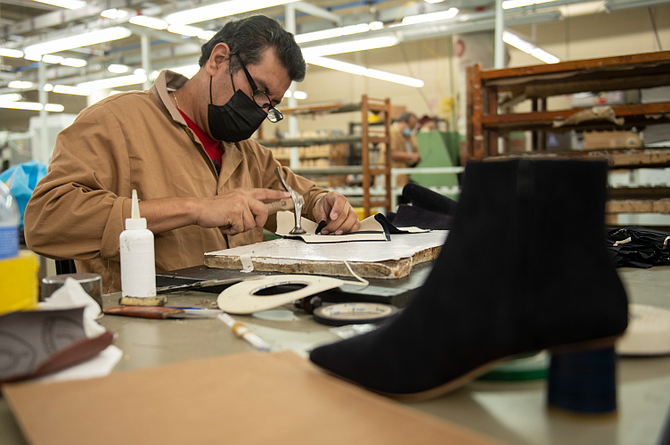 On a recent Tuesday, Sofi Newmyer stopped by Lalaland Production and Design Inc.'s factory in downtown and watched her new line of ankle boots get glued, stitched and boxed, just in time for the holiday shopping season.

"It's so surreal — even after doing this for a full year — it's hard to believe that this idea that I had has come to life," said Newmyer, who launched Beverly Hills-based Ma'am Shoes at the onset of the pandemic. "Seeing how many shoes we're making and all the people that are working on it, it's so exciting."
 
Lalaland made a relatively small batch — about 100 pairs — of Ma'am's suede boot featuring a crocodile-embossed leather round heel, but should the online orders for the $350 shoe take off, so will its production.  
 
"What's so great about working with Lalaland is that we can quickly turn things around," she said. "Once we see that sales are starting to pick up, we can figure out how we want to scale up production to meet the customers' needs."

Newmyer's company is one of several local startups that Lalaland's founder and Chief Executive Alexander Zar helped to bring a product to market, which, according to him, "has a very high barrier of entry because it's so expensive to do the development."
 
He was referring to various steps in the shoemaking process, including producing cutting dies and molds — also called lasts — for the shoe and heel, which have to be made for each size, as well as materials, such as leather, that often have to be bought in bulk and can be cost-prohibitive on a small manufacturing run.

"What I have done here is I brought everything in-house," Zar said. "I (have) lasts and heels, so they don't need to invest the money (to make new molds). I partnered with the largest Italian tannery that has an express program, and you don't have any minimum quantity to buy the leather, so you can buy one (and) do your test run, and if it is successful, you have a big inventory behind you. This allows a lot of small designers to show and express their design and art in the market, and Ma'am Shoes is one of them."

Local fit
Ma'am Shoes' name is a nod to a somewhat trivial yet pivotal occasion for Newmyer.
"Around the time I turned 30, I was feeling really comfortable in my own skin, and finally I found my footing in business, and I remember the moment that someone looked at me and said, 'Have a good day, ma'am,' and I just felt like, 'Oh, it's over, my best days are behind me,'" she said. "At first, I kind of resented that it came at a time when I finally felt like I wasn't faking it, when I was actually doing all the things that I said I was doing."

She channeled the frustration over the perception of her life stage into an idea to create shoes for women who, like her, "could still be sexy and have fun with all the perks of being a 'miss' but own what it means to be a 'ma'am.'"

Newmyer quit her job at Toms Shoes in Playa Vista in February 2020 and started looking for a local manufacturer experienced in making comfortable and durable shoes for women.

"It was a big leap to go from being very comfortable in the corporate world to then saying, 'I want to try this on my own,'" she said. "But I always had a little bit of an entrepreneurial itch that I wanted to scratch, and I've worked very closely with Blake Mycoskie who's the founder of Toms Shoes — for many years I was a chief of staff — and so I think some of his entrepreneurial spirit rubbed off on me, and I just said, 'If not now, when?' and so I did it."

Newmyer had "no interest in making shoes outside of Los Angeles," which meant she had to contend with higher production costs and price her merchandise accordingly. But she also felt good about her decision to partner with a local manufacturer and that her business was not contributing to greenhouse gas emissions produced by shipping products from overseas.

"Everybody wants a deal — I do, too — but at the same time, I do realize that while I have the privilege to be able to vote in elections, really, the most powerful way that I can be making my voice heard is through how I spend my dollars," she said. "We are very thoughtful about that and really understanding that that's also who our customer is and targeting her."

Ma'am's products are sold through its website, and Newmyer keeps a small stock of inventory at a warehouse in Santa Ana. Investments to date included a "very small" round raised from friends and family "to get the business off the ground and to keep us going."

"I think as we look toward our future, we want to be a household name," she said. "We want to be the shoe that women go to when they want to be comfortable but still be able to work a full day and pick up their kids from school and have a late-night dinner." 

What a pair
Taking on a n
ew customer can be challenging unless they are a well-established brand, said Zar, who started Lalaland in 2005 and counts Paris-based LVMH Moët Hennessy-Louis Vuitton among his longstanding clients.

"There are many people that don't have enough experience and understanding of how the shoe is made, and they decide they want to be a shoe designer one night, and they come to us," he said. "If I see that they have done their homework and they understand all the margins, and if I trust their judgment, I take them on."

What tipped the scales in Newmyer's favor was her background in and passion for the footwear industry and that she was willing to take into consideration Zar's guidance. For example, she updated details and colors on the latest line but stuck with the same shoe and heel construction in order to reduce cost, which can quickly add up to $15,000 per style.

"She followed our advice, and now we see that it's bearing fruit," he said.
Zar also added that Ma'am's business model — selling online and "cutting out the middleman" — complements local manufacturing.

"It was challenging in the past because everybody was dependent on going through the traditional wholesale channel or (brick-and-mortar) retail," he said. "But now, with Instagram and direct-to-consumer business growing, a lot of people like Ma'am are able to produce domestically and sell directly to their customers, tell their story where they are making it and be able to compete because they don't need to mark up (the product) five times by the time it gets to retail."
For reprint and licensing requests for this article, CLICK HERE.