Hope Bancorp to Repurchase $50 Million in Stock
Monday, August 2, 2021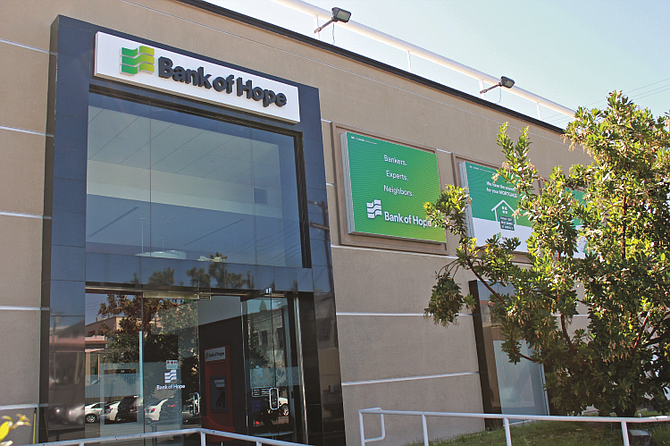 Hope Bancorp Inc., the Koreatown-based holding company of Bank of Hope, announced plans to repurchase up to $50 million of its common stock.

"This stock repurchase program underscores our board and management's growing confidence in the sustainability of our improved operational performance following the Covid-19 pandemic and commitment to returning capital to our shareholders," Kevin Kim, Hope Bancorp's chairman, president and chief executive, said in a statement.

"At current valuations, we believe the repurchase of our shares represents an attractive investment opportunity to redeploy excess capital and liquidity, and enhances long-term shareholder value," Kim added.

The stock repurchase authorization does not have any expiration date and may be modified, suspended or discontinued at the discretion of the bank.
 
The $17.5 billion-in-asset bank seems to have rebounded from its stock lows last year during when the regional Korean American bank was caught holding a big percentage of potentially troubled commercial real estate loans.
 
Last summer, roughly 18% of the bank's assets — or $3.1 billion in loans — were listed as loans with Covid-19-related payment deferrals and modifications, according to bank management's call with Wall Street investors.
 
The bank appears to have cleaned up its balance sheet of potentially troubled hotel and motel loans hit hard by the pandemic. In its 2021 second-quarter report, the bank disclosed the strategic sale of $119 million worth of these "high-risk" loans.

"We are very closely monitoring the hotel (and) motel and retail portfolio, and we will remain prudent in managing the risks associated with these portfolios at acceptable levels," Kim said during a call to investors last week.
 
The stock repurchase news came on the heels of the bank's second-quarter financial results.
 
For the three months ended June 30, Hope Bancorp's profits rose to $53.8 million, up 101% from $26.8 million in the year-ago second quarter.  
 
Total deposits as of June 30 totaled $14.7 billion for the latest quarter, up 4% from $14.1 billion in the year-ago period.

Total new loan originations grew to $894.1 million in the second quarter, up from $832 million in the same year-ago period.  

Outstanding loans totaled $14.7 billion, up from $14.1 billion in the year-earlier quarter.
For reprint and licensing requests for this article, CLICK HERE.