Zwift Riding High Thanks to Demand
Monday, April 12, 2021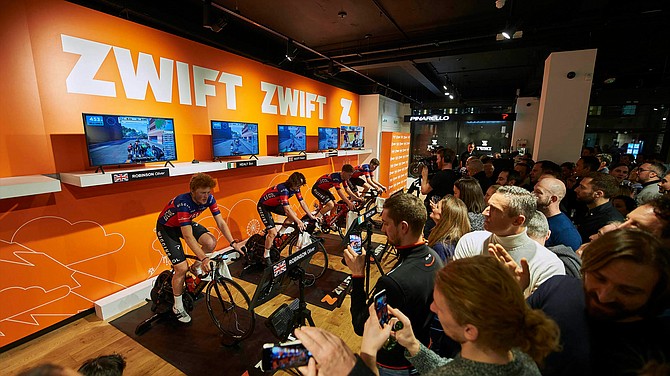 Deterred from riding his bike outdoors by Maryland's rain and cold, and bored with traditional trainer workout videos, Robert Mac-Knew downloaded a cycling app six years ago from Long Beach-based Zwift Inc.
 
He hasn't looked back.
 
Zwift, which can connect to any stationary bike equipped with a speed sensor, is a multiplayer training program set in virtual outdoor environments. The app measures riders' speed, heart rate and cadence.

As cyclists ride through one of eight virtual worlds and 129 animated routes — from professional races in Paris and casual rides with friends through New York City to spinning adventures on virtual islands — their customizable avatar responds to their effort.

MacKnew, 61, has helped forge a community with fellow Zwift riders who use social media to communicate and organize virtual rides. MacKnew is an administrator of a Facebook page named "Pack" that has 16,200 members, all of whom use Zwift and agree to ride at the same speed and stick to the mentality of "no rider left behind."  

"Believe me, if there was a better platform out there, I would be on that," MacKnew said of Zwift. "But in my opinion, I think they've made their experience more like real-life group riding than anybody else."

The company was founded in 2014 by Eric Min, Alarik Myrin, Scott Barger and Jon Mayfield, but its membership skyrocketed last year when Covid-19 forced millions of Americans to stay home.
 
Many fitness fans, desperate to stay active and build communities, even if only virtually, turned to at-home fitness programs as their gyms shuttered and their real-world social networks shrank.

In September, Zwift wrapped up a Series C founding round that netted $450 million, bringing its total investments since launch to $620 million. The company plans to use this funding to further develop its app as well as Zwift-branded hardware, which it sells online.
 
The company also plans to grow its team with the additional funds. It is planning to launch a new hiring initiative to immediately add 330 new staff members to its existing group of 421 employees.
 
"The company has now raised right around $600 million, so this is not a small little party anymore," said Mark Cote, senior director of content programing at Zwift. "This is a really big party, so the expectations are quite high."

Zwift is just one player in a crowded digital fitness field that includes Beaverton, Ore.-based Nike Inc., Santa Monica-based Beachbody, New York-based Peloton Interactive Inc. and Madrid-based Bkool.
 
But Zwift has found a niche that sets it apart from competitors like Peloton, arguably the biggest name in in-home cycling. Peloton, according to the New York Times, had more than 4.4 million users by the end of 2020.
 
"Peloton has taken the gym and brought it indoors, and we've effectively taken the outdoors and brought it indoors," Cote said.
 
During the pandemic, investments in digital fitness products increased 30% to 35%, according to a February report from Harrison Co., an investment bank that has offices in Los Angeles. The report predicts that the connected fitness technology industry will keep growing after the pandemic.
 
The report's author, Paul Byrne, said it might not grow at the same rate as gyms once they are allowed to reopen at full capacity nationwide. Still, he added, the at-home fitness industry will prosper
.  

"I think the fitness consumer of the future is going to be a consumer that consumes it in a lot of different places," he said. "The gym used to be sort of the center of the fitness universe. I don't think that's the case anymore."

Byrne said community building will be essential to the success of group fitness programs.
 
Zwift has been able to replicate that community in an online space.

"The core foundation of this, and one of the major reasons why Zwift has been on this super successful track, has been this formation of just an absolutely rabid community," Cote said.

Cote, who lives in the Santa Cruz area, said he often participates in rides organized by cyclists in Europe and has forged virtual friendships with fellow riders, whom he calls his "athletic pen pals."

Users can either choose who they ride with or join groups of strangers; Zwift has a private meetup capacity of 100. If a user enjoys the group they are with, they can notify them through the app and connect for future rides.
 
Many of these riders have gone on to connect through Facebook groups, like Mac-Knew's "Pack."

Prior to the pandemic, the maximum number of Zwift users on the platform at one time was 16,000. That more than doubled in 2020. During "Tour de Swift," a series of eight events that took place in January and February and hosted 15,000 riders for those events, peak simultaneous usership on the app ballooned to 47,000.
 
Cote said the number of events hosted per week on the platform has increased by 250% compared to before the pandemic.
 
The app's $14.99 monthly membership fee includes access to more than 1,000 workouts, plus training plans and races. That extends to running events as well.
 
Zwift can pair to a treadmill through Bluetooth or running pods that attach to a runner's legs and measure speed. Cote said the technology for the running workouts is still in development, and the company's app cannot yet control the speed or resistance of a treadmill, like it can for a stationary bike.

Cote likened Zwift to a video game where the bike becomes the controller.
"Your power input, the elevation, the resistance, is all felt in real time," he said.  "It's the first version of a true cycling, running, triathlon video game."

In addition to giving a platform to amateur cyclists, Zwift is hosting rides for some of the most competitive athletes in the world. In December, it staged the first cycling esports world championship hosted by the Union Cycliste Internationale.

Cote said the company is beginning to expand into esports and has partnered with team Movistar, a professional bike racing team in Spain, to create a cycling team dedicated to racing on Zwift's platform.
 
New features and worlds are also on the horizon, Cote said. While he declined to disclose specifics, he added, "We definitely have the investment to grow into the future."
For reprint and licensing requests for this article, CLICK HERE.