Players to Know in LA's Fast-Growing Professional Esports Industry
Monday, April 12, 2021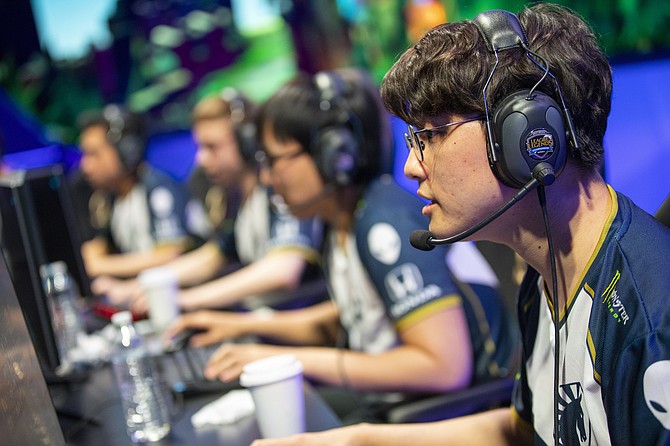 Most Los Angeles residents are well-acquainted with local teams like the Dodgers, Lakers and Rams — as well as the massive venues where they play their home games.

But fewer Angelenos may be aware of the hugely popular esports franchises that call L.A. home.

Over the last decade the city has emerged as a hub for professional video gaming. Some of the world's most popular and fastest growing esports franchises are housed in high-tech facilities across L.A., with many clustered around Silicon Beach.

Although the teams may not be household names for mainstream sports fans, viewership data show they have captured the attention of tens of millions of young gamers around the globe.

"I don't think esports is niche," said Walter Wang, vice president of operations at esports company SoloMid Corp., also known as TSM. "There's enough people watching already, and it's only going to increase because more people are growing up playing video games."

Chasing the NFL, NBA

Wang pointed to a 2019 viewership analysis by Riot Games Inc. that concluded that Riot's North American "League of Legends" league ranked as the third-most popular sports league behind only the National Football League and the National Basketball Association among 18- to 34-year-old U.S. viewers, based on average-minute-audience figures gathered by Nielsen Corp.

TSM owns one of the most successful teams in the League Championship Series, and the franchise did well enough to qualify for last year's world championship event in Shanghai, which drew nearly 46 million peak concurrent viewers.

With such a large fan base already in place, Wang said TSM is able to focus on winning games as a primary means to building its brand and following.
"If you win, you build fans," Wang said.
 
Steve Arhancet, co-chief executive of TSM rival Team Liquid, said esports organizations resemble conventional sports teams in that a focus on competitive success encourages investment in elite players and the coaching and practice infrastructure to support them.

"All of the resources that we provide to our teams and players are best in class," Arhancet said. "Everything from the equipment they use, the facilities they train in, the sports psychologists they work with ... we make significant investment in those."

Esports companies differ from traditional sports organizations in a few key ways. For one thing, nearly every major esports organization competes in multiple games. TSM and Team Liquid have invested heavily in franchises with Riot's League Championship Series, but both organizations also support teams and individual competitors in at least 10 other games.

Another difference is that teams competing in traditional sports are generally tied to a specific geographic location and physical venue, which is not always the case in esports.

Competing in multiple games

Activision Blizzard has built leagues around its "Overwatch" and "Call of Duty" games in which each franchise is associated with a particular city. Of course, arranging for teams to actually play matches in those cities has been a logistical challenge — particularly amid the Covid-19 pandemic.

Arhancet said Liquid (which does not have teams in the "Overwatch" or "Call of Duty" leagues) sees its fanbase as global, rather than concentrated in Los Angeles or The Netherlands, where the company's offices and training facilities are located.

"(Esports is) more worldwide," Arhancet said, "which just opens the opportunity to have a much, much bigger fanbase than you would otherwise in professional sports."

To capitalize on this global audience, Liquid launched a fan engagement platform called Liquid Plus earlier this year, which Arhancet said will be key to capturing much of the value that traditional sports teams gain from having a physical venue to generate sales of tickets, merchandise and food and beverages.

"Instead of having in-person venues, we operate online digital stadiums," he said. "We're hosting events ... where hundreds or thousands of people can come, and we can just as easily sell a beverage that's delivered to your house."

Here's a look at some of the most influential esports organizations in Los Angeles.
The Big Players 
SoloMid Corp.

Founded: 2009
Headquarters: Playa Vista
CEO: Andy Dinh
Games Competing In: 11
About the company: TSM was founded by Andy Dinh, who was once one of the top-ranked "League of Legends" players in the world. The company's League of Legends team has captured seven titles in Riot's League Championship Series since 2013, giving the organization a reputation as one of the premier franchises in gaming. According to esports analyst GEEIQ, the company's teams and players have amassed roughly 8 million combined followers on social media and streaming platforms, giving TSM an advantage in landing sponsorships and brand partnerships.
FaZe Clan Inc.

Founded: 2010
Headquarters: Hollywood
CEO: Lee Trink
Games Competing In: 6
About the company: FaZe Clan is known less for its collection of trophies (though its teams have earned a fair number) than for the brash video content and highlight reels produced both by professional players and a vast network of streamers that includes celebrity athletes and musicians. The company's focus on content has given it more than 20 million followers, according to GEEIQ. FaZe Clan's teams mainly compete in popular shooter games like "Call of Duty" and "Fortnite."
Championship Franchises
Team Liquid
Founded:
2000
Headquarters: 
Santa Monica
Co-CEOs: 
Steve Arhancet, Victor Goossens
Games Competing In:
17
About the company:
One of the most venerable teams in esports, Team Liquid is also one of the most successful, with championship teams in multiple titles. The organization began in the Netherlands as a group of "StarCraft" players. Its training facility in Los Angeles is largely focused on "League of Legends," and Liquid has captured four titles in the League Championship Series. The company is majority-owned by Axiomatic Gaming, an esports investment company founded by Bruce Stein, Peter Guber and Ted Leonsis.
Counter Logic Gaming Inc.
Founded:
2010
Headquarters: 
Culver City
Founder: 
George Georgallidis
Games Competing In:
6
About the Company:
Counter Logic formed in 2010 as one of the first pro teams competing in "League of Legends," and it has captured two titles in the League Championship Series. In 2017, Madison Square Garden Co. acquired a controlling stake in the business. The company shut down its successful "Counter Strike: Global Offensive" team in 2017 but still competes in the game with an all-woman roster that has captured first place in several recent tournaments.
Cloud9 Esports Inc.
Founded:
2013
Headquarters:
Santa Monica
CEO:
Jack Etienne
Games Competing In:
13
About the company:
Cloud9 was founded by former TSM manager Jack Etienne and his wife, Paullie Etienne. The company achieved quick success, with its "League of Legends" team finishing first in its debut season. Cloud9 supports teams competing in numerous games, including Activision Blizzard's "Overwatch." Its London Spitfire franchise took home a championship trophy in the Overwatch League's inaugural season.
Hometown Heros
100 Thieves Inc.
Founded: 
2017
Headquarters:
Baldwin Hills
CEO:
Matthew Haag
Games Competing In:
4
About the company:
100 Thieves is a relatively new esports company with a quickly growing brand. The company entered the League Championship Series in 2018 and is also behind the Los Angeles Thieves franchise in Activision Blizzard's new "Call of Duty" League. As a team representing the city, the Thieves will play home games locally once in-person events are possible.
Kroenke Sports & Entertainment
Founded: 
1999
Headquarters:
Denver
CEO: 
James Martin
Games Competing In:
2
About the company:
Stan Kroenke is best known in Los Angeles as the owner of the Rams and the developer of SoFi Stadium, but the Denver-based company that bears his name also has a sizable presence in the esports world locally. Kroenke Sports owns the Los Angeles Gladiators franchise in Activision Blizzard's "Overwatch" League, as well as the Los Angeles Guerrillas of the "Call of Duty" League. Because Activision Blizzard's leagues support regional franchises, both teams are expected to host Los Angeles homestands once indoor sports venues are safe for crowds.
KSV Esports Delaware Inc. (dba Gen.G)
Founded:
2017
Headquarters: 
Santa Monica
CEO: 
Chris Park
Games Competing In: 
6
About the company:
Gen.G's investors include actor Will Smith and Clippers minority owner Dennis Wong, and the company has a sparkling 13,000-square-foot headquarters in Santa Monica. But Gen.G's most popular teams are based in South Korea. The company's "League of Legends" team plays in Riot's Champions Korea league, and its "Overwatch" team, Seoul Dynasty, represented the East region in last year's championship series. Gen.G does have a few American teams, including an all-woman "Fortnite" squad.
Immortals Gaming Club
Founded:
2015
Headquarters:
Del Rey
CEO: 
Ari Segal
Games Competing In:
5
About the Company: 
Immortals competes alongside TSM and Team Liquid in Riot's League Championship Series, and the company also owns the Overwatch League's Los Angeles Valiant franchise. The team was expected to play homestands locally in the year ahead, but in January, Immortals abruptly cleared out its roster and moved the team's operations to China. Meanwhile, Immortals also owns the Made in Brazil esports brand and has focused in recent years on building its international business with a platform based around popular shooter "Counter Strike: Global Offensive."
For reprint and licensing requests for this article, CLICK HERE.