Piestro Uses Robots to Make Pizzas
Monday, April 5, 2021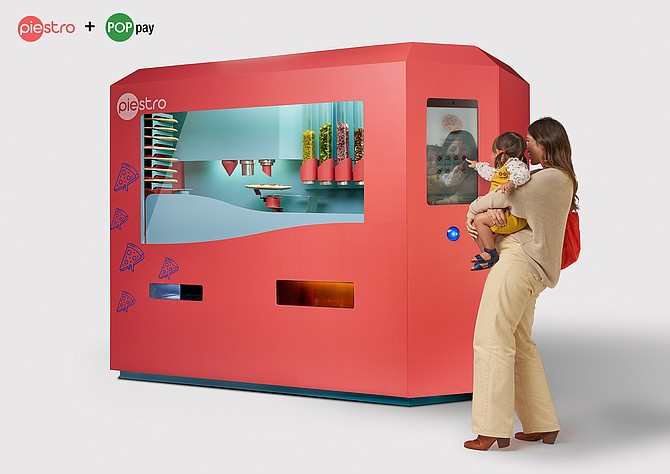 Massimo Noja De Marco has been in the food service and hospitality industry for decades, with stints at Wolfgang Puck Catering, SBE Entertainment Group and Wurstkuche Restaurants.

In his latest position, as chief executive of Santa Monica-based startup Piestro Inc., De Marco is taking that experience and combining it with innovative robotics technology developed at Santa Monica's Wavemaker Labs.

De Marco said the idea for the company, which manufactures fully automated mini pizzerias, was inspired by his love for pizza and a newfound interest in robotics and automation.

"Piestro is a stand-alone machine that can cook delicious, artisanal pizzas with the freshest ingredients in three minutes or less," he said. "This pizza is the same quality as the pizza that I was making with my mom back in the day in Italy."

De Marco acknowledges that some pizza purists may be hesitant about ordering a pie made by a robot, but he said the machines have windows, so customers can see the preparation and verify for themselves that quality ingredients are being used and that their order will be served fresh.

"For this company to be successful, the quality of the pizza has to be successful," he said. "I wasn't going to settle for anything less."

Like other companies launched from Wavemaker's robotics studio, Piestro is turning to the public to raise funds needed to get the business off the ground.

A regulation crowdfunding round undertaken last year netted the company $1.1 million. Piestro launched a second crowdfunding round in February with a $5 million target.

The company also announced March 30 a partnership with PopID Inc. that will allow customers to order and pay for their pizzas using PopID's facial recognition technology.

Piestro has yet to make its robotic pizzerias available to the public, but De Marco said it will begin to deploy the vending machine-like devices starting next year.

The company will focus on putting the machines in high-traffic areas where they are likely to attract passersby as well as customers ordering through delivery apps.

The machines won't just produce pizza unique to Piestro. The company is partnering with established pizzerias to offer a white label service in which brands can deploy automated devices that can produce pizzas using their signature recipes in areas where customers are harder to reach.

De Marco said recreating these recipes has been one of the most exciting parts of Piestro's business so far.

"People already know your pizza, and if they go to the machine, and it tastes different, they're not going to be happy," he said. "Our goal was to use the exact same quality ingredients you'd get at the restaurant." 
For reprint and licensing requests for this article, CLICK HERE.