LAX Awards $335 Million Ground Access Contract
Monday, September 21, 2020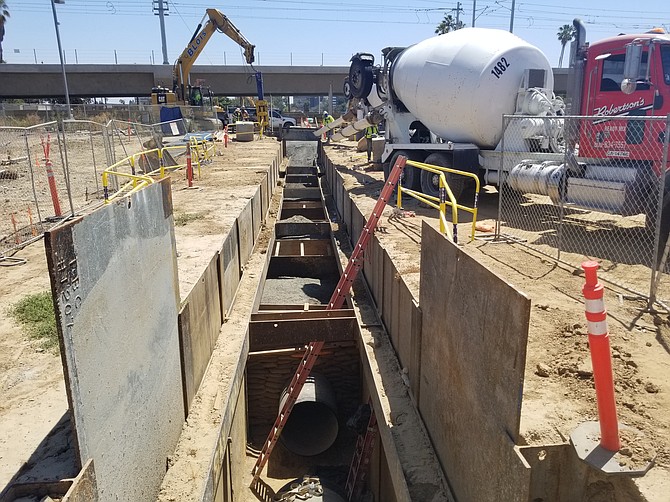 Los Angeles World Airports, the city agency that oversees Los Angeles International Airport, took a major step forward this month on roadway and utility improvements that are part of a $5.5 billion plan to improve ground access to LAX.

LAWA's Board of Airport Commissioners on Sept. 3 voted to award a five-year, $335 million contract for roadway and utility work to Skanska USA's Civil West California District — a unit of New York-based Skanska USA, which in turn is a subsidiary of Stockholm, Sweden-based Skanska.

The centerpiece project for this contract is the 0.6-mile extension of 98th Street from its current terminus at Bellanca Avenue east to the 405 Freeway, where it will connect through reconfigured on- and off-ramps.
 
The extension, which is slated for completion in 2023, will enhance road and freeway access for the adjacent $1 billion consolidated car rental facility that's also under construction. It will also provide drivers with an alternative access route to LAX that runs parallel to Century Boulevard.

The consolidated car rental facility will anchor the eastern terminus of the planned $2 billion people mover system, which will allow passengers who have arrived at LAX to go directly to their car rentals without having to use shuttle buses that have long clogged airport access routes. 

Work on both the ground access and the people mover projects is expected to finished by the end of 2023.

The contract with Skansa also includes utility relocation work that must be completed prior to the 98th Street extension as well as new signage to help drivers navigate the new road landscape once all the improvements are completed in late 2023 or early 2024.

"The projects to be delivered through this agreement with our partner Skanska are an integral part of delivering our LAMP program and other major capital improvements that will transform the LAX experience," LAWA Chief Executive Justin Erbacci said in the contract announcement.

Erbacci noted that under terms of the contract, Skanska must subcontract at least 20% of the contract value to small business enterprises, a minimum of 7% to local business enterprises and 3% to disabled veterans' business enterprises.

"These projects also will allow LAWA to continue leading the way in creating opportunities for small and local businesses," he said.
For reprint and licensing requests for this article, CLICK HERE.