In Commercial Real Estate, Women Still Face Uphill Climb
Monday, September 21, 2020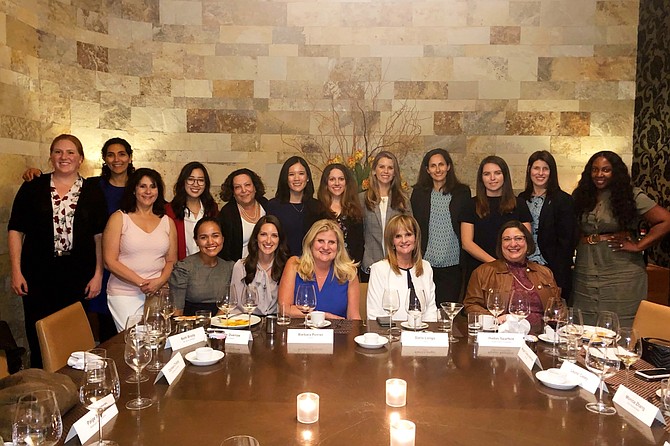 There are far fewer women in commercial real estate than men, especially in high-ranking roles, according a recently released report.

The latest data from the Commercial Real Estate Women Network shows that in 2020 women account for 36.7% of the workforce in the nation's commercial real estate industry, a percentage that has not changed much in the last 15 years.

According to the report, women in the industry earn 10.2% less than their male colleagues. And when commissions are taken into account, the average earnings gap increases to 34%. That's up roughly 11% since 2015.  
And the gap is even wider for women of color.

In Los Angeles, some women leaders in the field say there have been improvements, and they have started to see more women with seats at the table.

"When I started ... I would always be the only woman in the room and everybody else assumed I was there in an administrative role, purely. I can't tell you how many times I was asked to get coffee," said Clare De Briere, a 29-year industry veteran who heads Skanska's commercial development office in L.A. "Being the only woman in the room, that still happens but not as often."

De Briere isn't the only woman in L.A. who has made her way to a high-level position in real estate. Jaime Lee is the chief executive of Koreatown-based Jamison's leasing and brokerage arm, while Nadine Watt is the chief executive of Santa Monica-based development company Watt Cos. And Jodie Poirier recently joined the industry's ranks of women leaders in L.A. when she was named executive managing director overseeing the greater L.A. area for Colliers International Group Inc.

Watt said she hasn't seen a huge change in the number of women in finance and development, calling the numbers "staggeringly low" in those areas. But she said she has seen an increase in women lawyers, as well as asset and property managers.

Watt said that making women aware of jobs in commercial real estate much earlier would increase interest.  

"We still have a lot of work to do when it comes to adding more women to the business," she said.

Poirier added that it's not just diversity, but equity in terms of pay, titles and opportunities that was a priority for her.

Other companies in L.A. are making progress, as well. Downtown-based CBRE Group Inc., for one, has been named a great place for women to work by Forbes.
CBRE Chief Executive and President Bob Sulentic said it's important to ensure women move into positions of influence.

"When you get diverse people into those roles, they tend to be better at hiring other diverse people," he said. "Once we get them in those roles, we put structures in place to help them succeed."
 
Mentorship programs

One of the most important ways to get women more involved in commercial real estate is through mentoring, according to those in the field.

"A lot of it has to do with mentorship and people higher up creating more space and reaching that hand down to help people," Lee said.

Lee lectures at USC and says she gets messages from people saying how glad they are to see a woman of color in such a high role.

Skanska's De Briere agrees that mentor programs are key to advancement for women. "It's important to see people who look like you holding the jobs you want to be in, aspirationally," she said.

De Briere added that mentorships a
re "really important, particularly for women and underrepresented communities."

Vicky Schiff, a founder and managing partner of Mosaic Real Estate Capital, also points to the value of mentoring. 

"It's very much a relationship business," she said. "I think that women really need to build a network. It's important to see somebody that is more like you and have role models."

Natalie Greenberg, who will join Santa Monica-based MJW Investments as chief operating officer at the end of the month, is also president of the UCLA Real Estate Alumni Group, which puts on 12-14 events a year. 

She said that in 2016, less than 20% of the organization's board were women. Now, the board is 50% women. 

Greenberg was formerly at West L.A.-based Entrada Partners. She said she will make diversity a priority in her new role at MJW Investments.

Marin Turney, a vice president of leasing at Brookfield Properties, is part of the team behind WIRE, or Women in Real Estate.

For the past five years, WIRE has conducted a conference that includes speakers, skill-building sessions, networking and more. This year's event was canceled because of restrictions on gatherings during the Covid-19 pandemic.

"Most of the networking events are really tailored to sporting events and golf and poker games. Fun things, but not always things women would choose to participate in. We wanted to create something that was fun and engaging for women and women-specific," Turney said, adding that WIRE events "foster relationships." 

Jones Lang LaSalle Inc. Managing Director Nicole Mihalka said another sign of progress is seeing women in the business who have children and are still successful.

"In L.A., we have quite a few women who are power moms — working brokers who had kids," she said. "When there's less of an example of what a maternity leave looks like or what it looks like to be a working mom in a brokerage, it's harder to set that path."

Mihalka leads JLL's Women's Initiative Network, which hosts events for female brokers and clients, building relationships and mentorships. 

Pam Westhoff, a real estate attorney and Southern California president of NAIOP Inc., the Commercial Real Estate Development Association, launched a diversity task force when she took the reins at the organization. 

She hopes to get more women interested in real estate at the college level by doing outreach with schools. Westhoff also runs a mentorship program.
Focus on hiring

Of course, mentoring and good intentions only go so far if hiring doesn't keep apace.
CBRE's Sulentic is among those who are taking action.

"We require that there be what we call a diverse slate of candidates and a diverse panel of interviewers," he said. "If you report to me, and you are hiring other people, I'm telling you it's your job to get diverse people here. … It is explicitly in everybody's review: How many diverse people did you put into key roles?" 

Sulentic said the policy has made people follow through on hiring more diverse candidates. 

Having more women and people of color at the company encourages others to come on board, too.

"When women or people of color see that you have women or people of color in influential roles, they want to go there," Sulentic said.

And to keep women in the organization, CBRE has educational programs, impact programs and an executive development program for women to "make sure they have the training and support to be successful."

In the last four years, the rate at which women were hired in executive roles increased 26% at CBRE, he added.

More women are working at brokerages than ever before — 29% in 2020, up 6% from 2015, according to CREW.

Allison Weiss, who founded CRE Recruiting Inc. last year, has spent 10 years as a recruiter working with large brokerages. 

She called new rules in California that require an increasing number of women on company boards "a move in the right direction," adding that businesses are now looking to "expand gender diversity in their company."

"Our industry, which has been slow to change in a lot of different ways, is being encouraged to change more rapidly in ways that are going to benefit women," Weiss said.

Downtown-based Rising Realty Partners has made it a priority to hire women. "This is a business where if you don't do it consciously, it's very easy to end up with a roster of white men," Chief Executive Chris Rising said. 

The company is now 51% women.

"I also think it's easier to hire quality women when you have quality women in your company, and it's harder to do it when you don't," he added.

Kayce Hawk, senior vice president of property services at Rising Realty, has developed a mentorship program to help employees grow into the roles they want.

"For managers it is giving them the opportunity to grow and lead," she said.
At Watt Cos., five of the top seven executives are women.
Women Remain Underrepresented in Commercial Real Estate Leadership
In the commercial real estate industry, women are far less likely than men to hold top roles.
According to a recent study by the Commercial Real Estate Women Network, women hold 9% of C-suite positions in 2020, the same percentage as in 2015. The number of women in mid-level roles, however, has increased 5% during that time.

In brokerages, reaching the top has been particularly difficult for women.

Pay is often commission-based, and titles are set according to sales numbers, which are hard to keep high if a broker takes a few months off for maternity leave.

Bob Sulentic, chief executive and president at downtown-based CBRE Group Inc., said his company has come up with paid leave for commission-based professionals and has a program that looks at performance before someone heads out for maternity leave and then moves them forward at the same pace they were at before their leave.

"That brokerage business is very competitive. Every advantage you can give them, title, etc., matters," he said.

The program has helped women want to stay with the company because they don't feel like they are falling behind, Sulentic said.

Nadine Watt, chief executive of Santa Monica-based development company Watt Cos., said her company offers flexibility for women coming back from maternity leave, including the option of working three or four days a week.

In the long run, Watt said, she wants to see an increasing number of women in high-profile roles and even ownership.

"I would love to see more women in prominent positions in real estate," she said. "There should be a push to that."  
For reprint and licensing requests for this article, CLICK HERE.