Arrowhead's Liver Drug Shows Early Promise
Monday, September 21, 2020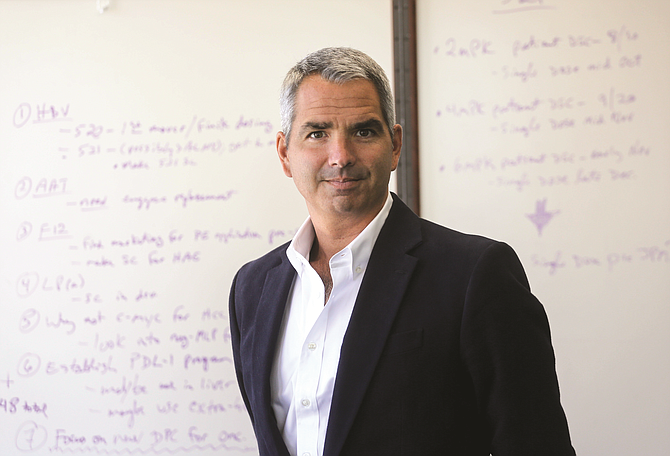 Shares of Pasadena-based Arrowhead Pharmaceuticals Inc. shot up 40% last week on news of positive preliminary results from a clinical trial for the company's drug to treat a rare liver disease.

The company on Sept. 16 announced positive interim 24-week liver biopsy results in four subjects from a Phase 2 clinical study of ARO-AAT, the company's RNA-based drug.

The treatment is being developed for a rare genetic liver disease associated with a deficiency of a blood protein known as alpha-1 antitrypsin.

According to the Florida-based nonprofit Alpha 1 Foundation, which is seeking a cure for the disease, an estimated 100,000 people in the United States have this genetic protein deficiency. The only current treatment for the disease caused by this deficiency is liver transplantation.

Arrowhead, which is led by chief executive Christopher Anzalone, uses technology associated with the RNA genetic molecule to silence genes that cause a variety of diseases. In this case, the ARO-AAT drug is attempting to reduce the expression of genetic markers that spike when there is a deficiency of the alpha 1 protein.

This early Phase 2 clinical study for the drug has a total enrollment of 16 patients in three separate cohorts. According to the announcement, after 24 weeks of treatment, four patients experienced reductions in the targeted genetic markers ranging from 20% to 97%.

More results from the ongoing clinical study will be reported in six-month intervals over the next two years, the company said in the announcement. Concurrently, Arrowhead is conducting another clinical trial involving the drug; this one has a larger sample size.

But these interim results were received as encouraging news from both the company and the Alpha 1 Foundation.

"These are very exciting results and provide us with increased confidence in the potential of this program," Javier San Martin, Arrowhead's chief medical officer, said in the announcement.

"Based on these important data, we are actively assessing our clinical and regulatory path forward, including engaging with the U.S. Food and Drug Administration and other regulatory agencies, to identify areas where the program could potentially be streamlined and accelerated," he added.

Miriam O'Day, chief executive of the Alpha 1 Foundation, said the news "brings hope to the Alpha-1 community in the midst of the Covid-19 pandemic."

Arrowhead shareholders also greeted the news enthusiastically, sending the share price soaring 40% to $47.43 on Sept. 16. The stock slipped back slightly on Sept. 17, closing down 3.5% to $45.75.

But one financial blogger who tracks life science companies cautioned against reading too much into these interim clinical test results.

"The clinical trials the healthcare company reported on today only featured four participants," said the blogger who goes by the name Prosper Junior Bakiny and who writes for the website Motley Fool. "While the data is encouraging, it's important for investors to temper their expectations."
For reprint and licensing requests for this article, CLICK HERE.