Executive Coaches See Increased Demand During Pandemic
Sunday, September 20, 2020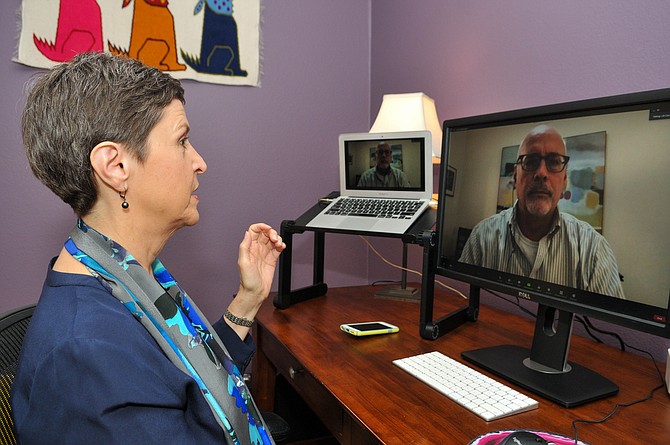 David Allerby, co-founder and chief executive of 24 Hour Home Care in El Segundo, said company life can be a "little bit lonely and challenging" when you are the person at the top. 

For that reason, Allerby turns to executive coach Craig Coleman, a Los Angeles-based partner in CEO Coaching International, to serve as a professional sounding board. 

Allerby said 24 Hour Home Care, a 12-year-old in-home care provider with 19 branch locations in three states, engaged Coleman to provide all members of the company's executive team with coaching on leadership, strategy, vision and communication with all levels of employees.

The health care company has relied on Coleman's expertise for two years, but Allerby admits the Covid-19 pandemic shifted the need for leadership skills into overdrive when the company had to lay off 8% of its internal office workforce.

"One of the big things that comes to mind is transparency," Allerby said. "As you progress through a pandemic, there is a lot of uncertainty. How do you communicate with your team? That's where Craig was really valuable. Even though it's such a difficult and challenging time, we received a lot of positive feedback on the way the company handled that."

Dennis Baltzley is global head of leadership development solutions for Century City-based Korn Ferry, a consulting firm that provides both executive search and advisory services. Baltzley, who is based in Arizona, said companies may not have increased their executive coaching during the pandemic, but existing coaches may find themselves advising on unexpected challenges.

Layoffs and furloughs may be part of the picture, but so are quick reinventions to meet pandemic demands, Baltzley said. 

He used as examples Nike Inc. Chief Executive John Donahoe and Carol Tomé, chief executive at United Parcel Service Inc. since June 1. Both business leaders joined Baltzley and other executives on a recent Korn Ferry virtual panel. 

"You are watching Nike pivot to direct-to-consumer," Baltzley said. "Carol Tomé said she has hired 40,000 new drivers at UPS last quarter. The classic C-suite executive balance is you have to perform but you have to transform at the same time. … What has changed is the speed at which they are moving. 

"Anybody who had an 18- to 24-month digital transformation agenda is getting it done in six months, eight months," Baltzley added. "What was impossible three months ago, they are figuring it out." 

Lilli Cloud, president of Bluefeet, an executive branding and marketing company in Montecito Heights, deals mainly with individual clients rather than team or company strategy. She said th
e acceleration of change has, in some cases, exposed executive weaknesses. 

"It's really fascinating. (In ordinary times) companies would spend months or even years planning for a big change, and it happened in March," Cloud said. "And some businesses may … find the leaders they have aren't the leaders they need right now."

Counseling and facilitating

Although, as a rule, their names do not appear on a company's executive roster, executive coaches have long been a staple at companies of all sizes and areas of enterprise, from corporate giants to tech startups. 

The role of the coach can range from individual counseling to team coaching or facilitating regular strategic planning sessions, with the objective of helping company growth or other goals. 

Some C-suite executives may turn to academic institutions for short-term leadership skills programs. The UCLA Anderson School of Management, for example, has been running its Executive Education program since 1954. 

The four-month certificate program, which polishes candidates' leadership skills, is designed for people with about 10 years of management experience, according to Adam Brown, senior director of business development at Anderson. 

The school has seen an increase in the number of startup founders attending the program over the last decade, Brown said. "People have got less of a corporate or a big organization background." The program went fully virtual this year due to Covid-19.
Showing compassion

Others in the business world turn to private companies, including CEO Coaching International, which is headquartered in Miami Beach, Fla. The company's Coleman said the 11-year-old firm is comprised of former CEOs or former department heads who bring empathy from personal experience.  

Because the company has long had coaches in many locations, Coleman said adapting to video conferencing has not been a big adjustment, but Covid-19 has changed the game on a more personal level. 

"Leaders need to show confidence, they need to show determination, they need to show compassion, and that's not necessarily easy to do when you are in this kind of crisis," Coleman said. "I think there's clear science (that shows) the CEO's mood and behavior drive the mood and behavior of the rest of the team." 

Evolution Service Corp., a Culver City-based management consulting firm, offers one-on-one coaching sessions as well as group sessions for leadership training. There are more than 30 coaches at the company, according to Janine Davis, a partner and executive coach at Evolution. 

Among tech startup founders, one of the most common reasons to seek executive coaching is to improve management skills to lead a rapidly growing employee population, according to Davis. In other cases, founders and managers reach out to coaches because they need a trusted adviser. 

There's a fine line between coaches and therapists, Davis said. "A coach will not necessarily do massive deep dives back into the history of the issue. … It's much more forward thinking," she said.

"As a general rule, coaches are not supposed to tell you what to do. If you find a coach that's saying, do this, do that … that's probably a little bit more like an adviser versus a coach," Davis added.

There was a dip in the demand for executive coaching when Covid hit, but it soon bounced back. "Now we're insanely busy. Busier than ever," Davis said.

"There's a huge amount of anxiety. … Almost overnight, a lot of managers had to figure out how to lead their teams remotely. So that's really been a challenge around balancing empathy and accountability."

Tech solutions

It is perhaps not surprising that the tech world might come up with a digital approach to compassion for coaching professionals. Venice-based Maslo Inc., a client of Davis', has developed an emotional insights platform to facilitate executive coaching.

Maslo's curated software for coaching companies can generate an analytical report of the emotional state of the coachee. 

The coachee can use the Maslo mobile app as an online journal. When they open the app, they're asked to provide audio, video or written response to questions like, "How are you feeling today" and "How are you doing on your goals?"   

The app, driven by an artificial intelligence algorithm, analyzes factors like vocabulary, tone, voice levels and hand gestures to generate reports on the user's emotional state, which is mainly measured by three dimensions: anxiety, well-being and mindfulness. 

The report is shared with the coaches on a desktop dashboard, according to Maslo co-founder and Chief Executive Ross Ingram, who added that the data is shared on a permissive basis. 

 "It's what we call empathetic computing, and (it's) making the computers more empathetic to who we are as individual people," he said. 

"It's all permissive based. Privacy and security is super important to all of us. If a client … doesn't want to share a specific check in (with the coach), they have the ability to hide it and just keep it for themselves," Ingram said.

Maslo started out as a consumer-facing mindfulness app developer when it was founded in 2017. It gradually shifted to using what it calls signal processing, combined with interactive user interface, to provide data analytical tools for business entities, including coaching companies and dating apps.

Signals can be a speaker's facial expressions and hand gestures from a video, or voice and tone from an audio session. Maslo's software is able to aggregate all of the signals — consider them each like pieces of data — and generates recommendations and information for the business-to-business clients that allow them to better connect with their customers, the company said.

"We see mindfulness, mental health and coaching, and all these different things less as their own categories, but more as a holistic approach to dealing with humans," Ingram said.
For reprint and licensing requests for this article, CLICK HERE.