Kroenke's Rams Kick Off SoFi Stadium Era in Inglewood
Monday, September 14, 2020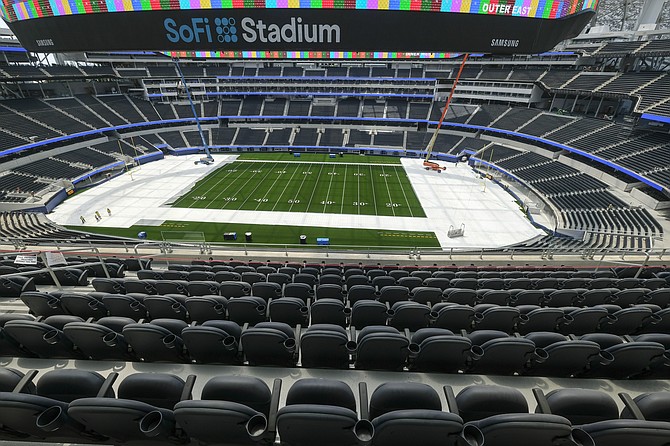 It began in January 2014 with a report in the Business Journal that Stan Kroenke, then owner of the St. Louis Rams, had purchased 60 acres of land in Inglewood from Walmart Inc. 

At the time, the deal represented an intriguing new twist in the 20-year saga to bring professional football back to Los Angeles.

This past weekend, the curtain finally was poised to rise on L.A.'s first new football stadium in nearly a century as SoFi Stadium at Inglewood's Hollywood Park was set to host its first professional football game between the Los Angeles Rams and the Dallas Cowboys.

Covering more than 3.1 million square feet and costing an estimated $5 billion, it's the most expensive stadium built and the largest stadium in the National Football League.
 
And it will host much more than the Rams and the Los Angeles Chargers. Other scheduled events include the 2022 Super Bowl, college football's 2023 national championship game, possibly the 2026 FIFA World Cup and half of the opening and closing ceremonies for the 2028 Summer Olympic Games.

Once fans are allowed to attend live events, SoFi Stadium is also expected to host a steady stream of concerts, including at some point the Taylor Swift performance that was originally scheduled to open the venue on July 24 but was scrapped due to the Covid-19 pandemic.

Nearing completion next to the stadium — under the same canopy — is a 6,000-seat live performance venue that's expected to be ready by early next year.

Beyond the stadium, Kroenke's development company is at work on the first phase of the Hollywood Park entertainment and residential district. That development — including an office tower that will house the headquarters of NFL Media, more than 500,000 square feet of retail space and 314 apartment units — is expected to open prior to Super Bowl LVI in February 2022. 

More residential units and a 300-room hotel are planned for later phases.

At a ribbon-cutting for the new stadium on Sept. 8, Kroenke said the opportunity to build a stadium and entertainment district in Inglewood was too good to pass up.

"Not having the country's favorite sport and a team in the country's greatest entertainment market was something that was highly unusual," Kroenke said. "And there were 300 acres out here in Inglewood. 

"When we got permission from the NFL owners, Commissioner Roger Goodell said the league would like to see an iconic stadium as part of an entertainment district that would be worthy of the entertainment capital of the world. That was a monumental task, and we have made it here today," he added.

Kroenke said the four-year stadium construction that involved crews totaling about 17,000 people did face some challenges, most notably a rainy winter and spring in 2017 that pushed back the completion date by nearly a year and meant the stadium would not open with the 2019-20 football season as originally envisioned.

That delay also means the stadium is opening now without the essential ingredient of fans. Due to the Covid-19 pandemic, county and state orders have banned live events indefinitely.

The pandemic has also pushed back announcements for another component of the stadium site: food and merchandise concessions. 

Ordinarily, those would all have been in place by the opening weekend. Kristi Mexia, a spokeswoman for Kroenke's stadium and Hollywood Park development project, said concessions announcements would be made "soon" but gave no definite timetable. She did not indicate whether there would be a concessions management company.

Also, the next few months will see announcements regarding the live performance venue, which at 6,000 seats will be slightly smaller than the 7,100-seat Microsoft Theater at L.A. Live. One of those announcements will likely reveal the company with a naming rights sponsorship.

Besides the typical lineup of musical and other live performance acts, the theater may also host esports events, according to Kathryn Schloessman, chief executive of the Los Angeles Sports & Entertainment Commission, which promotes the county's sports and live entertainment venues.

"We have been talking with various esports companies about using this performance venue for nonchampionship esports events," Schloessman said. "It's just that the coronavirus has delayed any announcements."


For reprint and licensing requests for this article, CLICK HERE.