Graze Makes the Cut with Robotic Mowers
Monday, September 14, 2020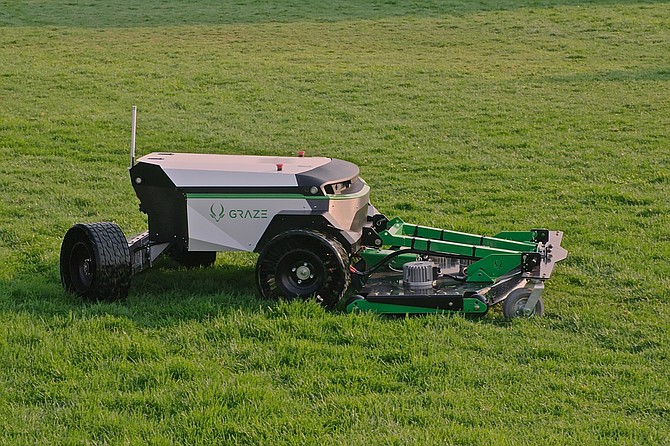 Santa Monica-based Future Labs V Inc., which does business as Graze, wants to revolutionize the landscape industry with its robotic lawn mowers.

"It wasn't just labor (in landscaping) that we needed to address, but also safety, quality and the rising environmental concerns," said Chief Executive John Vlay. 

"It's ironic, if you think about it. In order to have beautiful lawns and beautiful parks, we're using gas-guzzling, polluting equipment that destroys our environment. It's just crazy. So it only makes sense to use electricity to power our technology of today and our machinery of today," he added. 

Graze unveiled a solar-powered lawn mower model in early September. 

The artificial intelligence-driven mower has built-in GPS to learn the perimeters of any lawn. It can go any direction and is even able to deliver a cross-cut pattern on a lawn.
Vlay said the product's blades cut with the kind of precision and consistency that "only a robot can perform." 

He also said the lawn mower has added flexibility for different scenarios. 

"Because we don't require an operator on it, we have a much lower center of gravity, so we can move on much steeper terrain safely," Vlay said, adding that the mower can also run at night.

Each mower is priced at $30,000. The company also charges a monthly fee of $1,000 per mower for customers to access its cloud-based software for remote control of the mower. 

The software — which can be used on mobile phones, computers and tablets — will send information and alerts about battery life, the state of the blades and when the mower encounters obstacles on the lawn. 

It also allows the user to remotely switch the mowing direction.

Vlay said the company's software has been built to gather "enormous amounts of data," such as the height of the grass and how much it's growing throughout the year. 

"It will also be able to tell that landscape maintenance company and the estimators how many acres per hour it is able to maintain, which is great, and (it provides) a competitive advantage when you're bidding for your next job," Vlay said.

The company has 215 mowers on preorder. Vlay said clients include a large landscaping company, a small landscaping startup and a golf course. 

Graze estimated that these orders will bring in $19 million in revenues in the next five to six years. 

The monthly software fees are included in the estimates as a recurring revenue, Vlay said. 

"We calculate out that that's going to last at least five or six years before they have to replace the mower," he said.

"I'm thinking it'll probably take even longer because there's fewer moving parts than a commercial gas mower, so there's a lot less maintenance," Vlay added.

Any company that has a 48- or 60-inch mower would be in the market for Graze's automated product, Vlay said. 

Graze assembled the initial mower prototype in Santa Monica with parts including motors and batteries sourced from suppliers across Los Angeles. 

"We will probably continue to do that for the first 20 to 30 mowers. And as we scale, we are already talking to manufacturers around the U.S.," Vlay said.

Santa Monica-based Wavemaker Partners is an early investor in the company, said Vlay, who declined to disclose the amount of the investment. 

Graze has raised $2.45 million from more than 1,600 investors on SeedInvest Technology, the crowdfunding platform, since Dec. 4.
For reprint and licensing requests for this article, CLICK HERE.