Whiskey-Themed Hotel Set for Hollywood
Monday, September 7, 2020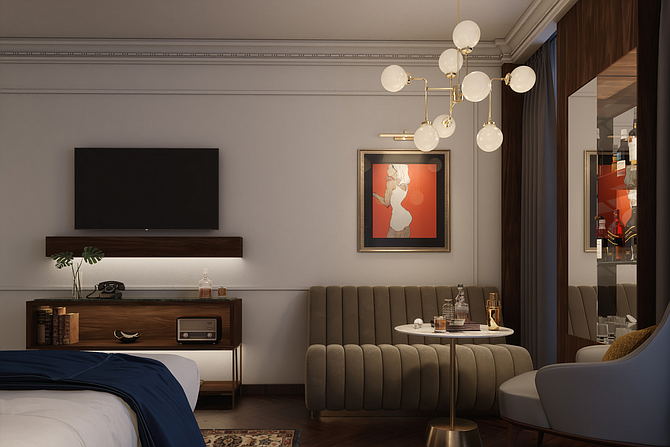 A whiskey-themed hotel under construction near Hollywood Boulevard has just received $35 million in financing.

The hotel, at 1717 Wilcox Ave., is Adolfo Suaya's latest project. The Argentine-American TV host and restaurant, bar and hotel owner is behind a number of local restaurants and bars, including Gaucho Grill, Dolce, the Lodge and Osaka.

The property, dubbed The Whisky Hotel, will have 134 rooms. When guests arrive at the property, they will be served complimentary whiskey in the lobby. Rooms will have minibars with whiskey, and there will be a whiskey fountain in the lobby.

Roschen Van Cleve Architects and Christoph Kapeller of CK Architecture handled renderings and design. Interior design is by Suaya and Kapeller.

The hotel, which will be seven stories tall, will have a rooftop space.

It will host whiskey-themed events, which are expected to include cocktail 
classes and tastings.
Suaya said the hotel "started from the love of whiskey."

"We own a bar called the Phoenix L.A. on 3rd Street, and we specialize in whiskey bourbons, and I love whiskey very, very, very much and wanted to do a hotel with a theme, so we wanted to call it a whiskey hotel, and it's a place where you can come in and enjoy whiskey," Suaya said.

The hotel has been in the works for about two years. Construction started in February and hasn't been affected by the Covid-19 pandemic.

"We didn't have any delays, just the rain in March, but Covid didn't slow us down," Suaya said.
The property is expected to open in summer 2022.

Hotel rooms will cost $200 to $300 a night, Suaya said, but events will be open to the public.
For Suaya, Hollywood was the clear choice of where to build the hotel.

"I own a big chunk of Hollywood, a lot of real estate in Hollywood, and I had this parking lot, and I got it entitled for a hotel," he said. "Hollywood is what's next. For a while, everyone went to downtown. It's time for them to come back to L.A., the real L.A."

Suaya added that there are roughly 10 hotels being built in the nearby area.

"When more hotels come, more people come. More guests, more tourists, more restaurants, more bars. I want to be where the action is, and Hollywood now is booming. It's just the beginning," he said.

Nearby, a 40-unit apartment complex at 1719 Whitley Ave. is expected to be razed  for a 156-room, 10-story hotel. And plans have been submitted for another nearby apartment building at 1723 N. Wilcox Ave. to be redeveloped into an 81-room, seven-story hotel.

Large hotel properties under construction now in the area include the Tommie Hollywood at 6516 Selma Ave., the Godfrey Hotel Hollywood at 1400 N. Cahuenga Blvd. and the Thompson Hollywood at 1523 Wilcox Ave. All will have 200 rooms or more, according to data from Atlas Hospitality Group.

Suaya said the Whisky Hotel was set apart because of its more traditional style.He added that he was going to start with one whiskey-themed hotel and hope it goes well enough to open others.

"I think that whiskey is classier than other spirits, and perhaps I can get people to come from Europe," Suaya said. "It's class. I love to have a whiskey at nighttime and when I'm with friends."
For reprint and licensing requests for this article, CLICK HERE.