SpaceX Hits Another Milestone With Launches
Monday, September 7, 2020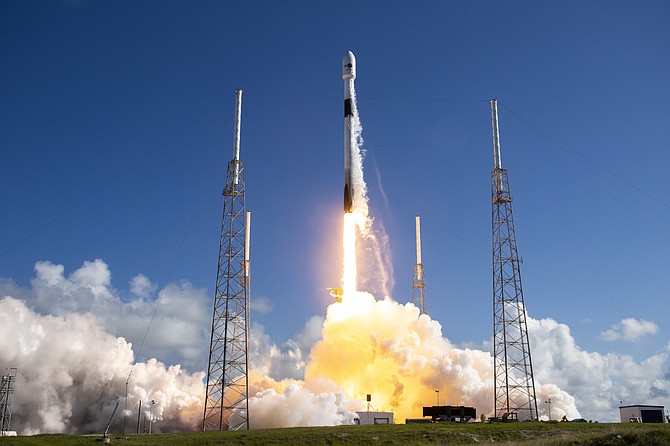 Space Exploration Technologies Corp. conducted two launches last week using its Falcon 9 rockets, including one mission that marked another milestone for the Hawthorne-based aerospace company.

On Aug. 30, a SpaceX Falcon 9 rocket headed south into a planned polar orbit after liftoff from Cape Canaveral Air Force Station in Florida. Missions starting in Florida almost exclusively head east or northeast after launch.

It was the first SpaceX launch into a polar orbit from the East Coast and the first polar launch from Florida in decades, the company said.

The mission deployed the earth observation satellite SAOCOM 1B for the Argentine space agency CONAE. The launch also deployed Tyvak-0172, a small spacecraft reportedly built by Irvine-based Tyvak Nano-Satellite Systems Inc., and GNOMES-1, a microsatellite developed by Colorado-based PlanetiQ.

The first-stage booster supporting the mission previously launched two commercial resupply missions to the International Space Station for NASA in 2016 and 2017. It had also supported the launch of SpaceX's ninth Starlink mission earlier this year.

SpaceX landed the booster on the company's landing facilities at Cape Canaveral.

On Sept. 3, SpaceX returned to the launch pad for another Falcon 9 commercial mission. This time the focus was on the company's own Starlink constellation project, a long-term effort to provide internet services around the globe through an array of orbiting SpaceX satellites.

SpaceX launched 60 satellites on the Falcon 9 rocket, bringing the number of operational Starlink satellites in orbit to 713.

The rocket lifted off from Launch Complex 39A at Kennedy Space Center. The first-stage booster previously supported the launch of the Lockheed Martin-built GPS III Space Vehicle 03 satellite for the U.S. Space Force in June.

Following stage separation, the booster stage landed on the Of Course I Still Love You droneship stationed in the Atlantic Ocean.

During the webcast of the Sept. 3 Starlink launch, SpaceX Senior Certification Engineer Kate Tice said SpaceX employees have been testing Starlink's latency and download speeds.

"Initial results had been good," Tice said. "They show super low latency and download speeds greater than 100 megabits per second. That means our latency is low enough to play the fastest online video games, and our download speeds are fast enough to stream multiple HD movies at once and still have bandwidth to spare."
For reprint and licensing requests for this article, CLICK HERE.