Southwest Airlines Picks Up Long Beach Slots From JetBlue
Monday, September 7, 2020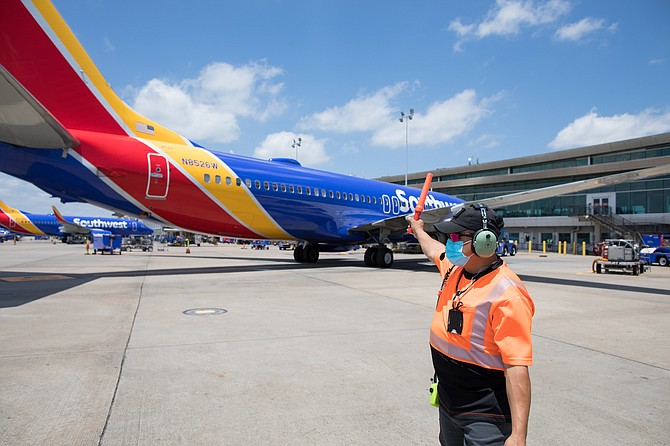 Southwest is the new dominant airline at Long Beach Airport.

On Sept. 2, Long Beach city officials awarded all 17 available slots at the municipal airport to Dallas-based Southwest Airlines Co. The slots were relinquished earlier this summer by JetBlue Airways Corp. 

Southwest will take over the slots on Oct. 7, the day after JetBlue's last scheduled flights out of the airport. At that point, Southwest will have 34 of the 53 total flight slots at Long Beach, giving the carrier 64% of the flights allowed out of the airport.

"Southwest has established decades of consistency as the hometown carrier of California and soon will proudly offer more for Long Beach," Andrew Watterson, Southwest's executive vice president and chief commercial officer, said in the announcement. "We're grateful for this opportunity to bring more of our value and reach to our customers in the L.A. Basin who prefer Long Beach."

After JetBlue announced in July that it was leaving Long Beach Airport and relocating its operations there to Los Angeles International Airport, Long Beach officials made JetBlue's remaining 17 slots available to other airlines. 

According to the airport's announcement, no other carriers requested the additional slots, including the airlines at the top of the wait list: Atlanta-based Delta Air Lines Inc. and Honolulu-based Hawaiian Airlines.

"Southwest picking up all available flight slots at the Long Beach Airport so quickly is a testament to the strength of our airport and their commitment to succeeding here in Long Beach," Long Beach Mayor Robert Garcia said in the announcement.

As part of a settlement with neighbors, the number of flights out of the airport is capped at 41 permanent slots, with another 12 flight slots available as long as the airport remains under specified noise constraints. That creates a zero-sum game among the airlines seeking to serve the airport. As of Oct. 7, Southwest will have 25 — or 61% — of the 41 permanent flight slots.
For reprint and licensing requests for this article, CLICK HERE.