Santa Monica Pier Businesses in Peril After Bummer of a Summer
Monday, September 7, 2020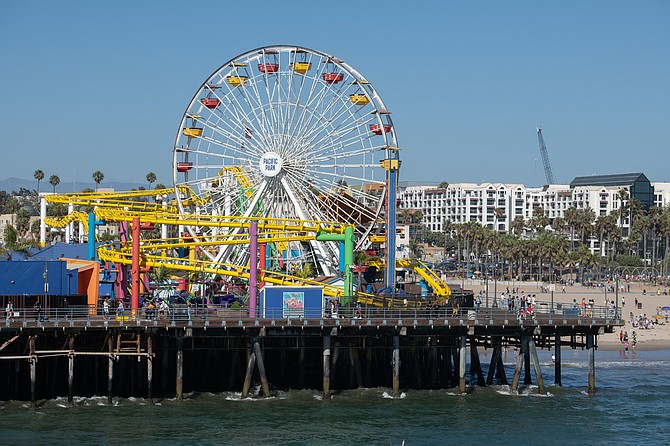 The Pacific Wheel on the Santa Monica Pier lit up in red, white and blue over the Labor Day weekend, but its baskets swayed empty. 

The iconic Ferris wheel, along with the nearby rollercoaster and the rest of the pier's historic rides, have yet to get a green light to welcome guests under Gov. Gavin Newsom's recently announced four-tier reopening system. 

For Samantha Madrigal and her family, who ventured to the pier at the end of a long, strange summer, "rides are what makes you want to come to the Santa Monica Pier." 

They instead settled for a funnel cake and midway games. 

"At least we got to get out of the house and have some sort of experience and new scenery," Madrigal said. "But it's a little sad that it's not all open and available."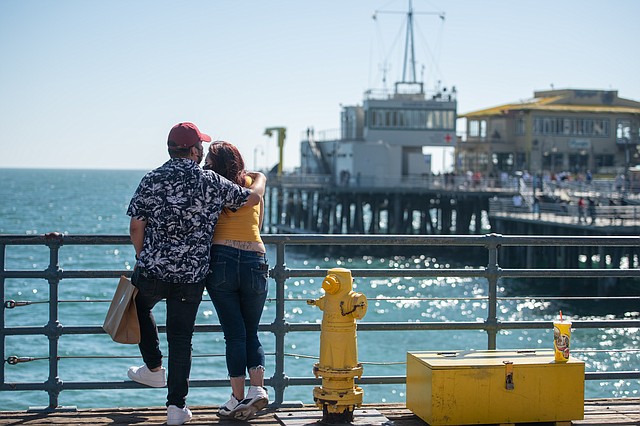 Oklahoma-based Premier Parks, which operates Pacific Park, as well as other businesses on the 111-year-old pier are trying to make the best of the pandemic, which left the area completely shuttered from March 15 to June 24, when the pier was allowed to reopen. 
During that time, there was no takeout dining and no foot traffic, just business owners and city officials working on a plan to reopen safely. 

The new protocols, which have kicked in since, call for closure of the pier bridge at Ocean and Colorado avenues and a single point of entry and exit on Ocean Front Walk. Masks and social distancing are mandatory, and the city staff is limiting the number of guests on the pier to 3,000 at any one time.
 
Commerce at the pier

The handful of restaurants on the pier received permission to offer al fresco seating on the pier's deck. The Albright, a seafood diner, underwent a remodel during the shutdown, including the addition of a takeout window, new fencing, planters and umbrellas.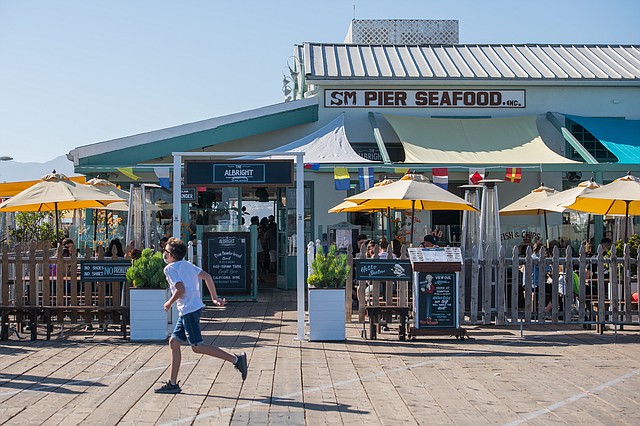 "We went through and redesigned each touch point that the customer has with our staff, because obviously the most important thing is keeping our staff healthy and keeping the customers healthy," said Greg Morena, whose in-laws opened the business some 43 years ago. 

"We used to deliver food to the table, and now we give customers a buzzer, and they come and pick it up, all behind glass. … We're gloved up and masked up, and at every point we try and curate the experience to provide that extra layer of health (protection) to our staff and the customer."

The business is open, but sales are not even close to last year's levels.

"We went from year-over-year increases in early 2019 to basically flatlining in March, April, May. And in June, we opened for a week, but then the county shut down all the beaches for July 4th, fearing that gatherings would transmit the virus — rightfully so from the health perspective, but awful from a business perspective," Morena said. "We opened back up July 6, and since then we've done about 30% of our revenue (for this time of the year)."

Nearby Seaside on the Pier has also added outside tables, which provide less seating than what the pizza and burger joint had prior to the pandemic.

"We're very grateful," said Director of Operations Dave Gonzales. "The city has done a great job of organizing everything. … You can only seat outside, but we've adapted … so, it's nice, and I think people are looking for something to do right now. We are seeing way more locals, so it's definitely different. Tourists used to be a huge part of the business."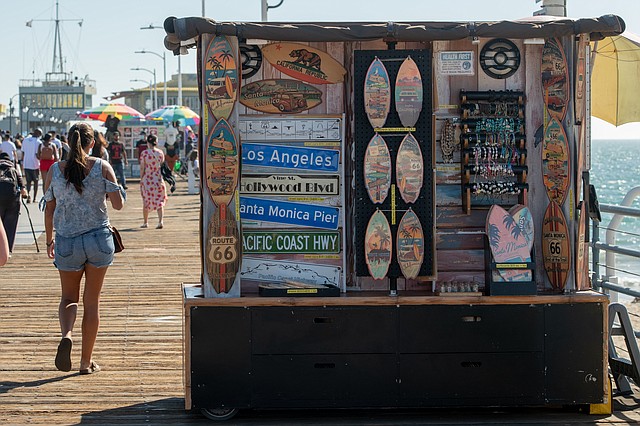 The visitor mix is affecting sales at Marcia Perez's booth, which focuses on California- and Santa Monica-themed souvenirs. She's been working at the pier for the past four years and has noticed a sharp decline in foot traffic.

"It's less than half of what it used to be, and people that you see are mostly locals," Perez said, adding that the "sales are not so good because locals are not normally buying souvenirs that say where they live. It's usually the people who are out of the country or out of state that shop in this area."
 
Influencing policymakers

The Albright's Morena served as a Santa Monica councilman for nearly two years before resigning in June to focus on keeping his restaurant afloat.

"Like so many small independent businesses, I have struggled over the last three months to protect my family and my employees and their families who work at my restaurant on the pier," he said at the time. "I have taken out loans and gone into the red to feed them, keep up their health insurance, and do everything possible to have jobs waiting for them once this crisis is over. 

"But unless I am able to renegotiate my lease … I will no longer be able to remain in business," Morena explained. "While this narrative is echoed throughout restaurants in Southern California, what makes my story different is that my landlord is the City of Santa Monica and I am a councilmember. As such, it is illegal to renegotiate with myself." 

Morena helped form the Independent Hospitality Coalition to advocate for Covid-related issues affecting the restaurant industry. The group now counts almost 400 restaurants that collectively employed some 20,000 workers prior to the pandemic and generated nearly $700 million in annual revenue.

"The biggest challenge now, and this is part of why the IHC was created, is to educate our policymakers that when you have such reduced revenue and your fixed expenses remain fixed, eventually that runs you out of business," Morena said. "Every landlord is going to be challenged at some point, and we understand that, and that's where we need sort of bigger legislative support. Look, in a perfect world, the banks would allow property owners to either defer or abate their mortgage payments for some time and lessees could then abate their rent for some time. Deferment doesn't work — it only kicks the can down the road — and we don't know how long this road is. We need some immediate relief, and outside of our labor and food, rent is oftentimes the largest expense."

Morena said another challenge is the idea of business interruption insurance.

"Obviously, we would love some relief there, but policymakers also have to be very, very careful in dealing with workers' comp, which is now part of some of the legislative push that's happening from different groups," he said. 

"If workers' comp immediately covers everyone who gets Covid, what ends up hap-pening is the … rate goes up for policyholders. And if they just pay out to everybody through workers' comp because they assume everyone has contracted the virus through a business, then the future costs of workers' comp is going to be untenable. So, we may not go out of business today based on increased insurance costs, but tomorrow the cost will be so much higher, and much more pain is coming."
 
Free the Ferris wheel

Morena said he's also hoping legislators will consider "decoupling" the pier from the rest of the amusement park industry since it's an "open air, free access" venue. Nathan Smithson, director of marketing and business development at Pacific Park, agreed.

"The pier is a unique destination," Smithson said. "If you look at the entertainment venues that are open right now — Downtown Disney, Universal CityWalk or the Grove — we are really more similar to those as an entertainment destination than say, Disneyland or Universal Studios, because people come and go as they please.

"We don't have any indoor rides or other kind of stuff like you would see in those big parks. We have a very close relationship with both Belmont Park in San Diego and Santa Cruz Beach Boardwalk, and they're kind of in the same boat as we are," he added.

Smithson said Pacific Park's revenue is at "2% of what we would normally be doing this time of year. During the high summer, we would probably have almost 500 employees working in the park, and we really only have been able to get about 50 people back to work. … Long-term, it would be very difficult to operate a business our size with (rides and Ferris wheel) not being open. 

"Yeah, we can sell some funnel cakes and some Pepsi-Cola," he added. "But at the end of the day, our bread and butter is being able to provide the attractions and entertainment services that we're known for. So, our long-term plan is unfortunately a wait-and-see right now."
 

For reprint and licensing requests for this article, CLICK HERE.