International Traffic Remains Stalled for LA Airports
Monday, September 7, 2020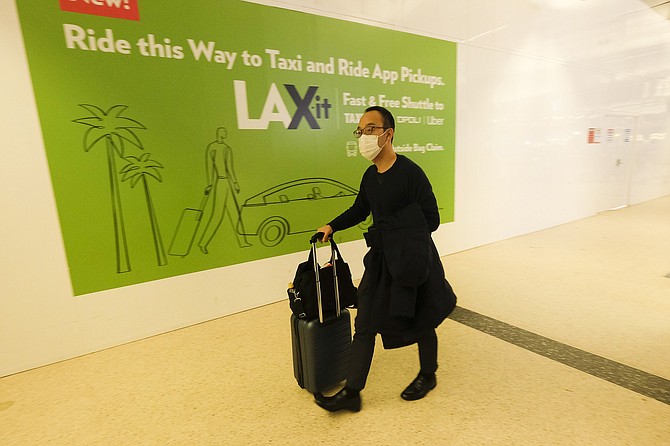 Domestic air travel has been slowly picking up at L.A.-area airports, but international air traffic remains stalled as foreign travelers steer clear of the coronavirus threat in Southern California.

That's the emerging picture from air passenger data for July released late last month by three of the four airports serving Los Angeles County: Los Angeles International, Long Beach and Ontario International airports.

And it's bad news for the already-walloped tourism industry in L.A. County. International travelers to the region tend to spend much more than their domestic counterparts.

Los Angeles World Airports, the city agency that runs LAX, reported that domestic air passenger count at the region's largest airport reached a new Covid-era high of 1.33 million in July, down 77.5% from July of last year.

That's a five-fold improvement over the 240,000 domestic passengers in April, which was a 96% drop from April 2019.

But only 192,000 international passengers went through LAX's gates in July, a gain from 59,000 at the Covid-era low point in April, but still down 92.4% from July 2019.

Overall, 1.52 million passengers went through the airport gates in July, down 82% from July of last year.
LAWA spokeswoman Becca Doten said in an email that travel restrictions to the United States imposed by foreign governments have been a major culprit behind the anemic international travel figures. Those restrictions have remained in place, as both the United States and California experienced surges in coronavirus cases in July.

"In response to the Covid-19 pandemic many countries — including the United States — have implemented travel restrictions, either prohibiting travel for most travelers from certain locations or requiring quarantine periods for travelers," Doten said.

Another factor, she added, has been financial trouble at several airlines headquartered outside the United States.

"Some international airlines have filed for bankruptcy or are reorganizing," Doten said.

More than a dozen airlines around the globe have filed for bankruptcy protection this year, including Latam Airlines Group of Santiago, Chile.; Virgin Australia; and Bogota, Columbia-based Avianca Holdings S.A.
A similar trend has unfolded at Ontario International, the only other airport in the region that accepts international travelers.

In July, 172,605 domestic passengers went through Ontario airport, down 63% from July 2019, according to figures released by the Ontario International Airport Authority. But only 3,616 international passengers went through Ontario in July, down nearly 87% from July 2019.

Overall, 176,221 passengers went through the gates at Ontario in July, down 64% from July 2019.
Hollywood Burbank Airport reported 110,548 passengers in July, down 80% from July 2019.

And Long Beach Airport had 40,406 passengers going through its gates in July, down 87% from July 2019.
Long Beach and Hollywood Burbank airports don't have Customs and Border Protection facilities, meaning international passengers cannot use those airports.

The lack of any significant recovery in international air traffic at the region's airports spells more trouble for the already battered local tourism economy.

According to figures from the Los Angeles Tourism and Convention Board, in 2018 international visitors to L.A. County made up about 15% of the 50 million visitors to the county but represented 49% of total tourist spending.

In a bid to get international travel back on the upswing, LAWA spokeswoman Doten said the agency is trying to set up additional Covid-19 testing to convince officials at other major airports around the world that it's safe for passengers to pass through LAX.

"We are currently working with other airports — domestic and international — to create consistent protocols that will spur more international travel," Doten said.

She said this includes discussions with other major global airports about establishing risk-based Covid-19 testing protocols between pairs of airports.
For reprint and licensing requests for this article, CLICK HERE.