Guess Tops Goals for Revenue, Earnings
Monday, September 7, 2020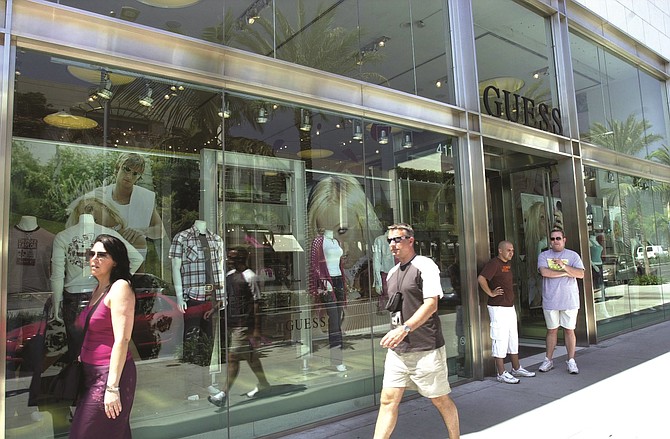 Shares of Guess Inc. rose about 10% on Sept. 2 after the downtown-based apparel retailer beat Wall Street's expectations for revenue and earnings for the company's fiscal 2021 second quarter.

Guess reported a net loss of $20.4 million, or 1 cent a share, on $398.5 million in revenue.

Analysts had anticipated a loss of 58 cents a share on revenue of $385 million.

"We all continue to be tested with a pandemic and its impact on life," Chief Executive Carlos Alberini said during an earnings call with analysts. "At Guess, we are managing through the situation with our eyes on the road and our hands firmly on the steering wheel.

"Our retail sales were better than originally anticipated, and our wholesale businesses, which also performed better than expected, benefited from some product shipments pulled forward from the third quarter into the second quarter as many European customers requested products earlier than expected," he added.

The company said margins were better than planned, thanks to tight controls on inventory, rent relief at many of its European locations and effective cost management.

"We reported a 41.7% revenue decline and we almost broke even at the operating level for the period on an adjusted basis," Alberini said.

Ecommerce in North America and Europe was up 9% for the quarter while same-store revenue was "negatively impacted by store closures in all regions at the beginning of the quarter and lower productivity the prior year," according to Chief Financial Katie Anderson.

"Our stores were closed for approximately 30% of the days in the quarter, and when they were open, traffic was roughly half of our customer flow in the prior year," she added.

Guess decreased operating expenses by $70 million to $148 million for the quarter, with "little over half of these savings" being one-offs, according to Anderson.

"For example, we received government support in various countries across the globe like employee payroll stipends during closures," she said. "We put in place salary reductions that have since been reinstated. We pulled back hard on advertising. And we also saved on some variable costs while our stores were closed, like distribution and payroll at both the store and corporate level."

The retailer didn't pay rent for April, May and June and is in negotiations with landlords to adjust its rental expenses in line with the store closures and declines in traffic.

Rent relief negotiations that were already completed resulted in $8 million in rent credits, mostly in Europe.

Alberini said he expects a slow recovery of the retail business in the second half of the year "driven by similar metrics to those that we have seen since we have reopened our stores, but with a gradual improvement in customer traffic.


For reprint and licensing requests for this article, CLICK HERE.