SpaceX Launches 60 More Satellites
Monday, October 26, 2020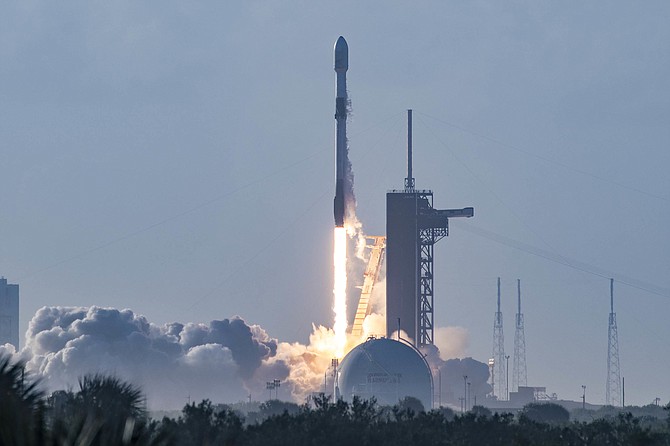 Hawthorne-based Space Exploration Technologies Corp. sent 60 more Starlink satellites into orbit using the company's Falcon 9 rocket during an Oct. 18 launch from the Kennedy Space Center in Florida.

SpaceX had planned an additional Starlink launch last week but postponed the mission.

The Oct. 18 Starlink launch, the 14th by SpaceX, brings the number of internet relay satellites fired into space by the company to 835.

SpaceX is seeking to establish widespread satellite broadband service around the Earth using its Starlink system.

"As our Starlink network is still in its early stages, the Starlink team continues to test the system, collecting latency data and performing speed tests of the service," SpaceX said in a statement.

The mission got underway at 8:25 a.m. Eastern Time when the Falcon 9 lifted off from Launch Complex 39A. Following stage separation, SpaceX successfully landed the rocket's first stage on the droneship, called Of Course I Still Love You, which was stationed in the Atlantic Ocean.

The Starlink satellites deployed about 1 hour and 3 minutes after liftoff.
After stage separation, the two halves of the rocket's nose cone fairing, which were used in two previous missions, fell away by parachute and landed on netting aboard recovery ships.

"A great way to start off a Sunday," SpaceX Production Supervisor Andy Tran said during live launch commentary, according to reports.

It was the sixth flight for the Falcon 9 rocket, which was previously launched on Oct 6.
The rocket's first booster stage had previously supported the May 30 manned mission that launched the Crew Dragon's first manned flight to the International Space Station, as well as the July 20 ANASIS-II mission, in which the company deployed a South Korean military satellite to its target orbit.
For reprint and licensing requests for this article, CLICK HERE.