For Quibi, Short-Form Plan Was Short Lived
Monday, October 26, 2020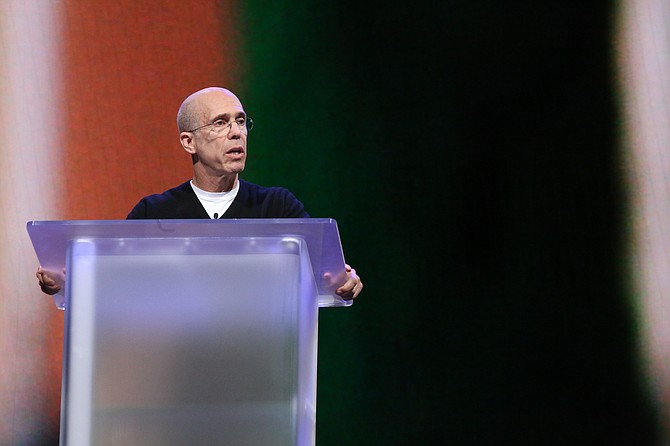 There's been plenty of quibbling about the name of Quibi, the heavily hyped short-form streaming platform designed for smartphones.

Quibi founder and Chairman Jeffrey Katzenberg and Chief Executive Meg Whitman said the name was short for "quick bites" — never mind that it takes just as long to say "Quibi" as it does to say "quick bites."  

Now the Quibi name means something else: failure.

The company with the quirky moniker and $1.75 billion in funding threw in the towel Oct. 21, six months after its much-ballyhooed launch

In a statement, Quibi announced its intention to "wind down its business operations and initiate a process to sell its assets." 

Under Hollywood mogul Katzenberg and tech titan Whitman, Quibi had planned to deliver premium content produced by some of Hollywood's biggest names in episodes of 10 minutes or less.

But the platform reportedly has only 500,000 subscribers for its streaming service, a far cry from the 7 million Quibi projected to have by the end of its first year.  

Reports have swirled for weeks that Quibi was up for sale. On Sept. 21, the Wall Street Journal reported that Quibi was exploring "strategic options" including a possible sale, an attempt to raise more money, or going public through a merger with a special purpose acquisition company, or SPAC.  

At the time Quibi said via email, "We do not comment on rumor or speculation."
The recent "wind down" announcement proposes a different kind of potential sale, not the platform as a whole but its individual assets.

Complex content deals

Entertainment industry analysts said any company interested in Quibi's programming would face a deal complicated by Katzenberg's unusual arrangement with content producers.

Quibi deals reportedly allow the company to exclusively license content in short-form episodes for seven years. After two years on Quibi, the show's creators and producers would have the right to edit the content into a long-form piece and sell the international rights. 

This arrangement is most applicable to Quibi's Movies in Chapters offerings. The platform has more than 100 original shows available.

Michael Goodman, director of television and media for Strategy Analytics Inc. in Boston, has been a critic of the Quibi business model since the beginning. He said Katzenberg's successful track record has been built on creating content rather than technological innovation. 

Moreover, Goodman has maintained that no one, including millennials, wants to view movie content in 10-minute increments. "Their model broke the ability for the content creator to tell a story," he said. 

Even without those hurdles, Goodman added, selling Quibi content raises a morass of contractual questions. 

"I was curious as to who owns what part of Quibi … (if) the long-form rights revert back to the content creators (after) 24 months," Goodman said. "It's unclear whether they are trying to sell the segmented failed product or whether they are trying to sell the long-form rights. … It's the long-form that has the value."

Goodman added that while investors are likely to take a bath on Quibi, content producers have already been paid. "It's a win-win for everybody but Quibi," he said.
Analyst Scott Kushman of Stamford, Conn.-based Kushman Media said producers who sold shows to Quibi enjoyed a temporary showcase for work that might not have happened otherwise and could lead to future deals. 

"There was tons of money thrown at all these shows," he said, adding that the platform might be announcing its dissolution with a counterintuitive goal in mind.
"Maybe they (are) trying to find a couple of investors. Nobody was really interested, so they just decided to kick the can down the road (to see) who comes out of t he woodwork," Kushman said. "I think this is just a positioning announcement to try to get somebody to invest last-minute into the company, a kind of a Hail Mary-type deal."

A slow start

Signs of trouble were apparent early on for Quibi. By the end of May, the platform's app had attracted only 2.9 million downloads and a reported 1.5 million active users.
Sensor Tower Inc., a San Francisco-based analytics firm focused on the mobile app economy, reported that more than 90% of Quibi subscribers dropped the app when the free trial period ended, opting to discontinue the service rather than pay $4.99 per month for a subscription with advertising or $7.99 a month without ads.

Advertisers also questioned Quibi's low subscribership. The Wall Street Journal reported that PepsiCo Inc., Yum Brands Inc.'s Taco Bell Corp. and Walmart Inc. were among the brands asking to defer payments.

Katzenberg has consistently blamed Covid-19 for the disappointing numbers, saying the on-the-go millennial audience courted by the service was disrupted by shutdowns, remote work and waves of shelter-at-home orders. 

He continued to cite the pandemic in the latest statement. "The world has changed dramatically since Quibi launched, and our stand-alone business model is no longer viable," Katzenberg said.

"While we have enough capital to continue operating for a significant period of time, we made the decision to wind down the business, return cash to our shareholders, and say goodbye to our talented colleagues with grace," Whitman said in the statement. 

"We continue to believe that there is an attractive market for premium, short-form content. Over the coming months, we will be working hard to find buyers for these valuable assets who can leverage them to their full potential," she added.
Quibi reportedly has spent about $1 billion of its funding and plans to return $350 million to investors.


For reprint and licensing requests for this article, CLICK HERE.