For Nonprofit Arts Organizations, Philanthropy Is Key to Surviving Covid
Monday, October 26, 2020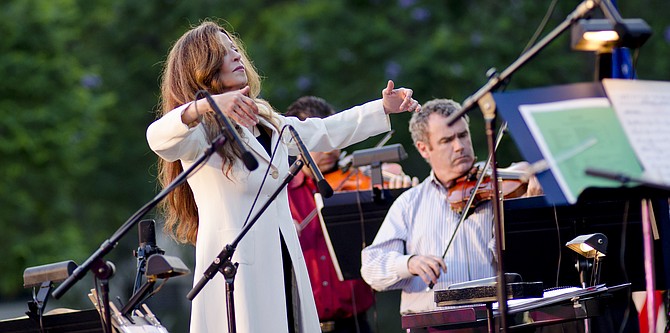 Ben Cadwallader began his tenure as executive director of the Los Angeles Chamber Orchestra on March 9. One week later, LACO's downtown offices were closed by the Covid-19 pandemic.

Over at the Los Angeles Master Chorale, meanwhile, President and Chief Executive Jean Davidson was forced to push back the organization's 2020-2021 season when the pandemic arrived. Now she's looking to 2022 for a restart.

And Valentine Gelman, senior vice president of advancement for the Music Center, has spent the past eight months reimagining donor benefits in a world where art has gone digital.

While schools have shifted to Google Classroom and offices have switched to Zoom conference calls, nonprofit arts organizations in Los Angeles have tried a variety of approaches to navigate the rocky terrain created by the coronavirus. 

That includes leaning more heavily than ever on corporate and individual benefactors for help to weather the storm caused by the pandemic.

"We made the call out of the gate that we were going to fully compensate musicians for their lost work. That was rewarded from our philanthropists," Cadwallader said.
After the Chamber Orchestra canceled its spring finale concert, Cadwallader acted quickly to start raising funds. The organization brought in more than $300,000 in donations to help staff and musicians.

LACO's promise to keep going, Cadwallader said, reassured donors as they witnessed the organization's transformation.

"Somehow the options for performing arts associations are to shut down temporarily or indefinitely, or to become a media company," Cadwallader said. 

The Chamber Orchestra chose the latter by launching SummerFest, a five-episode free digital music series that ran from July 5 to Sept. 11.

The performances, conducted at downtown's Zipper Hall with no in-person audiences, were livestreamed on LACO's website, as well as on YouTube and Facebook. 

The cost of the first two shows was covered by existing donations to LACO, while expenses for the remaining episodes were picked up by philanthropists who were impressed by the initial shows.

While digital alternatives have the potential to reach a wider audience, Cadwallader pointed out that it can also be a challenge to attract viewers.

"When you're on a screen, you're competing with Netflix, you're competing with Hulu and HBO," he said.

During a normal season, the Chamber Orchestra sells 30,000 to 40,000 tickets. More than 150,000 people tuned in to SummerFest.

"We brought in thousands of dollars in night-of donations from brand-new donors," Cadwallader said, adding that LACO is evolving rather than compromising during what he calls the organization's digital intermission.

"We're not bemoaning the fact we can't be in concert halls," he said. "The lessons we're learning as we transition into becoming a digital media company are going to apply to LACO going forward. The reverberations of this are going to be felt for years and years to come."

Lawn serenades

Rachael Worby, founder of Pasadena-based MUSE/IQUE, set out to design experiences in nontraditional venues when she launched her nonprofit performing arts organization in 2011. 

In 2020, she would have no other choice but to go that route. 

MUSE/IQUE hasn't stopped providing live music during the pandemic. Instead, the organization has taken its performances to the streets. Or rather to the front yards.
MUSE/IQUE's musicians are giving free socially distanced lawn serenades in neighborhoods around L.A. The performances are arranged ahead of time for the organization's donors.

"A couple didn't emerge from their house, but that didn't stop us. We went to their gated driveway," Worby said. 

Each performance is recorded and sent to families. "This is what we do for our donors." 

Worby has also served as creative director for 75 music videos from MUSE/IQUE that have attracted such a positive response from donors that the organization plans to continue them even after the pandemic subsides.

Of course, Worby's is one of many nonprofit arts organizations that have used their creativity to find unique ways to engage audiences while raising funds.
The downtown-based Master Chorale, for instance, held an online donor stewardship event where 85 households from their donor community tuned in for a private show over Zoom. 

"We have been reaching out to donors to specifically support our digital initiatives, and we've had really positive responses," Master Chorale CEO Davidson said.

The organization also held virtual choir events through home-recording setups. "In a normal concert year at Disney Hall, we'll reach about 25,000 people. Our first virtual choir reached 98,000 people worldwide in two weeks," Davidson said. On the flip side, the uncertainty of the times has influenced financial decisions at the donor foundations, where some have taken a wait-and-see approach to events and audience outreach. 

Davidson said some foundations have reduced their annual grant award despite the economic hardships. 

"I don't know if it's because they are reallocating resources to other basic needs organizations given the pandemic and other causes that their foundation is committed to," she added. 
Changing priorities

In a study conducted by Community Works Consulting Inc., nearly two-thirds of 111 philanthropic organizations in Southern California, reported immediate changes in their funding priorities because of Covid-19. Some 41% said that at least some support would be redirected toward public health.

At the Music Center, Gelman has also noticed mixed responses. The organization's three-phase Community Renewal Plan emphasizes the nonprofit's longevity, resources and relevance helped to reassure donors.

Much of Gelman's focus has been on conveying to philanthropists the intrinsic value of their donations. 

"It may not be a glass of wine at a reception, but how it's impacting the lives of our constituents, and shifting that narrative was something we had to do quickly," she said. 

Rachel Fine, chief executive and executive director at the Wallis Annenberg Center for the Performing Arts, said the Beverly Hills nonprofit relied on donations for 65% of its budget before the pandemic. But corporate contributions have plunged this year.
"I suspect if we rebound, including the corporations, we will be able to secure their partnership again," Fine said.

Fortunately for the Wallis, support from individuals and foundations has remained steady. Still, she said, there are no guarantees in the nonprofit arts space, especially at this moment.

"You can never count on someone coming back. That's probably the hardest thing to do when you're trying to build a donor base," she added. "I think the hope is always, if it's a good match, then everybody feels good about the transaction. The donor ultimately wants to feel good about where they are donating their money."
For reprint and licensing requests for this article, CLICK HERE.