Local Dialysis Operators Face Closures, Higher Costs With Prop. 23
Monday, October 26, 2020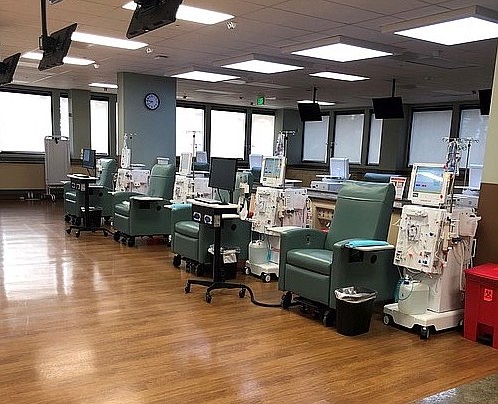 Local dialysis clinic owners, already contending with the Covid-19 pandemic, now fear that if voters approve Proposition 23 on next month's ballot, they might have to close some of their clinics.

Proposition 23 was placed on the ballot by the Service Employees International Union United Healthcare Workers West, which has been trying for years to unionize dialysis clinics.

It's the second ballot try for the union, which put a similar measure on the 2018 ballot. Proposition 8 would have capped profits of dialysis clinics. It was defeated 59.9% to 40.1%.

The current measure would require each dialysis clinic to have a physician on the premises while clinics are open and treating patients, starting Jan. 1. It would also require clinics to report infection frequency and details to the state health department and National Healthcare Safety Network.

Proposition 23 attracted more than $112 million in campaign contributions through mid-October, according to CalMatters' latest analysis of the Secretary of State's campaign finance data.

Supporters raised $6.9 million through mid-October, with at least $6.2 million of that coming from the SEIU United Healthcare Workers West union.

But opponents have raised $105 million as of mid-October, according to CalMatters. Almost all of that money has come from just three major clinic operators: Denver-based DaVita Inc., which contributed $66.8 million; Fresenius Medical Care North America, a unit of Bad Homburg, Germany-based Fresenius SE & Co., which contributed $29.8 million; and Plano, Texas-based U.S. Renal Care Inc., which contributed more than $6.8 million.

Together, these companies control at least 75% of the Southern California market, with the remainder served by small, mostly locally based chains, according to local clinic owners.

Those owners agree that the measure's requirement for physician staffing will negatively impact their clinics' finances.

Most dialysis clinics have medical directors on duty for a few hours each day, with patients' own physicians on call in case problems arise. Due to the length of time each patient must be on dialysis treatment, most clinics are open at least 12 hours each day, with some open 16 hours.

One of those clinic owners is Larry Jone
s, president of Long Beach-based National Renal Care, which provides management services to seven dialysis clinics in the San Fernando and Santa Clarita valleys. He is also a co-owner of the seven clinics.
Jones said his company would have to hire 14 or 15 kidney specialist doctors, known as nephrologists. Proposition 23 only states that physicians must be on hand. Jones said existing state and federal dialysis clinic regulations require all doctors serving at the clinics to have dialysis training — in essence, they must be nephrologists.
"Right now, there's a shortage of trained nephrologists in California, with only about 60% of the positions able to be filled," Jones said. "It will be virtually impossible to staff up by the proposition deadline of Jan. 1, no matter how much you are willing to pay the nephrologists."

Even if enough nephrologists could be found, he said, the annual compensation package for a fully trained nephrologist typically runs about $300,000.

"If we have to hire 14 or 15 nephrologists, that's at least $4 million in additional cost. And since most of our patients are on Medicare or Medicaid, their reimbursement rates are capped, so we can't pass those costs on.

"Given the operating margins of the clinics, I'm definitely looking at closing one or more of the clinics if this measure passes," he said.

Another local clinic co-owner said the measure would have a substantial negative impact.

Abid Rizvi, partner with San Dimas-based California Kidney Specialists, which operates nine clinics in the eastern San Gabriel Valley and Inland Empire, said he expects costs to increase up to 25% if Proposition 23 passes.

Rizvi said California Kidney Specialists already has about a dozen nephrologists on staff who spend time at the nine clinics. So, to have at least two shifts of physicians at each clinic would require about six more physicians.

If those physicians have to be nephrologists, he said, overhead would increase by about 25%.

"We might have to close down one of the clinics," Rizvi said. "If not, at the very least, we'll have to curtail capital spending on new equipment and new technology."


For reprint and licensing requests for this article, CLICK HERE.