Despite Jobs Gains, LA Has 'Mountain to Climb'
Monday, October 26, 2020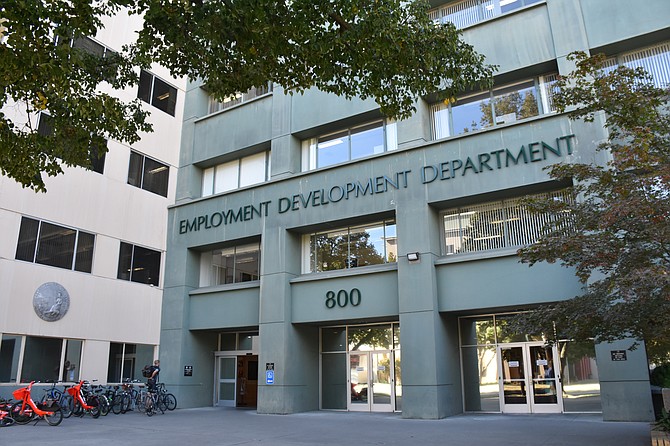 The September jobs report for Los Angeles County was a welcome dose of good news, as the unemployment rate fell to 15.1% — its lowest level since March — and the county saw a robust gain of 37,600 payroll jobs.

It was the largest jobs increase since the economy's initial reopening in May when the county added 147,000 jobs.

But local economists cautioned it's going to take more than one good month for the county's jobs picture to return to pre-pandemic levels. 

And they indicated that a more in-depth analysis of those numbers from the state Employment Development Department shows September's gains were not quite as impressive as they first appeared.
2020 Unemployment Rates (Jan.-Sept.)
| MONTH | L.A. COUNTY RATE (%) | CALIFORNIA RATE (%) | U.S. RATE (%) |
| --- | --- | --- | --- |
| January | | | |
| February | | | |
| March | | | |
| April | | | |
| May | | | |
| June | | | |
| July | | | |
| August | | | |
| September | | | |
Source: California Employment Development Department and U.S. Census Bureau.


They pointed to a key figure: 716,000 jobs. That's the number of payroll jobs the county lost during the pandemic-induced lockdown of March and April. 

In the five months since the county has gained back 213,000 — or roughly 30% — of the jobs that were lost. That leaves a hole of more than 500,000 jobs.

"We still have a very big mountain to climb," said Taner Osman, research manager at Westchester-based Beacon Economics.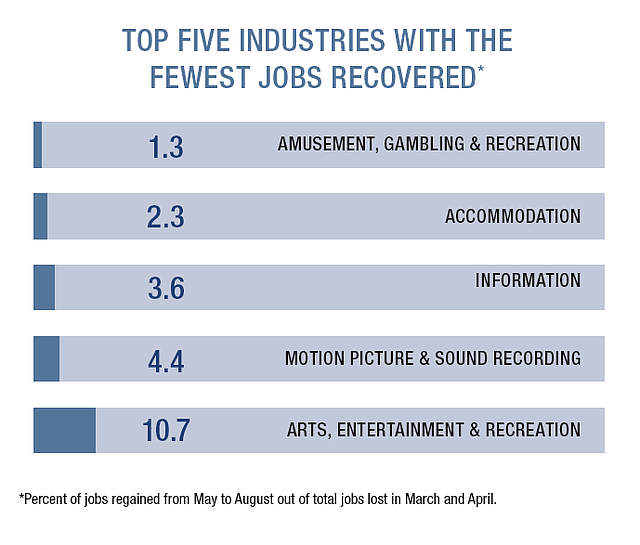 Seasonal adjustments

Osman pointed out that the September job gain included the seasonal return of teachers and other school employees for the start of the academic year at many local school districts and universities around the county. 

The EDD also accounts for this factor in releasing seasonally adjusted payroll jobs figures. For L.A. County, this adjusted gain was 5,600 jobs between August and September.

"When you look at the seasonally adjusted figure, we actually had a very modest gain in jobs for September," Osman said.

To guard against a one-month aberration at this volatile time, he added, it's instructive to look at a three-month block of data.

And there, the picture is not so rosy. The county lost 3,600 jobs in July and gained 11,500 jobs in August. Averaging the job gain over the three months of July through September yields an increase of roughly 14,000 jobs per month.

Taking the seasonally adjusted figures into account for each of these months, the average job gain was about 13,500 per month.

That's above average for recent years when the county was gaining about 8,000 jobs per month. But when stacked against the remaining hole of 500,000 lost jobs, Osman said, that rate of gain just won't cut it.

"When you're facing a hole of hundreds of thousands of jobs, a gain of 13,000 or 14,000 jobs per month is not a recipe for a rapid recovery," he said. "The quicker recovery that some might have expected is not going to play out as people would like."

That was also the message from Shannon Sedgwick, director of the Institute for Applied Economics at downtown-based Los Angeles County Economic Development Corp.

Sedgwick pointed to the unemployment rate rather than the payroll jobs figures as cause for continued concern.

Based on the pace of decline in the unemployment rate, Sedgwick last week gave a revised timetable for the rate to return to single digits. Instead of late this year or early next year, that milestone is now forecast for mid-2021 or later. 

As for when the unemployment rate would return to the low 4% range it reached a year ago, Sedgwick would not even speculate.
 
Virus 'shocks'

Sedgwick said stubbornly high coronavirus infection rates in Southern California and the rest of the country are to blame.

"It will be difficult for unemployment to continue to fall rapidly while the virus-related shocks continue," she said. 

She noted that the county was still in the highest tier with the most restrictions on personal movement and business reopenings. 

Sedgwick also said the relatively new phenomenon of "pandemic fatigue" — where people grow tired of all the restrictions and consciously choose to ignore them as part of their desire to return to a normal life — could keep infection rates high, further delaying the region's recovery from the pandemic. 

Sedgwick added that the end of supplemental unemployment insurance benefits, due to the failure of Congress to enact an additional economic stimulus package, wasn't going to help the economic situation in the months ahead.

"This assistance translates into spending at local businesses so, as these payments expire, businesses may have a harder time booking revenue, which puts more businesses at risk," Sedgwick said.

But she said not all sectors of the economy are hurting. In fact, some sectors of the local economy have actually gained jobs over the past year: financial, real estate and insurance, together posting a net gain of 6,500 payroll jobs.

"Financial markets have not been impacted as severely," Sedgwick said. And "in terms of jobs, the finance industry was able to switch almost immediately to working remotely, including banking executives, loan processors and financial advisers."
For reprint and licensing requests for this article, CLICK HERE.