Terminal Operator Fenix Marine Finds Smooth Sailing at Ports
Monday, October 19, 2020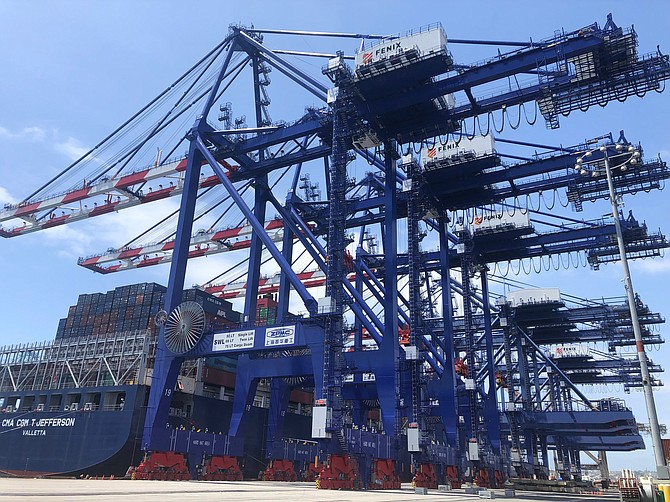 While most of the terminals at the San Pedro Bay are struggling to keep up with a recent influx of traffic, Fenix Marine Services just added a new carrier to its roster of clients. 

SeaLand, A.P. Moller Maersk's regional carrier, transferred its West Coast Central America service from Total Terminals International at the Port of Long Beach to Fenix's Pier 300 at the Port of Los Angles. 

WCCA moves about 1,000 twenty-foot equivalent units (TEUs) of cargo each month from several Central American ports: Balboa in Panama, Corinto in Nicaragua, 
Acajutla in El Salvador, Puerto Quetzal in Guatemala and Lazaro Cardenas in Mexico. The first vessel to dock at Fenix was "Sea-land Balboa," which arrived on Oct. 1.

"We've invested more than $100 million into Pier 300 since 2018, and that gave us the capacity and the capability to take on a new service where some of the other terminals are not able to manage even their current book of business," said Fenix General Manager Scott Schoenfeld.

Recent improvements at Fenix Marine's 292-acre Pier 300 included the addition of 14 rubber-tired gantry cranes to load and unload trucks, four of the largest ship-to-shore cranes in North America and 24 top handlers he described as "forklifts on steroids."

The upgrades also comprised reconfiguration of the yard, he said, adding that the terminal's operating and tracking systems were also improved. The changes helped reduce truck turn times — total time spent by a truck from queue to gate out — by about 30% in the past 12 months.

And there's room for more gains.

"We're one of very few terminals that has room to grow horizontally," Schoenfeld said. "There is a space directly adjacent to the terminal where we could expand the footprint, and we're working with the Port of Los Angeles to explore opportunities to do that."

Fenix is the third-largest terminal in the San Pedro Bay complex. It has four berths and handles more than 2 million TEUs each year, accounting for roughly 20% of cargo going through the Port of Los Angles.

The company opened in 1997 as Eagle Marine Services, a subsidiary of French shipping company CMA CGM.

Sweden-based EQT Infrastructure acquired a 90% stake in the business from CMA CGM for $875 million in 2017, with the shipping line retaining a long-term use agreement with the terminal.

The new owner changed the terminal's name to Fenix Marine Services and partnered with Arizona-based P5 Infrastructure to run it.

"Fenix has pursued an aggressive transformation plan since our acquisition, and it is now paying dividends in improving capacity, productivity and service levels," Mike Journeycake, vice president of commercial, said in a statement.

"Our customer outreach programs and commitment to providing specialized services is really taking hold in the market. We are extremely excited that Sealand chose Fenix and look forward to building a long-term relationship," he added.

Other than the WCCA addition, all ships docking at Fenix's berths are part of trans-Pacific trade and carry cargo to East and Southeast Asia.

"Most of what we import is filling up the big box stores — Target, Walmart, Home Depot — and exporting all of the commodities, primarily from the Heartland. That's grains, raw goods, as well as some heavy machinery parts and autos," Schoenfeld said.

Due to the pandemic-related shutdowns, the port complex "went from record lows (in the second quarter) to record highs," he said. "That is hard to take no matter what, but we were able to handle it well."
For reprint and licensing requests for this article, CLICK HERE.