Cannabis Businesses Back Ballot Initiatives
Monday, October 19, 2020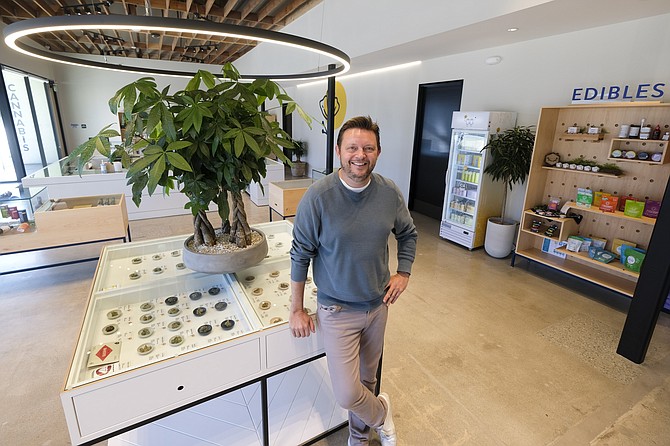 Cannabis is on the ballot in six Los Angeles-area cities this November. 

Voters in Commerce, Calabasas, Hawthorne, Costa Mesa, La Habra and Laguna Woods will decide on initiatives establishing, expanding or laying the groundwork for legal local cannabis sectors.

None of the individual ballot measures would constitute a sea change in the cannabis industry. Taken together, however, they represent a push toward broadening the L.A.-area's legal marijuana market. 

These moves, spurred on in part by the Covid-19 pandemic, could have a subtle — but significant — impact on the local industry. 

In Los Angeles County, Calabasas and Hawthorne currently prohibit marijuana businesses. The ballot measures in those cities would approve taxes on future cannabis companies — a key precursor to establishment of a legal industry.
Commerce residents will vote on six measures that would support the growth of cannabis businesses in the city.

In Orange County, Costa Mesa and La Habra will decide whether to establish and tax retail cannabis sectors in their cities for the first time, although La Habra's measure would only permit delivery businesses. 

Voters in Laguna Woods, which currently prohibits all commercial cannabis businesses, will cast their ballots on a nonbinding measure that asks if they support the future establishment of retail cannabis businesses in the city.

This patchwork of regulatory systems and often slow-moving, incremental change are persistent features of California's legal cannabis market. 

"When I look at the state of California, the number of cities online really represents the true addressable market," said Sturges Karban, chief executive of cannabis logistics company ManifestSeven Holdings Corp. "There is a lot of fragmentation and a very small market size overall because few cities have allowed (commercial cannabis)."
Unlike other commercial U.S. cannabis markets, such as Colorado or Washington, California's model delegates most of the authority in cannabis decision-making to local governments. 

Because a minority of California's 482 municipalities currently allow some form of commercial cannabis activity, the regulated market is both highly complex and smaller than it might initially appear.

"You have one state law but kind of like a Russian doll, the local license is where you start," Karban said. "Whatever you are choosing to operate, your ground game is at the local level."

The November votes to expand the local commercial cannabis industry are a boon for all players in the space, according to Karban. In addition to growing California's addressable market, he said, spreading the regulated industry also helps build resistance to the most pernicious competitor of licensed businesses: the illicit market.
Nearly three-quarters of total cannabis spending in California went to the unlicensed market last year, according to a report by cannabis research firms BDS Analytics Inc. and Arcview Group. 

Many industry watchers predict that number will increase this year as Covid-driven economic strife pushes more consumers to cheaper illicit-market products.
"It's kind of like going against someone who has been juicing because they aren't paying taxes and aren't following the same rules or safety measures," Karban said. "They can easily undercut on price."

Los Angeles dispensary owners generally agreed with Karban, saying that any legal openings in the regional market would be good for business.

"(These ballot initiatives) aren't growing the local market," said Aaron Justis, president of Studio City-based Buds & Roses Collective Inc. "(They are) only replacing the unlicensed market with the legal market."

According to Justis, demand for cannabis in most places across California far outstrips the legal supply. 

Rather than restricting the market size, he said, local bans on cannabis simply channel spending into the illicit sector. 

Although Justis' single-location dispensary would not directly benefit from new licensed markets for commercial cannabis, he said any moves that could weaken the illicit market would be positive for his business.

That view was shared by Tim Dodd, founder and chief executive of Sweet Flower Management, a Culver City-based business that operates four dispensaries in Los Angeles under the Sweet Flower brand.

"If we have more licensed operations, more licensed outlets for people to purchase from legally, it should decrease the market share of the illegal operators," Dodd said.
"The cannabis industry as a whole will remain stigmatized to the extent that there are illegal actors out there. We will always be judged by our worst actors," he added.
According to Dodd, the very existence of illicit operators is a business risk for every player in the legal market. Bad behavior and potentially unsafe products at unlicensed dispensaries can damage consumer sentiments toward the cannabis market as a whole, he said.

"Most people don't know the difference between a licensed and unlicensed operator," Dodd added. "We are all painted with the same brush."

The core factor driving local cannabis initiatives this November, however, is likely not a sudden desire to help tackle the issues surrounding the illicit market.

"It's real basic. It comes down to money," said Elaine Carey, the L.A.-based co-head of management consulting firm FTI Consulting Inc.'s cannabis practice.

"If your neighboring city is getting revenue from cannabis, do you want to be the one municipality surrounded by others that doesn't allow it?" Carey said. "You just lose out on money. That's all that happens."

With cannabis declared an essential service in the early days of Covid-19, Carey said it is now likely easier for local politicians to raise the issue "and not get called a crazy hippie."


For reprint and licensing requests for this article, CLICK HERE.