L.A. County Unemployment Rate Fell to 15.1% in September
Friday, October 16, 2020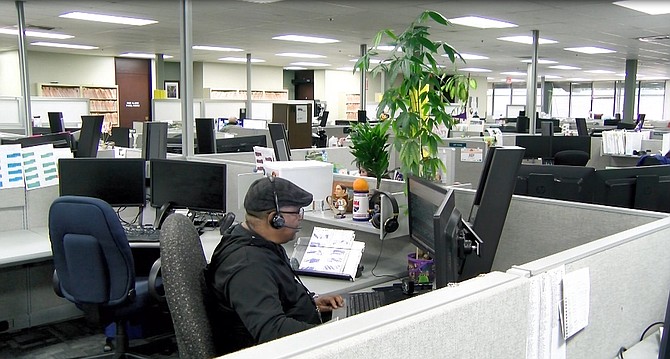 Los Angeles County's unemployment rate fell to 15.1% in September from a revised 16.4% in August, gaining nearly 38,000 jobs as the school year began and parts of the economy continued to reopen, according to figures released Oct. 16.

The state Employment Development Department reported that the unemployment rate, which is based on a household survey, fell more than one percentage point in September as roughly 43,000 previously unemployed residents reported they had returned to work.

But that news was tempered by figures showing the size of the labor force decreased by 21,000 to about 4.9 million. When the labor force declines, it usually indicates people have given up looking for work.

The EDD also revised upward the August unemployment rate to 16.4% from its initial report of 16.1% released last month. The agency has frequently issued significant revisions due to the difficulties of data collection during the pandemic-induced lockdown and recovery.

Even with the county's unemployment rate falling, it's still more than four percentage points above the statewide 11% for September and almost double the 7.9% nationwide rate, meaning that L.A. County continues to lag the state and nation in the recovery from the lockdown.

And, of course, the September unemployment rate is far above the near record-low 4.3% recorded in the same month last year.

Turning to jobs, the gain of 37,600 payroll jobs in September substantially outpaced the increase of 11,500 jobs in August.

Local government education payrolls showed an increase of 18,200 as the first full month of the academic year got underway. Unlike in previous years, most of the education hires took place against a backdrop of distance online instruction.

The EDD also releases a seasonally adjusted figure for payroll jobs, which in September typically adjusts the figure downward because of schools restarting. The seasonally adjusted payroll jobs gain for September was 5,600.

The other sector posting a significant net gain in payroll jobs in September was food services and drinking places, which rose by 11,200 jobs as restaurants continued to reopen with outdoor dining.

The only sectors to lose jobs in September were motion picture/sound recording and real estate rental and leasing-related financial activities, each of which shed a net of about 1,000 jobs.

The EDD noted that from May through September, the county has gained a net 213,000 jobs, about 30% of the 716,000 jobs lost during the lockdown of the economy in March and April.

But the tally of roughly 4.13 million payroll jobs for September is still about 437,000 less than September 2019, a drop of 9.6%. That's in line with year-over-year declines recorded over the last several months.

Not surprisingly, the leisure/hospitality sector recorded the biggest drop in payroll jobs between September of last year and September of this year, falling by 165,000. 
Eating and drinking establishments accounted for 104,000 of those jobs lost. Retail stores posted a net drop of 23,400 payroll jobs over those 12 months, with 10,000 of that drop coming from clothing stores.

Other industries posting big job drops over the past year include motion picture/sound recording (down 38,000 payroll jobs), manufacturing (down 24,500), personal/laundry services (down 20,000) and temporary employment services (down 19,500).

The only major gainers over the past 12 months were food and beverage stores (up 4,900 payroll jobs) and building material/garden equipment stores (up 3,500).
For reprint and licensing requests for this article, CLICK HERE.