SpaceX Sets Mark for Rocket Reuse
Monday, November 30, 2020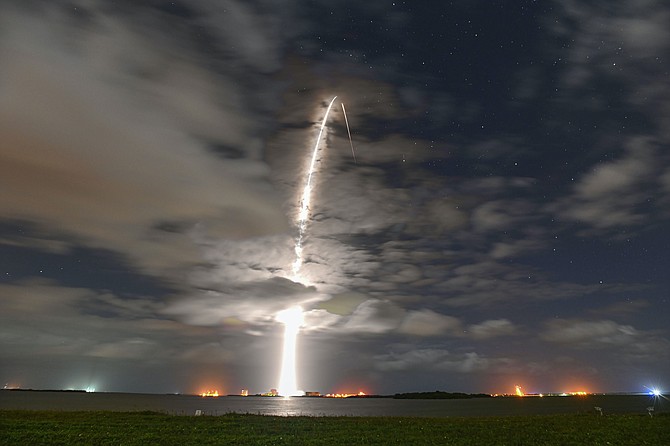 Space Exploration Technologies Corp. successfully reused a first-stage rocket booster for the seventh time during a launch last week that deployed another 60 satellites as part of its ambitious Starlink program.

The Hawthorne-based company launched a Falcon 9 rocket from Cape Canaveral, Fla., just after 9 p.m. Eastern Time on Nov. 24. The rocket's first stage separated from the launch vehicle approximately two-and-a-half minutes after liftoff and landed fully intact aboard a drone ship positioned in the Atlantic Ocean.

The first-stage booster had already been reused six times, and its successful recovery sets a record for the company.

That mark could well be broken in the near future. SpaceX engineer Siva Bharadvaj said the stage was designed to be reused 10 or more times and that the company still aims to hit that goal.

The launch was the 16th mission completed for SpaceX's Starlink program, which aims to create a network of more than 10,000 company-designed satellites in order to provide a low-latency global broadband service.

The company began deploying the satellites last year and has already carried nearly 1,000 into space aboard its launch vehicles.

It's been a busy month for SpaceX, which on Nov. 15 launched its first crew rotation mission on behalf of NASA, carrying four astronauts to the International Space Station. It was only the second manned flight undertaken by the company and the first of six SpaceX is scheduled to complete with NASA as part of the agency's Commercial Crew Program.

The company is also planning a key test of its enormous Starship spacecraft this week. The hulking rocket is a major part of the company's plans to eventually reach the moon and Mars.

On Nov. 24 SpaceX Chief Executive Elon Musk tweeted that the company would run the spacecraft through a high-altitude test, launching it close to 50,000 feet in the air — far higher than the launch vehicle has traveled previously.

Musk was not overly optimistic about the prospect of a smooth ride.

"Lots of things need to go right," he wrote in a tweet, estimating that the rocket had about a 1-in-3 chance of returning to Earth in one piece.

The Starship rocket is a key part of the company's long-range plans, but the Starlink program could produce more immediate results. Early testing of the broadband service began last month.

Program reliability engineer Kate Tice said Nov. 24 that testing is now available only in specific remote areas of the United States and Canada, but those participating in tests of the service can expect to see data speeds ranging from 50 to 150 megabits per second — though it's likely that service will cut out entirely at times.
For reprint and licensing requests for this article, CLICK HERE.