Relativity Space Raises $500 Million, Plans to Launch 3D-Printed Rockets Next Year
Monday, November 30, 2020
The short five-year history of Relativity Space Inc. is like something out of a startup storybook.

Founders Tim Ellis and Jordan Noone had little more than a bold vision to transform the process of rocket construction using 3D-printing technology when they cold-emailed "Shark Tank" star Mark Cuban with their pitch.

Ellis, who now serves as the company's chief executive, said it was his first try pitching the idea to an investor. Cuban, he recalled, responded in five minutes and eventually agreed to invest $500,000 in the fledgling company.

Later that same week, Relativity was accepted into prestigious startup accelerator Y Combinator.

"It's a crazy story in hindsight," Ellis said. "It was kind of an intense launch-off."

Investor enthusiasm for the rapidly growing company hasn't waned since then. On Nov. 23, Long Beach-based Relativity announced that it had raised a whopping $500 million in a Series D funding round led by Tiger Global Management.
The company now has more than 230 employees and a 120,000-square-foot manufacturing facility and headquarters in Long Beach. It's home to the largest metal 3D printers in the world, which have already produced a prototype of the company's Aeon 1 rocket engine.

Ellis said the company's goal from its inception was to build a completely 3D-printed rocket.

"I felt that at Relativity we could create an entirely new value chain by viewing 3D printing more as an automation technology," he said. "It really transforms manufacturing from the physical complexity of all the parts of the supply chain into digital software."

Prior to starting Relativity, Ellis worked as a development engineer at Blue Origin, overseeing the incorporation of additive manufacturing into the company's business plans.

During this time, Ellis said, he began to see development of a fully 3D-printed spacecraft as inevitable.

"When you actually look at the costs of building rockets and aerospace products, almost all of the cost is how you get the raw materials and the propellant to build the form that makes a rocket," Ellis said. "It's really manual labor costs."
 
Driving down costs

Because the 3D-printing process is driven by software, it also allows the company to continuously tweak the design of its rockets and parts, potentially simplifying construction and driving down costs over time.

Ellis said much of the company's work so far has been designing and building massive 3D printers capable of producing all the intricate parts that make up a functional rocket.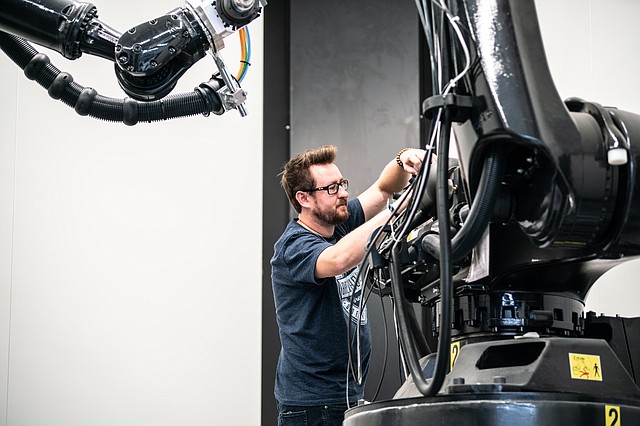 "We had to invent this brand-new technology that didn't exist," he said.

Terry Wohlers, president of additive manufacturing consulting firm Wohlers Associates Inc., said most aerospace companies recognize that 3D printing represents a "big opportunity" to refine the design of launch vehicles and propulsion systems.

The key to success for Relativity, he said, will be determining how to use its 3D printers to simplify the design of its rockets and reduce the number of component parts.

"Traditionally, building metal parts are more expensive when using additive manufacturing," he said. "But part consolidation can really impact the economics dramatically."

Relativity's 3D printers, which were designed by the company and built in-house, could also give the company an advantage over other rocket manufacturers because they can produce unconventionally sized parts that would be difficult to replicate with traditional manufacturing processes, Wohlers said.

"With additive manufacturing, you can use software to come up with these really bizarre looking designs, but you're reducing the material to a minimum," he said. "You can build these really complex shapes that you couldn't build with conventional manufacturing."
 
Test flight in 2021

The next test for Relativity will be proving its 3D-printed rockets can be viable launch vehicles. Ellis said the company plans to undertake a test flight of its Terran 1 rocket next year, with commercial launches planned for 2022.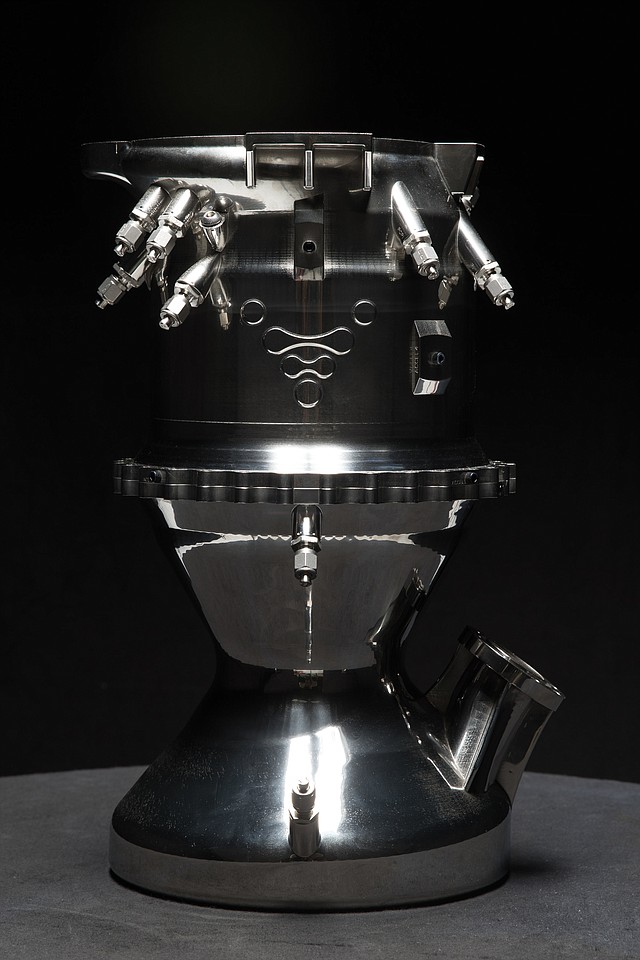 Even though the company's spacecraft are as yet unproven, Relativity already has customers. Last month, the company signed an agreement with Lockheed Martin Corp. to build and launch a rocket as part of an upcoming experimental mission conducted on behalf of NASA.

Meanwhile, satellite communications companies Telesat Holdings Inc. and Iridium Communications Inc. have both contracted with the company to deliver payloads in future launches.

A spokesperson for Iridium said the company has "confidence in (Relativity's) ability to become a successful provider in the midsize launch market" and had picked the company over more proven rocket manufacturers because Relativity offered a more cost-effective option for deployment of a single satellite.

Ellis said payload delivery aboard the company's rockets, which have enough capacity to fit large satellites, will cost customers around $12 million per launch.

Early attention from paying customers may be driving investment in the company. Relativity's latest funding round puts the company's post-money valuation at $2.3 billion, according to PitchBook Data Inc.

That's an "extraordinarily high" valuation for a rocket company that hasn't yet sent a vehicle into space, said Laura Forczyk, owner of space consulting firm Astralytical. 

Part of the excitement about the company may be driven by its embrace of technology that's already transforming the aerospace industry, Forczyk said.

"Even if Relativity fails, someone is going to succeed at this," she said. 

What remains to be seen is whether the company's technological innovations will give it a major advantage over competitors.

"If Relativity is successful in proving they can launch rockets less expensively, then you're going to see a lot of competition not only from big rocket companies but from the small launchers as well," Forczyk said.
 
'Holy grail for automation'

Ellis said he's confident the company will be able to produce immediate results.

"3D printing is really a holy grail for automation," he said. "Each successive version of a rocket we make is lighter and weighs less. And it's actually cheaper and faster to produce."

The company is looking far into the future with its business plans. Ellis said Relativity's Long Beach headquarters can be seen as an early prototype for an off-planet factory.

Part of the company's founding mission, he said, was to support a vision for interplanetary travel popularized by Hawthorne-based Space Exploration Technologies Corp. 

"I really felt there needed to be a second company working to make that vision happen," he said. "And I felt manufacturing technologies and 3D printing were really the only conceivable way to make an industrial base on Mars."

An automated factory on the Red Planet may seem like science fiction, but Forczyk said demand already exists for 3D-printing technology that can be used outside of Earth's atmosphere.

"It takes money to launch things from Earth into space," she said. "The fewer things you need to launch from the gravity well of Earth, the more you save money."

Ellis said Relativity's 3D-printing technology will allow it to tweak designs and scale up as new possibilities emerge for human exploration of space.

"I think what Relativity is building will help solve a lot of problems in establishing permanent settlements on the moon and on Mars," he said. "We're not reliant on that today, but it's a future possibility."
For reprint and licensing requests for this article, CLICK HERE.