LAX Passenger Traffic Off 71% in October; Burbank, Ontario Also Down
Tuesday, November 24, 2020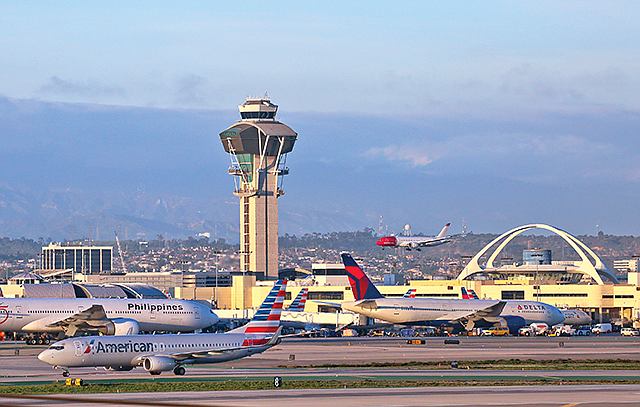 Passenger traffic at three of the region's commercial airports continued to slowly claw back in October from spring's pandemic-induced collapse, but traffic was still far below last year's levels.

Los Angeles International Airport on Nov. 24 reported a 71% drop in passenger traffic in October from year-ago levels and was down 66% for the first 10 months of the year compared to the same period last year.

Earlier in November, Hollywood Burbank Airport reported a 75.5% drop in passenger traffic for October compared to October of last year, while Ontario International Airport fared somewhat better with a drop of 56.8%. 
Long Beach Airport hadn't yet reported October passenger statistics as of Nov. 24.

At LAX, according to figures from Los Angeles World Airports, the drop was led by an 85% plunge in international air travelers in October compared to the same month last year. That represents an improvement from the drops of more than 90% during the summer months. Domestic passenger traffic was down 65% in October.

The numbers do not reflect air traffic leading up to the Thanksgiving holiday, which according to news reports, has been at the highest level since the pandemic began.

The air cargo picture was much better, with all three airports reporting some month-over-month and year-to-date gains.

Ontario Airport led the way, with air cargo up 21% in October to 82,363 tons compared with October of last year. For the first 10 months of 2020, air cargo at the airport was up 20% to just under 750,000 tons.

LAX was close behind on a percentage basis, with an October gain of 16.8% to 236,237 tons from October 2019. Year-to-date, LAX reported a 4.1% gain to just under 2 million tons.

Burbank, which traditionally carries a miniscule amount of air cargo compared to the other two airports, reported a gain of 2.9% to 4,712 tons in October compared to last October. For the first 10 months of 2020, air cargo tonnage was up 5.5% to 46,507 tons.
For reprint and licensing requests for this article, CLICK HERE.