LA's Oldest Toy Store Kip's Toyland Still in Play After 75 Years
Monday, November 23, 2020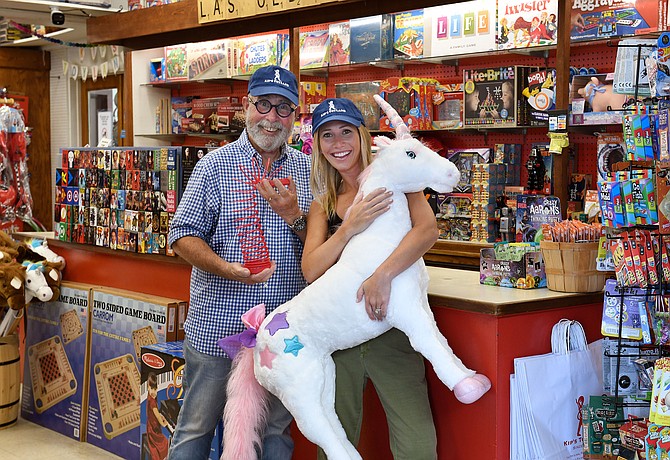 Kip's Toyland, the oldest toy store in Los Angeles, has witnessed a lot of changes during its 75 years.

But the family-owned shop, a cornerstone of the Original Farmers Market in Fairfax, has never faced a holiday season like this one. 

In the midst of the Covid-19 pandemic, store owners Don Kipper and his daughter Lily are trying to ensure holiday shoppers find the toys and games they need while operating with reduced hours, limited staff and increased sanitation measures.

Although Kip's offers sales through its website, the experience remains rooted in hands-on shopping, with customers who are used to envisioning what they could build with blocks, imagining the experiments made possible by science kits and dreaming of the world they could create through dolls.

"People are still quite cautious, as they should be, and I encourage that in our store," said Don Kipper, whose father, Irvin, founded Kip's in 1945.

"We only let X number of people in at a time, so I did not see and I wouldn't have anticipated as soon as we opened, lines pouring out the door of people wanting to come in and get a Slinky."

The Kippers implemented a no-mask, no-service policy; have developed enhanced sanitation measures; and have cut down on staff hours. 

Prior to the pandemic, the store was open from 9 a.m. to 9 p.m. Now, it's open from 10 a.m. to 6 p.m. Late-night, last-minute shopping won't be a part of this year's Christmas season.

And, with traffic from out-of-town visitors curtailed by the coronavirus, Kip's will rely more heavily on longtime customers this holiday season.

"Historically the Farmer's Market, where we enjoy being a tenant, has been a tourist attraction, and there isn't any of that right now," Kipper said.

"We're fortunate that where we are is considered an outdoor place, so we didn't have the restrictions that were placed on indoor malls," he added.

Surviving 2020

Like many other brick-and-mortar stores, Kip's has experienced a challenging 2020. Although the toy store enjoys a loyal customer base along with a prime location, the store has still seen the effects of the so-called retail apocalypse brought on by consumers' broader shift to online shopping.

That pain was exacerbated, of course, by the arrival of the coronavirus in March, which forced Kip's to temporarily close its doors under the city's safer-at-home orders.
In the depths of the lockdown period, though, the Kippers found a silver lining. They realized the store was uniquely positioned to respond to a spike in demand for jigsaw puzzles, which became hugely popular during the quarantine period.

"People had lots and lots of time on their hands and no place to go, so doing something that requires lots of time like a jigsaw puzzle was a great solution for them," said Don Kipper. 

Lego sets and board games were other group-oriented activities that sold quickly during that stretch when Kip's turned to curbside service.

Sales for those products didn't fully offset the lost revenue caused by the shutdown, but they eased some of the load, according to Kipper.

"I think everyone would chime in and agree that in the last seven, eight months, there hasn't been a great deal of joy," he said.

Still, the local community showed support for the toy store during the lockdown period, and that has continued in the months since. 

"No different than during quarantine when everyone would clap at 8 o'clock for the front-line workers, when we transitioned from being closed to curbside, we had a lot of people that would put it on Instagram and try to help us get back on our feet," Lily Kipper said.

Kip's has a long-lasting relationship with families in Los Angeles County, she added. Grandparents who were brought to the store by their grandparents bring in their own grandchildren.

"It doesn't ever get old to have customers come in and say, 'I remember this from my childhood,'" Lily Kipper said.

Irvin Kipper founded Kip's after returning from World War II. As a prisoner of war, he overcame significant trauma and made it his purpose to bring happiness to as many lives as possible.

A delayed anniversary

Because of the pandemic, the Kippers won't be able to celebrate their 75th anniversary the way they hoped to. "Five years ago for our 70th anniversary, we had a little carnival for all of our good customers and anybody who wandered by, so that was a great experience. We're not able to do that now," Don said.

Despite not being able to properly toast to this milestone, Don and Lily look back at their progress with satisfaction.

"Lily and I are kind of custodians of the flame. We want to continue to do what we've been doing, what my dad started doing 75 years ago, and hopefully Lily will carry on when it's her turn and who knows if her kids will do the same," Don said.

"You have to understand our family legacy that's tied to this, and it's not just our immediate, nuclear family," he added. "It's our extended family. It's a special place for us."

For the Kippers, Kip's Toyland is a time machine that reminds people of good memories and allows them to forget the misfortunes of life, especially with the current health crisis. 

"Nobody goes out of that store unhappy, except for the 3-year-old who's crying because he didn't get the toy he wanted. It's always a happy transaction," Don said.
And despite the current situation, Don Kipper is optimistic about what the future holds, drawing a comparison between Covid-19 and the 1918 flu pandemic.

"What happened after the flu pandemic was the Roaring '20s," he said. "I expect that'll happen again."

Added Lily, "Kip's biggest motto when he was a POW was, 'This too shall pass,' and that's what we're gonna run with. This too shall pass."
For reprint and licensing requests for this article, CLICK HERE.